HAND IN HAND - BURKINATURE / BURKINA FASO
From a self-help project to professional organic production
Since 2001 RAPUNZEL gets its dried mangos from Burkinature; in 2005 the HAND IN HAND contract was signed. As Burkina Faso is one of the poorest countries in the world, the export of the mangos plays an important role. Living standards of many people have considerably improved through selling fair trade mangos. Both, fresh and dried mangos, notably in organic quality, have turned out to be an important source of income.

Mango trees in the West of Burkina Faso, around the city of Bobo Dioulasso, are part of the characteristic landscape. The small farmers cultivate them according to organic cultivation methods. Women are particularly responsible for the drying of the fruits. They organized themselves in so called "drier groups" for organic mangos. The very much appreciated mango variety Brooks is harvested from June till August. The women of the drier groups buy the fresh mangos directly from the 120 farmer families. They strictly test the mangos on their quality. In the rooms of the drying facilities the mangos are peeled, cut into pieces and carefully dried in special ovens.

The mangos are dried and processed on site. This step of the value process is kept within Burkina Faso and thus contributes to the development of the country. Globalization and export subsidies of various industry nations lead to a decline in prices. This makes surviving for the farmers very difficult.
RAPUNZEL has a direct and long term trade relationship with Burkinature and the drier groups and pays stable prices above the conventional market level. Moreover, RAPUNZEL provides advice concerning quality management and organic certification.
Financing of micro credits of the HAND IN HAND Fund

In the year 2004 and 2008 RAPUNZEL made it possible to establish micro credit fonds for the women of the mango dryer group AVOH (Association of widows and orphans of Houet) and GUAMPRI in Burkina Faso. Altogether 15,000 € were donated by RAPUNZEL. The aim is to combat poverty of the poor population by providing individual micro credits for the women. The idea is to finance corporate activities with the micro credits, such as drying of vegetables or producing juices for the local market and thus securing livelihoods of the people after the three-month mango season.
Furthermore the women get micro credits for activities such as breeding sheep or goats or gardening.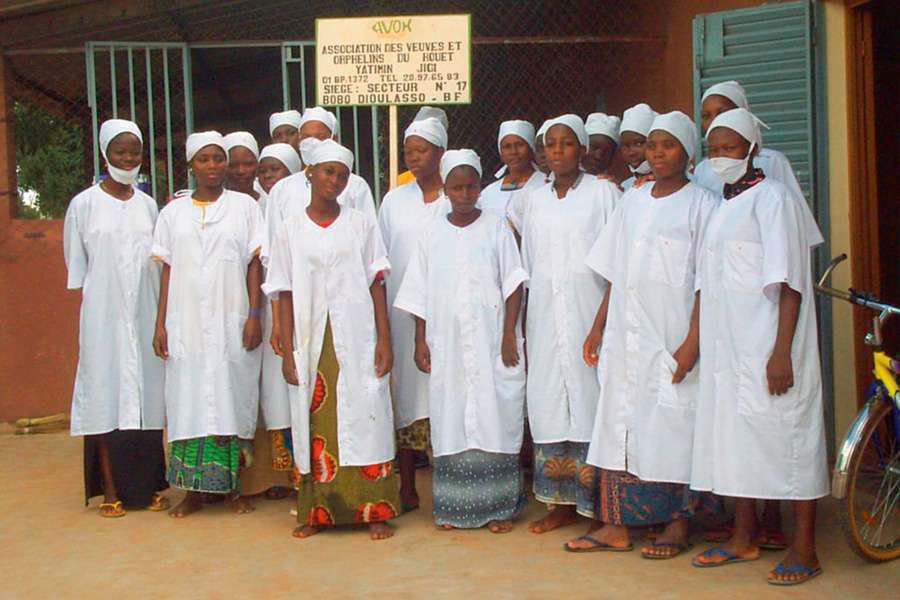 quality control and mango purchase
Mango – one of the most popular cultivated plants

Cultivated mango trees are usually cut at a height of 10 to 20 meters maximum. Almost 12 – 15 kg of fresh mangos are needed to obtain 1 kg of dried mangos. Originally the cultivated mango plant comes from the north-eastern region of India and was brought to Europe by Portuguese seamen in the 16th century. Meanwhile many countries in the world are home to the mango tree and it is on third position among the tropical fruits most frequently grown, topped only by the banana and orange.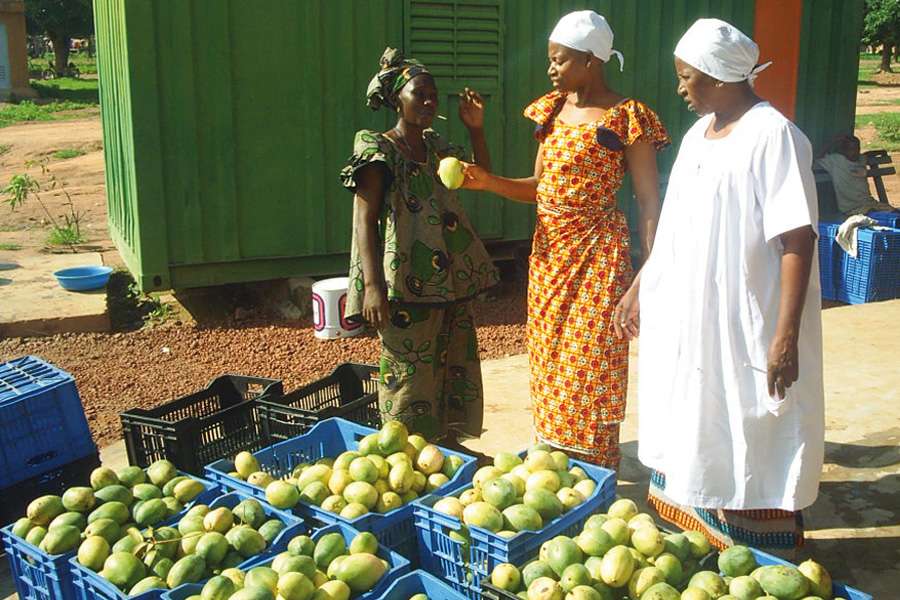 quality control and mango purchase