HAND IN HAND - Natural Habitats / Ecuador
Natural Habitats has been supplying Rapunzel with fair trade palm oil since 2012. In 2014, Natural Habitats obtained the Hand in Hand certification. In Ecuador, Natural Habitats is the only company that produces 100% organic and Fair Trade (fair for life) certified palm oil. The company's plantation and oil mill are located in Northern Ecuador, in the Esmeraldas region.
On-site cultivation and processing
In addition to palm oil from their own plantation, Natural Habitats purchases palm fruits from approx. 100 farmers who farm plots with an average size of 40 ha. Most of these farmers grow not only palm oil but also cocoa, bananas or timber on their plots. Moreover, many farmers set aside nature conservation areas where the rainforest can grow undisturbed. No primary forest is cleared by Natural Habitats for the cultivation of oil palms.
Employees from Natural Habitats in front of an oil palm
Employees from Natural Habitats in front of an oil palm
Natural Habitats has a team of permanently employed agricultural engineers who advise the farmers with respect to organic farming methods and the compliance of environmental standards.
Mature, orange palm fruits are harvested all year and delivered to the oil mill of Natural Habitats. There, the fruits are steamed, pressed and the resulting oil is filtered.
Rapunzel agricultural engineer Barbara Altmann inspecting a plantation
Natural habitats – socially committed

Natural Habitats works to improve the local social conditions in numerous ways: several health centers were founded in different villages providing regular medical services.

Four soccer schools were founded where children and youth are trained in the afternoon by professional soccer coaches. In order to participate in the soccer schools the kids must attend school in the mornings and have good grades. As there are no other recreational opportunities in the region, the soccer schools are a way to keep kids off the streets and inspire them to play sports.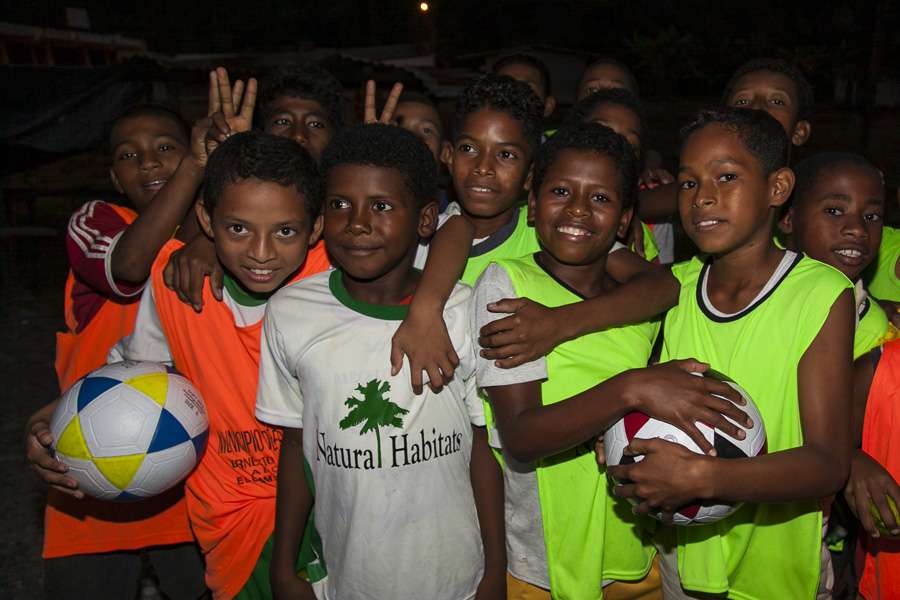 Kinder der Fussballschule von Natural Habitats