HAND IN HAND - Manduvirá COOPERATIVE / Paraguay
Since 2011, Rapunzel has been sourcing fair trade Cristallino raw cane sugar from the Manduvirá Cooperative in Paraguay. In February 2014, Manduvirá became a Hand in Hand partner.
The cooperative is located north east of the capital Asunción in the traditionally farmed "Arroyos y Esteros" (creeks and swamps) valley.
unique and extraordinary
Manduvirá has a long history. Manduvirá was founded by several teachers in 1975 as a loan and savings cooperation for peasant farmers. Today, Manduvirá is one of the few cooperatives in Paraguay where organic sugar cane is produced, processed and exported by peasant farmers – making Manduvirá a unique and extraordinary cooperative in Paraguay!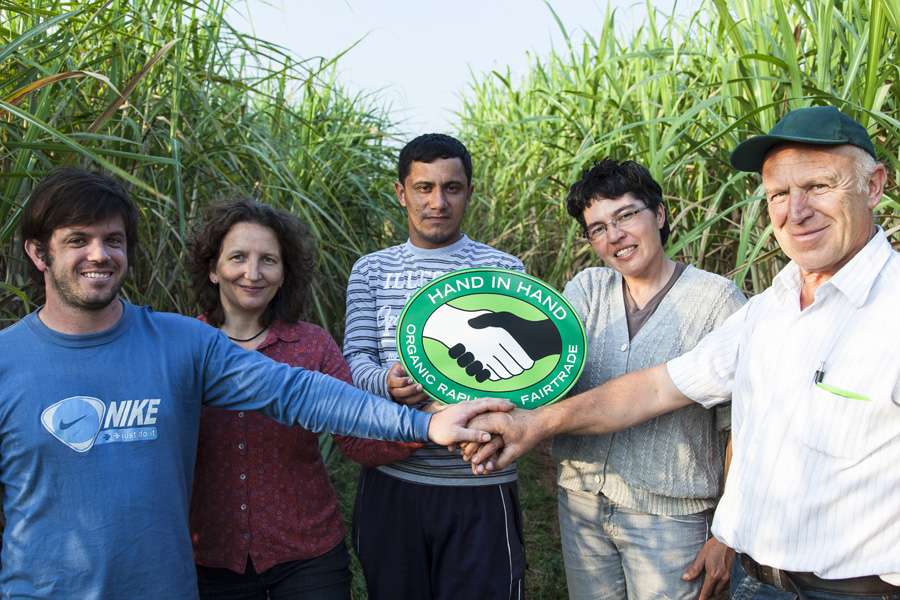 Hand in Hand: Barbara Altmann, Director of Raw Material Sourcing Department, (second from left) and Rapunzel founder Joseph Wilhelm (on far right) visit Manduvirá
sugar cane cultivation
The cooperative has about 900 members who cultivate sugar cane based on organic standards. In order to preserve soil fertility, compost and cattle manure are added as fertilizers. Green manure and bean cover crops ensure a sufficient supply of nitrogen for sugar cultivation.
Weeds are controlled by spreading dried sugar cane leaves between the rows. Cultivation on terraces and parallel to the slopes is used to minimize soil erosion due to torrential tropical downpours. Seven percent of the entire cultivated area is designated as nature reserves.
After loading the sugar cane is pressed
Hand in Hand

The Manduvirá Cooperative benefits from the partnership with Rapunzel through secure and long-lasting trade relations. With the Hand in Hand bonus, the cooperative finances the mechanical equipment that is shared by all its members. The farming machinery makes farming easier and helps the Paraguayan peasants to become more competitive.

Moreover, the Hand in Hand bonus is used to pay for doctors' visits, hospital bills and for education and training courses such as computer, foreign language or art classes.



cut sugar cane