HAND IN HAND - SERENDIPOL / SRI LANKA
RAPUNZEL's native coconut oil comes from our HAND IN HAND partner Serendipol in Sri Lanka. Serendipol is the processor and the exporter of the native coconut oil; the whole production is 100% certified organic and fair trade.
What makes organic coconut cultivation special
The cultivation of the coconuts takes place in the so-called "coconut triangle" of Sri Lanka, in the Kurunegala district (central-western part of the country). All coconuts are cultivated within a radius of about 40 km around the coconut mill of Serendipol in Kuliyapitiya, on altogether about 470 farms. The general size of a farm is between 0.5 and 15 ha. Fertilization is done with manure and compost – Serendipol supports the farmers in keeping their soil fertile by providing them with compost at cost price from their own compost facility – as part of the organic premium.
There is an agricultural consultants team which regularly trains the farmers in organic cultivation methods and carries out internal organic inspections. All these measures serve one of the most important objectives of the project, which is to improve soil fertility and to raise the income through ecologic methods.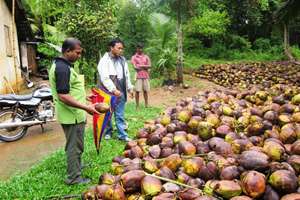 coconuts take up to three weeks after harvest to ripe
Harvesting and processing of the coconuts
The ripe coconuts are harvested approximately all 30 – 60 days, the whole year round. One picker harvests on average an acreage of about 1 ha coconuts a day. The outer fibrous husk is often removed from the coconuts already on the farms and is used as fertilizer for the coconut cultivations. Collecting and transportation of the coconuts to the factory is organized by Serendipol.
There, the further processing takes place: Workers break and remove the hard shell. Subsequently the flesh is washed, disintegrated and dried with hot air. Afterwards, coconut oil is pressed mechanically out of the dried coconut flakes.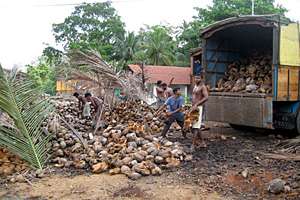 Loading the coconuts to the next processing step
What is special about the HAND IN HAND partnership with Serendipol
Serendipol pays its farmers an additional organic premium of 10% on the actual market price. Clients of Serendipol pay a fair trade premium which corresponds to a bonus of 10% on the purchase price of the coconuts and on the wages earned in the processing. The premium goes into a fund, which is administered by represents of the farmers, workers and management. The fund finances a variety of local development projects.
Meanwhile more than 300 projects in the areas of health care, education, energy supply, employee welfare and environmental protection have been carried out. These projects are supported by the prices Rapunzel pays for the organic coconut oil. The long-term cooperation with Serendipol secures the farmers´ sales of their products and attractive jobs for the employees and workers
hand in hand produkte
Kokosöl nativ HIH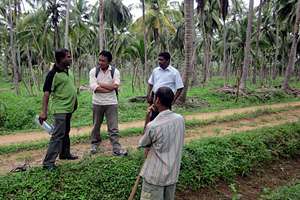 HIH inspection by an external controller