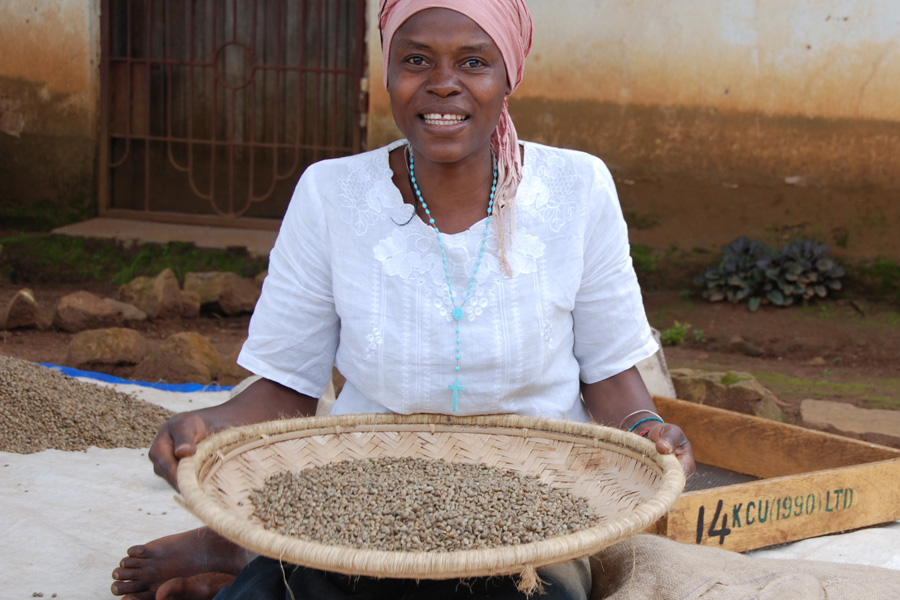 Worker at the KCU coffee Cooperative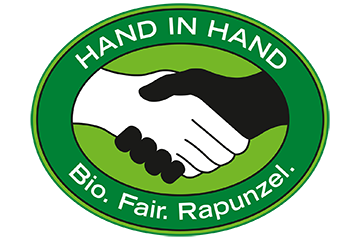 Fair trade and organic farming are central for Rapunzel as well as our trade partners from the Southern Hemisphere.
Since 1987, we have been sourcing raw materials such as cocoa and whole cane sugar from countries around the world. For that reason, in 1992 we started our
HAND IN HAND fair trade program
that focuses on the quaility of the cooperation with the producers from countries in the South (so-called developing countries) and on the quality of the produced goods.
The proprietary
HAND IN HAND (HIH) label
can be found on all those Rapunzel products that contain more than 50% fair-trade raw materials from HIH partners. More than 120 Rapunzel products have the HIH label. Reliable, long-term cooperation, permanent exchange and personal visits guarantee top product quality. Product quality is further secured by independent inspectors performing regular, third-party controls.
HAND IN HAND Project – an Overview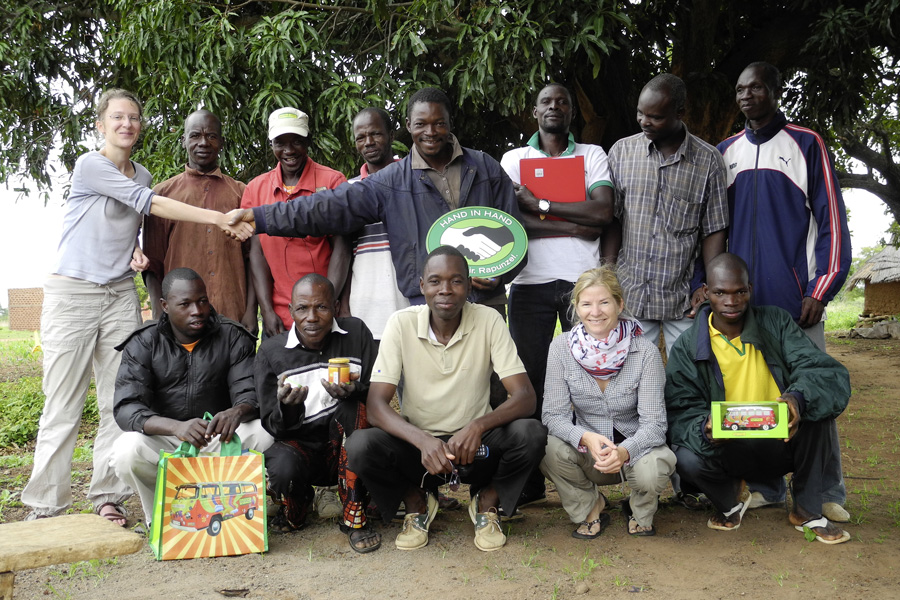 The HAND IN HAND Partner Stand for:
Quality products in highest organic quality
Compliance with all national rules and laws
Social security for employees
Humane, healthy and safe working conditions
Prohibition of child labor and slave labor
Total transparency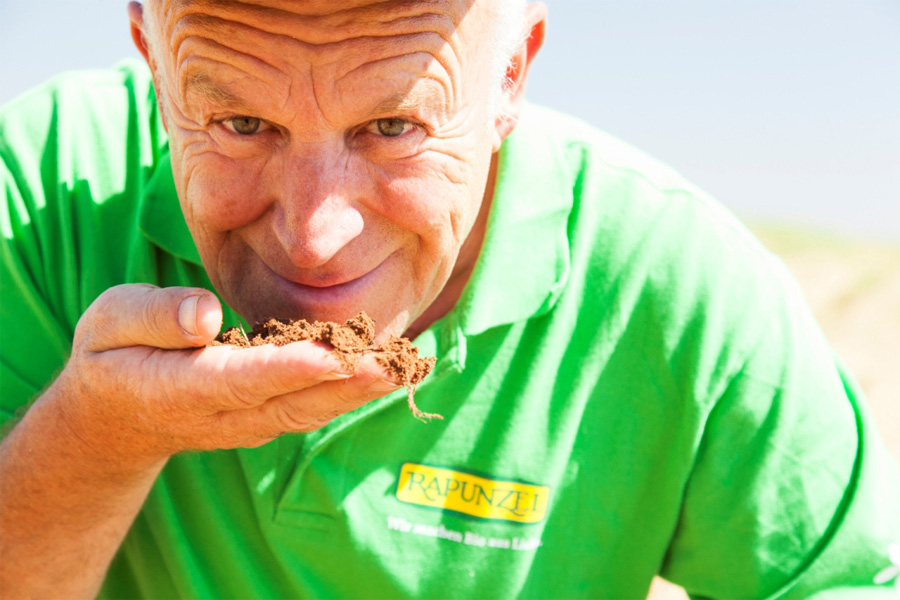 Rapunzel Naturkost Guarantees:
 
Long-term trade relations
Purchase guarantees
Fair product prices plus HIH bonus
Support of eco-social projects through the HIH bonus
Support and technical advice for farmers
Coverage of costs for HIH inspection and certification
Advance financing and credits on request
Labeling and marking of products
1% of purchase value of all HIH raw materials earmarked for HIH fund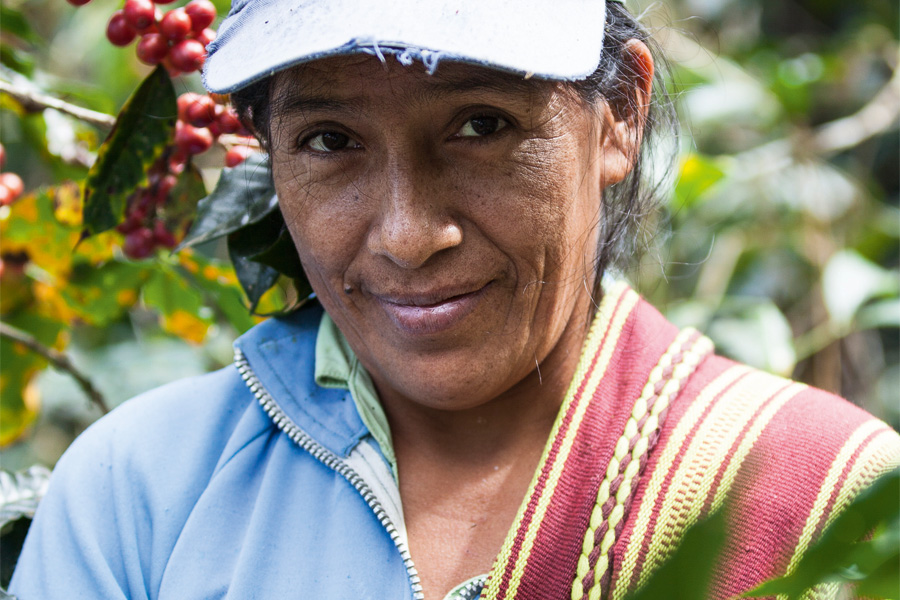 The HAND IN HAND Criteria ...
... are based on the IFOAM (International Federation of Organic Agriculture Movement) guidelines for social justice, on definitions and requirements specified by the international standard SA 8000 , on the international organization for social acountability  and the ILO core work standards.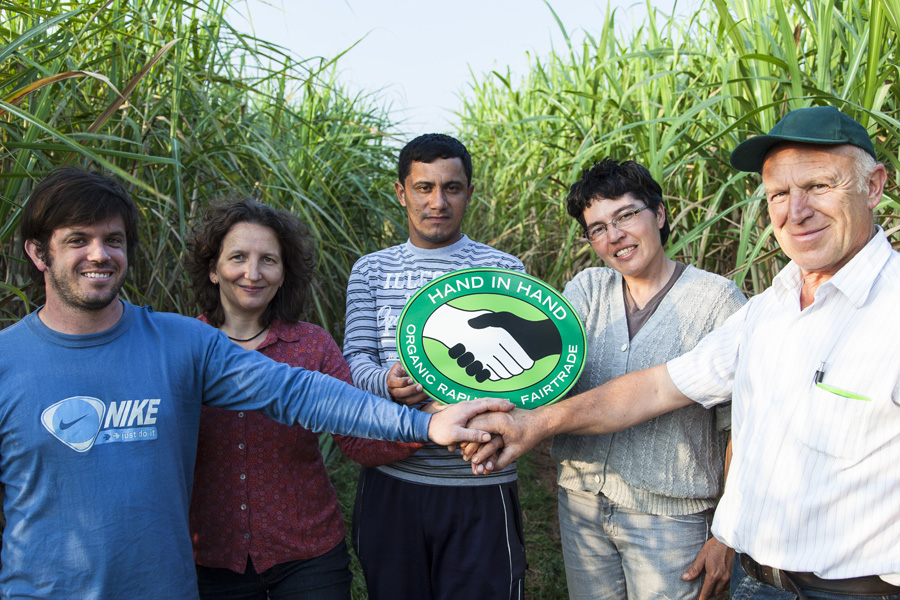 Our HAND IN HAND Partners
Ever since we started working with producers from countries in the South (so-called developing countries) we have been committed to the select quality of organically cultivated products and the cooperation with the producers. 
Today, we are proud that nearly 100 products are labelled with the Hand in Hand seal. 
Forming a Strong Duo – Ecology and Fair Trade
Responsibility for One World
At Rapunzel, we consider organic cultivation as the base for a
positive and sustainable development
that guarantees healty food, a healthy environment and the direct
improvement of living conditions
for farmers in the so-called developing countries. For our proprietary HAND IN HAND seal we developed our own, strict criteria that combine ecology and fair trade as effectively as possible. 
Rewarding Valuable Work Adequately
Especially the countries in the South have to deal with an extensive price pressure on agricultural production that results in miserable conditions for the people and environmental damage.
Fair trade with our HAND IN HAND partners
stands for long-term supplier relationships and transparent conditions. The agreed prices exceed normal market rates and include a bonus for organic cultivation and a HAND IN HAND bonus.
Today, we have 24 HAND IN HAND partners
from Egypt, Bolivia, Brazil, Burkina Faso, Costa Rica, the Dominican Republic, Ecuador, Honduras, Ghana, India, Paraguay, Peru, Sri Lanka, Tanzania and Tunisia. These partners supply us with important raw materials that are used in more than 120 Rapunzel products. 
Everybody Benefits
Today, the share of fair trade products amounts to nearly 18% of
total turnover. The winning formula for our products are longstanding, reliable cooperations, a constant exchange of information and personal on-site visits. Audits by independent inspectors and an external, independent certification of our HAND IN HAND partners guarantee best product quality.     
Just Enjoy!
and thank you 
that you help to improve the living conditions of people in countries in the South with your purchase of HAND IN HAND products.