Details
preparation time: 1,15 hour
rest time: 1,30 hour
baking time: 20 min. Ingredients For 10 – 15 Doughnuts
vegan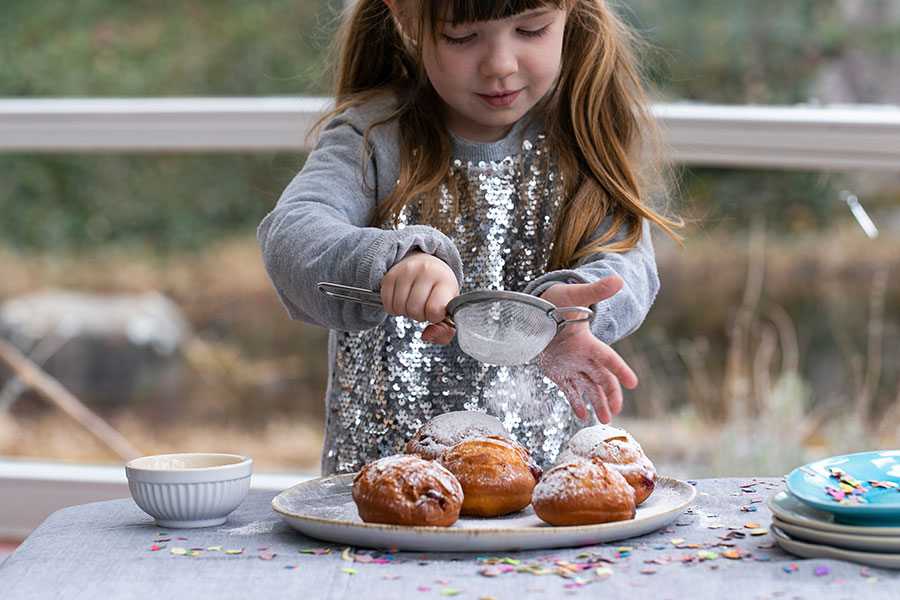 Method
Sieve the flour into a large bowl and form a hollow in the middle. Crumble the yeast and add it to the well. Warm the soy milk lukewarm in a saucepan, melt the margarine in it and dissolve a teaspoon of sugar. Pour a quarter of the warmed milk into the bowl, mix with yeast and cover with a little bit of flour. Cover and leave to rise in a warm place for about 10 minutes.
Then add all other dough ingredients and knead with the remaining milk mixture with the dough hooks for about 5 minutes to a well kneadable and smooth dough – until it detaches from the bowl. Then use your hands to make an even, smooth dough that does not stick to your fingers.
Let the bowl covered with the dough rise in a warm place for about 50 minutes – until the dough volume has doubled. Then knead the dough again vigorously and roll it out 2 cm high on a floured work surface and cut out circles with a glass with a diameter of 7 cm. Cover the flatbreads with a cloth and let rise again for approx. 25 minutes. Heat the frying and baking oil in a saucepan or deep fryer to 140 - 150 ° C.
The pot should be filled with oil 10-15 cm high. To check whether the oil is hot enough, simply dip the end of a wooden spoon into it: as soon as bubbles rise on the wood, the fat is hot enough. Make sure that the fat is not too hot, otherwise the donuts will quickly darken on the outside, but have not yet baked inside. So only fry at low to medium heat. Bake the donuts in hot fat with the bottom covered up for about 2 minutes, turn the donuts and bake for another 2 minutes. Turn briefly again before removing. Place the donuts on a wire rack covered with kitchen paper and let them cool. Place the jam or bionella in a piping bag with a donut sprayer. Pierce the donuts on the light edge and fill them. Turn into sugar as desired or dust with icing sugar.