The fair value-added chain
with Rapunzel chocolate as an example
A master student examined the value-added chain of cocoa / chocolate. For the purpose of the master study conventional chocolate was compared with Rapunzel HAND IN HAND (HIH) chocolate, in particularly Rapunzel HIH Bittersweet Chocolate with 85 % cocoa (100 % cocoa from Bolivia) and Rapunzel HIH Whole Milk Chocolate with 38 % cocoa.

The results of the study provide strong arguments for the purchase of fair trade organic chocolate as the value-added chain of conventional chocolate is long and lacks transparency.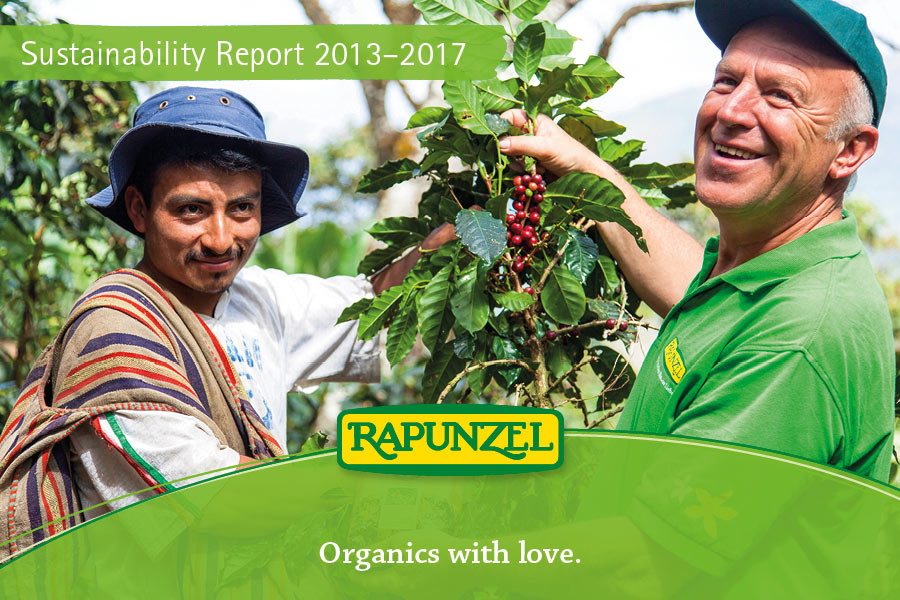 The conventional value chain – long and hardly transparent
Cooa producers in the conventional cocoa industry get a relatively small part of the value chain. The producers get barely a glimpse of the market development and have no influence on the market (for example with respect to pricing). As a result, the producers often remain poor. Conventional producers also are left in the dark as to which products are made from the cocoa nor where the cocoa is marketed. At the time when this study was made (2012), conventional cocoa farmers received between 3 and 6 € Cent per sold bar of milk chocolate (from: Südwind-Studie 2012, suedwind-institut.de)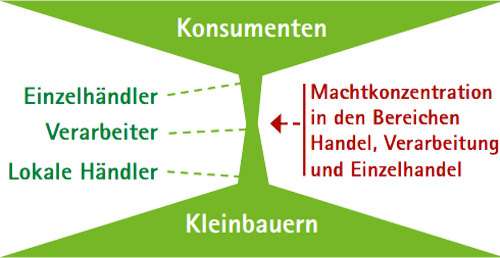 Quelle: Südwind-Studie 2012, suedwind-institut.de
Market concentration = power concentration
In the conventional food industry, a pronounced concentration of power can be found in the value chain: the market power is mainly in the hands of the cocoa buyers/intermediate traders, exporters and cocoa processors.

The vaue chain of Rapunzel HIH dark chocolate 85 % cocoa
The fair value chain of our HIH dark chocolate 85 % cocoa is significantly shorter and more transparent. The percentage shares of the value chain are considerably more balanced at the different levels. No value chain participant has a pronouced power concentration - all members of the value chain should participate in the value chain.
The share of the Hand IN HAND farmers in the value chain is significantly greater
The El Ceibo Cooperative, Rapunzel's cocoa supplier for more than 25 years, received in 2012 approximately 30 Cent for each bar of dark chocolate 85 % cocoa HIH (85 g). This corresponds to a 16 % share of the value chain. For a Rapunzel whole milk chocolate HIH with 38 % cocoa that can be compared to the chocolate examined in the Südwind study, the value chain share amounts to 16 € Cent per chocolate bar (100g). This corresponds to a value chain share of approximately 9 %.
Transparent trade routes
Members of the El Ceibo Cooperative have visited Rapunzel in Legau on many occasions. In turn, Rapunzel also visited El Ceibo in Bolivia many times. The members of the Cooperative know the products that are made with their cocoa beans and they know their market and sales partners.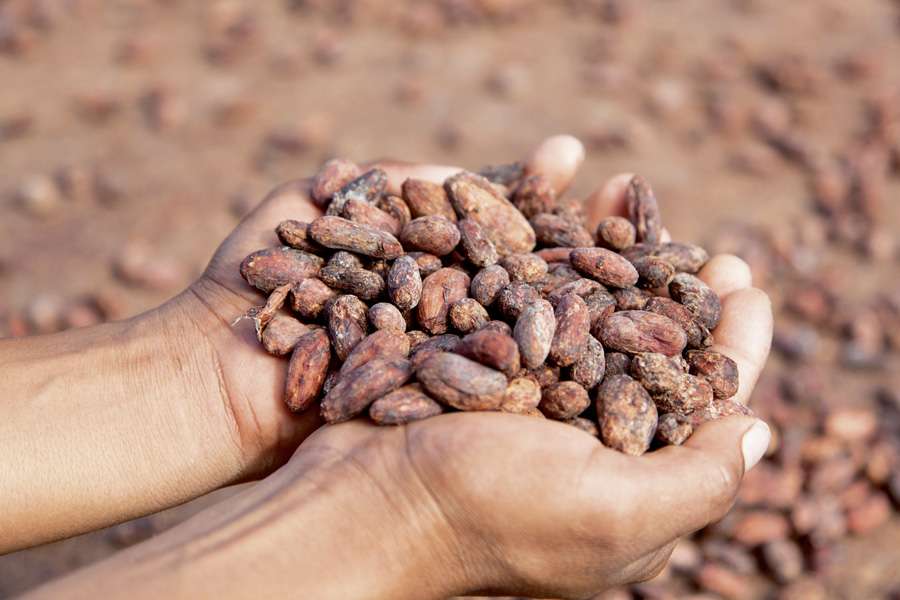 In earlier times, cocoa beans were so valuable that they were used as currency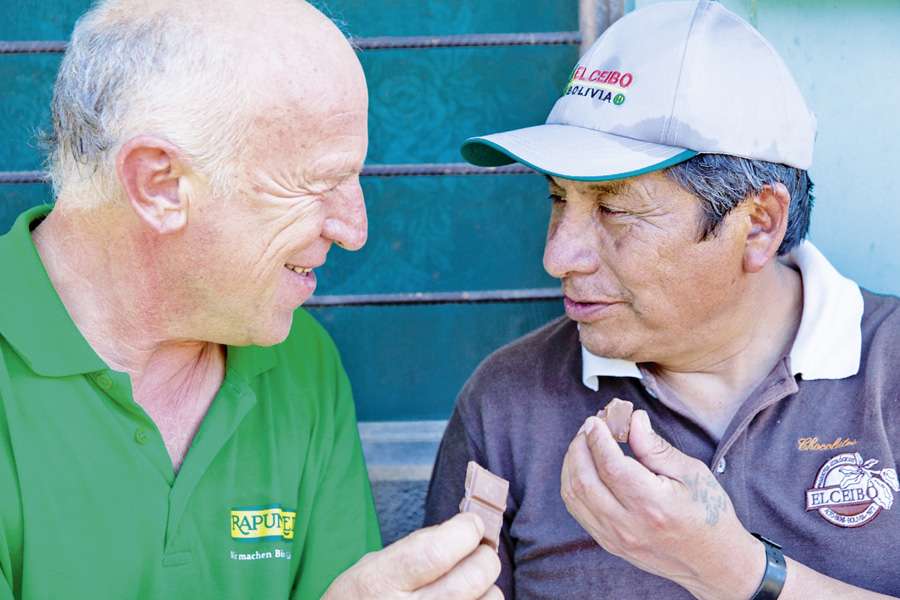 Joseph Wilhelm with Bernardo Apaza from El Ceibo in Bolivia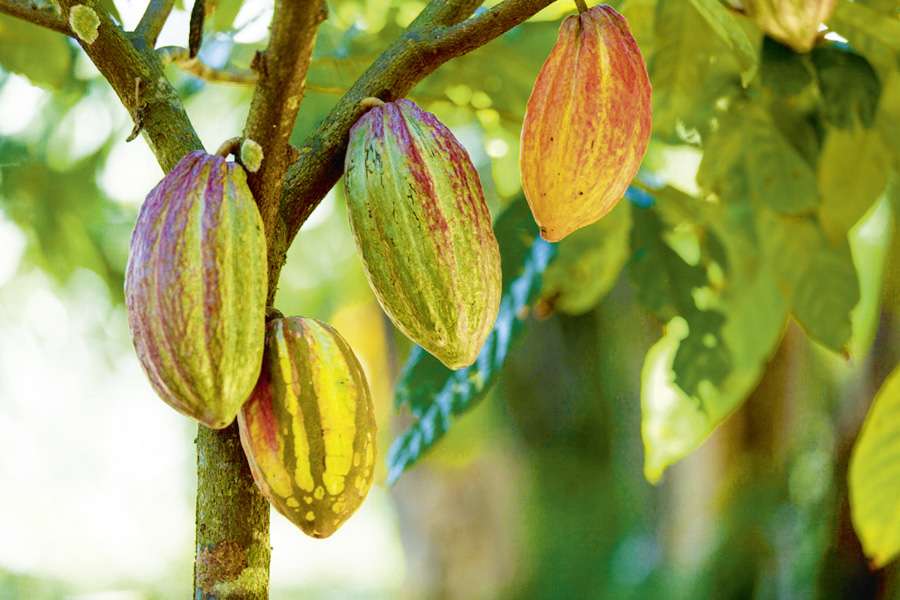 Many steps are needed in order to make fine chocolate from these cocoa fruit