India: solar power for clean drinking water
Project overview:

Solar electricity project for a hospital in Kerela

Amount 2010: 3,500 EUR

SUN-i.2 installation of a solar-powered water purification plant at the Dalit School in Kalappetty

Amount 2011: 3,000 EUR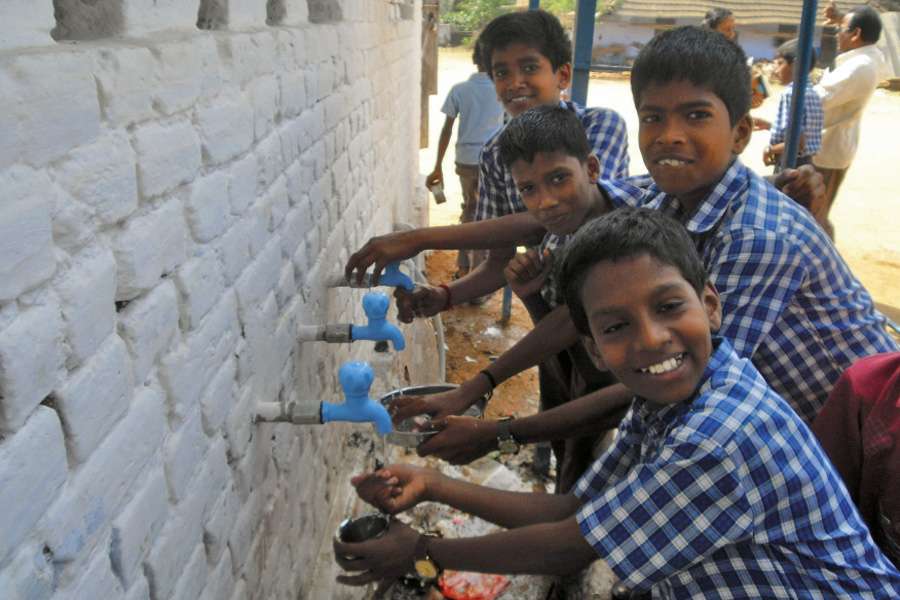 Update: Since 2022, Rapunzel donates the HAND IN HAND donation (previously HAND IN HAND Fund) to the RAPUNZEL One World Organic Foundation.

Children are our future. Yet, they can only have a good future when their basic needs are met. At the top of the list is access to clean drinking water. Contaminated water is the main cause of numerous illnesses and the generally poor health conditions of people living in developing countries. In particular, Cholera epidemics continue to occur. This is a major challenge for people and a fundamental roadblock for development in the affected regions.
The Upper Primary School of Kalapetty in the South Indian state of Kerala primarily serves "Dalit" children. "Dalits", once referred to as "untouchables", are one of the poorest castes in India. Education is a means to help them escape poverty. Besides education, the school also provides many of the pupils with their only warm meal of the day. Before 2011, however, the school had no access to clean cooking or drinking water. They simply used the water from the river, which was piped, unfiltered, into an old cement tank. The intense heat of southern India often caused the water to become contaminated.
Thanks to the support of the Hand in Hand- Fund, the school now has its own solarpowered drinking water treatment plant. The plant was installed by the International Solar Research Center (ISC Konstanz e.V.) in Konstanz, Germany. The use of solar energy is important because it provides a reliable and independent source of electricity in a region plagued by power outages. The water treatment system purifies the river water using the R/O (reverse osmosis) process and pipes the water into a new 100-liter water tank made of stainless steel. The days of contaminated water are over.
In order to support the local economy, ISC purchased most of the parts necessary for the plant in India. The water treatment plant was installed in 2011 and the solar system began operating at the beginning of 2012. ISC is a non-profit solar research center involved in development cooperation projects and has been a partner of the Hand in Hand-Fund in multiple countries.