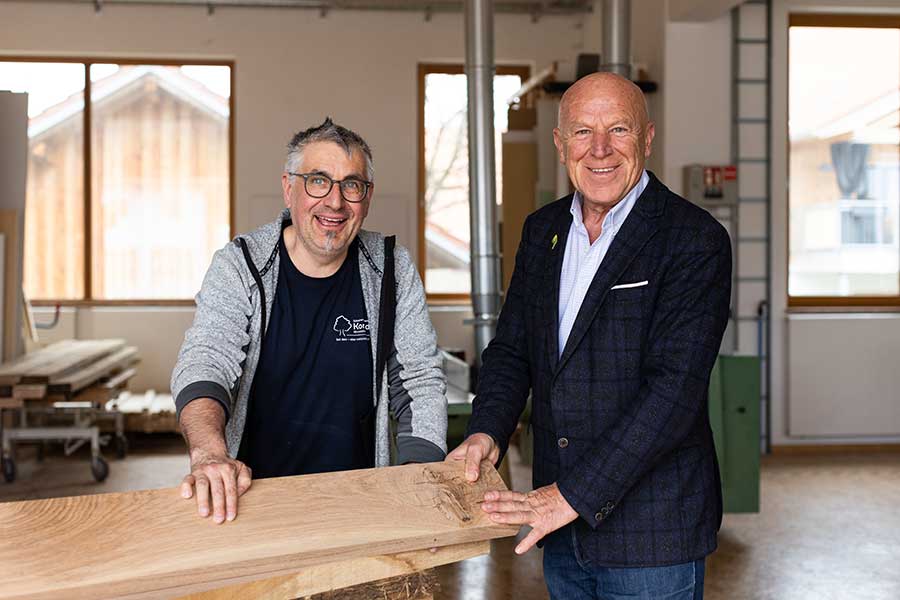 From the love for real things
The carpenter who equips the visitor center with a cooking workshop, among other things, comes from the immediate neighborhood. What carpenter Georg Konrad and Rapunzel founder Joseph Wilhelm have in common is the desire for the real thing - in the form of solid wooden furniture or in the form of real organic food.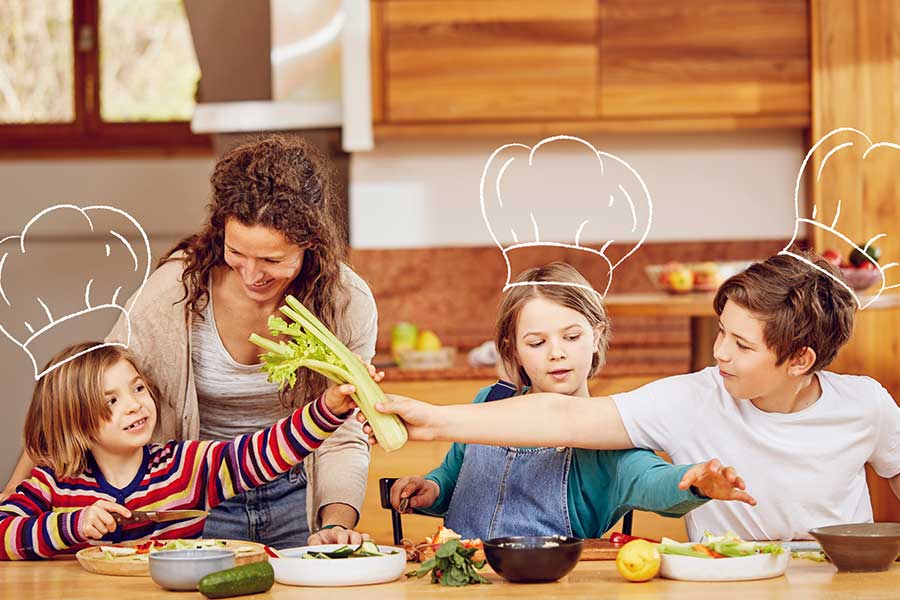 Cooking with kids
Working together with children in the kitchen is incredibly fun! In our recipe collection "Cooking with children" you will not only find delicious recipes for young and old. We also have tips and tricks on how fresh organic vegetables can find a greater share in children's recipes.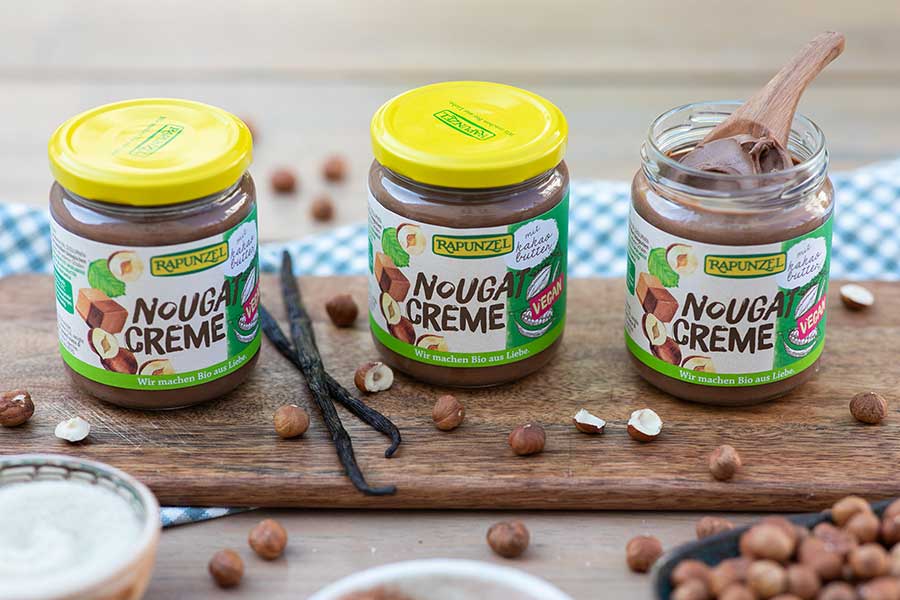 NEW: Nougat cream with cocoa butter
Our new nougat cream combines 33% freshly roasted hazelnuts and the best cocoa. This gourmet product is creamy and melts in your mouth - thanks to fine cocoa butter. The cream is made without palm oil and is therefore suitable for all those who would like to do without this ingredient. It is worth trying.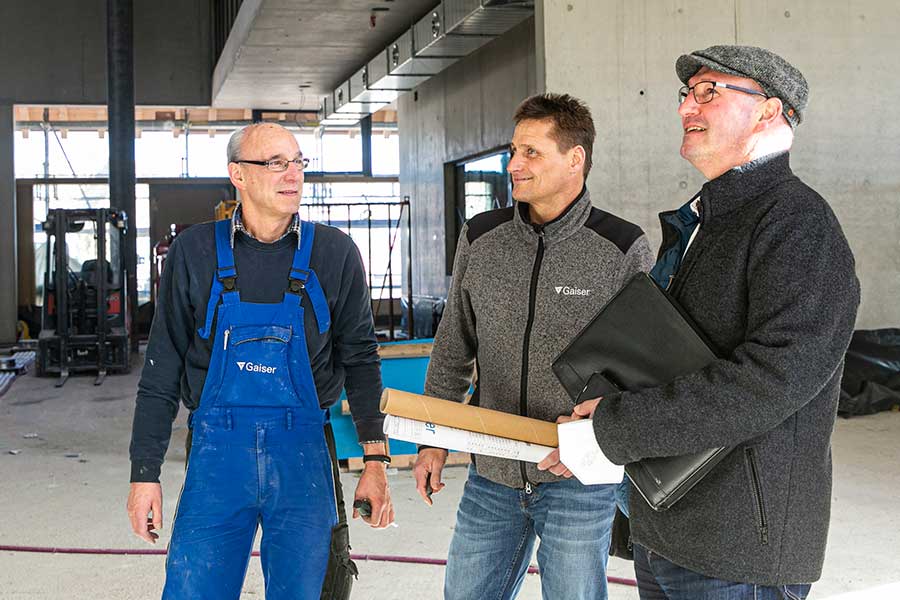 Environmentally-friendly heating in the visitor center
In our blog on the construction of the visitor center, you can read about how the building will be kept warm with the help of the coffee roastery and why the technical building equipment is all about visitors not noticing anything about heating, ventilation and the like.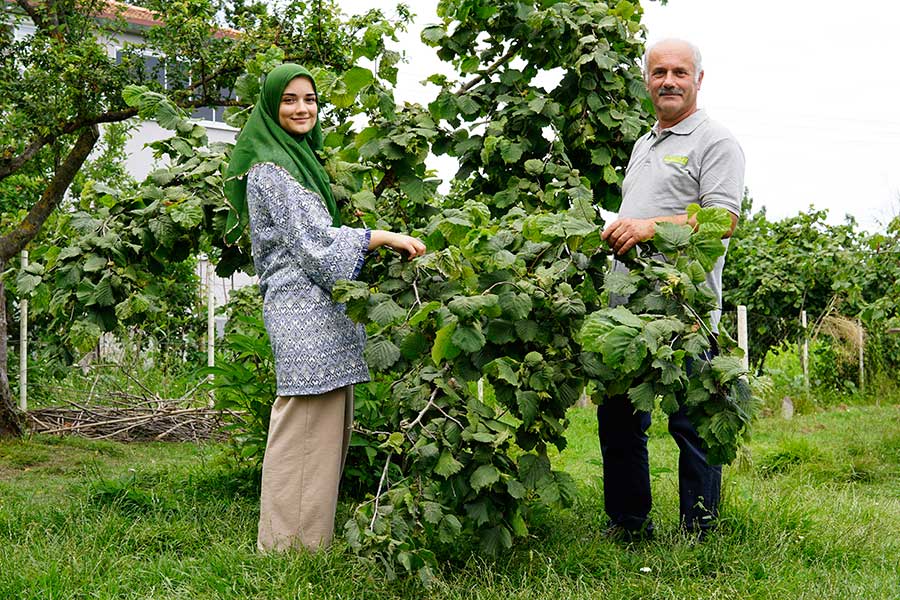 Organic hazelnuts with passion
The Turkish organic farmer Cemal Tahmaz has been working with Rapunzel since 1992. In an interview, he tells us why he has been committed to organic agriculture from the very beginning - and why he still appreciates the partnership in the Rapunzel Turkey Cultivation Project until today.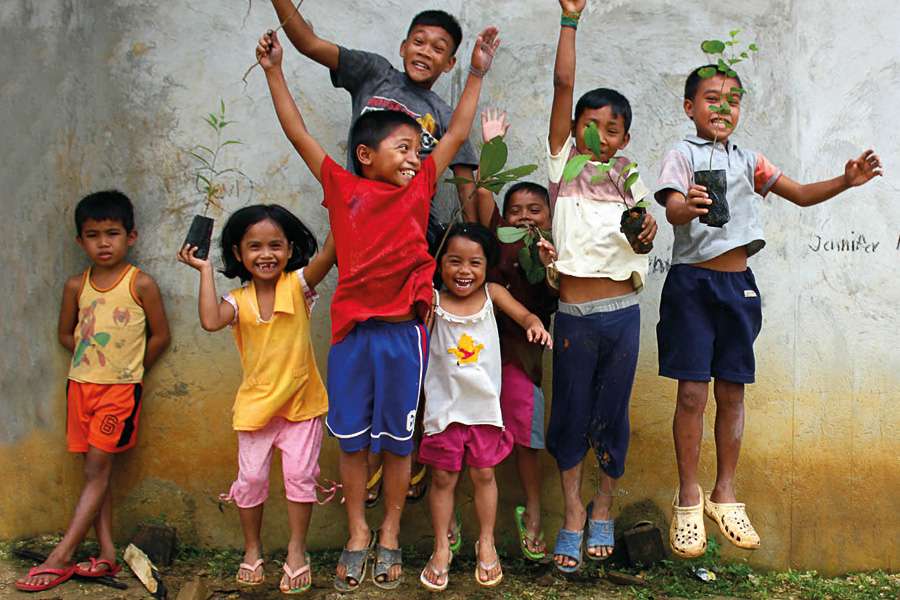 Two million Euro for eco-social development
The HAND IN HAND fund has topped the two million euro mark: Since its foundation in 1998 by Rapunzel Naturkost and Deutsche Umwelthilfe (German Environmental Aid), the fund has approved this sum for eco-social projects in Africa, Latin America and Asia. In 2021, a total of 200,000 euros was donated to 45 projects.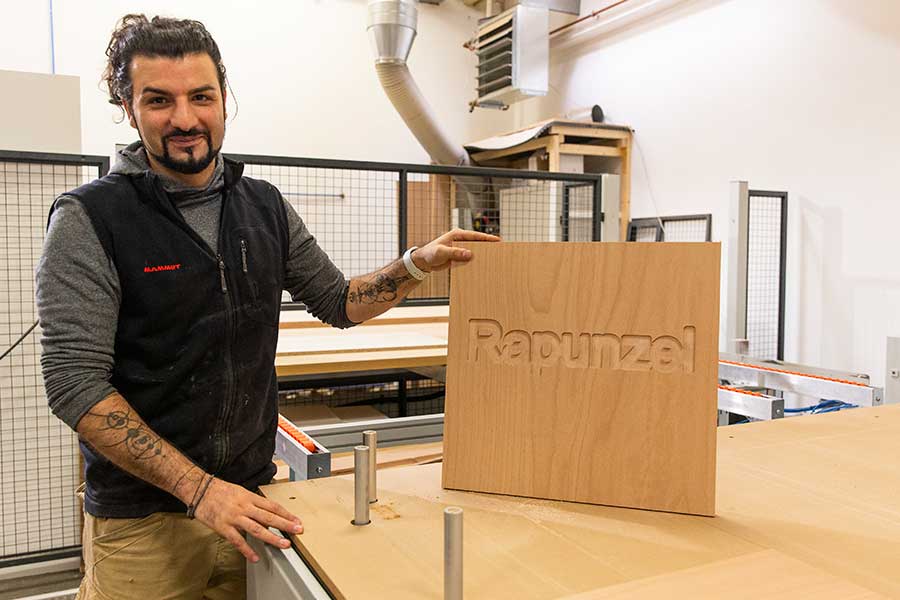 Commercial kitchen technology for the visitor center
A twelve-meter-long counter and various gastro interior equipment for the Rapunzel Visitor Center that will open in the middle of the year are being built in the immediate vicinity of Rapunzel. In our blog you can learn more about the passionate entrepreneur who provides the setting for Pizza, Pasta and Pane.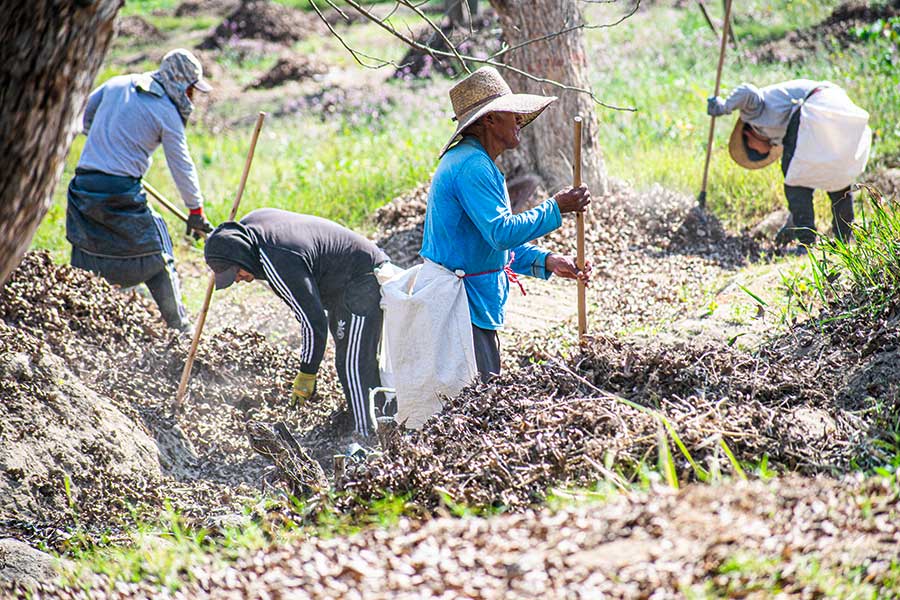 Organic, fair-trade pecas from Peru
Ecological diversity and jobs in the Peruvian desert - this is what the HAND IN HAND partner Topará has created. Rapunzel obtains organic-fair pecans, a nutritious relative of the walnut, from the fair cetified family business Topará.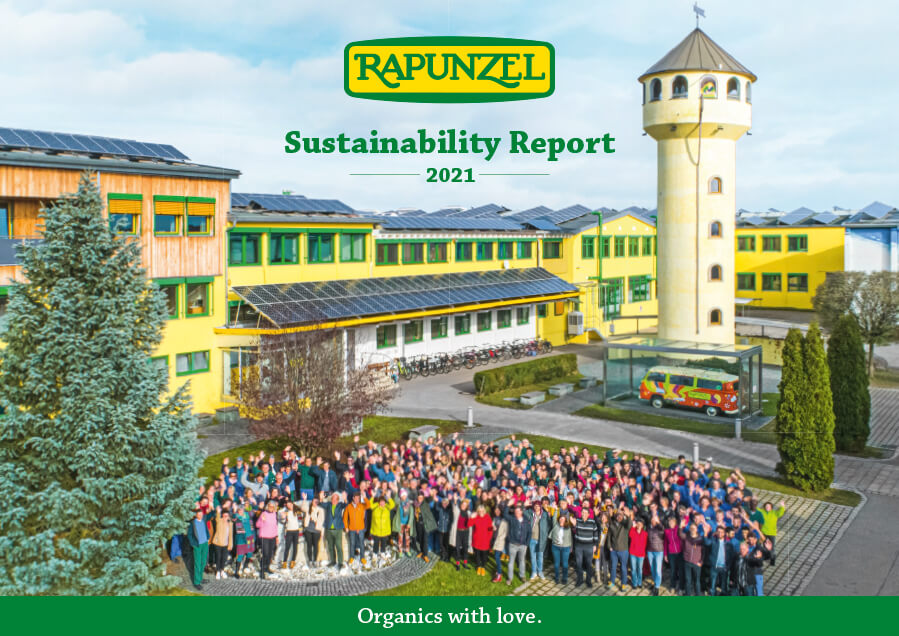 Sustainability Report 2021
Did you know that Rapunzel has installed solar panels on all its roof surfaces and uses 100 percent electricity from renewable sources? You can read more interesting facts about the organic pioneer's extensive commitment to sustainability and its ecological, economic, social and political principles in the third edition of the Sustainability Report.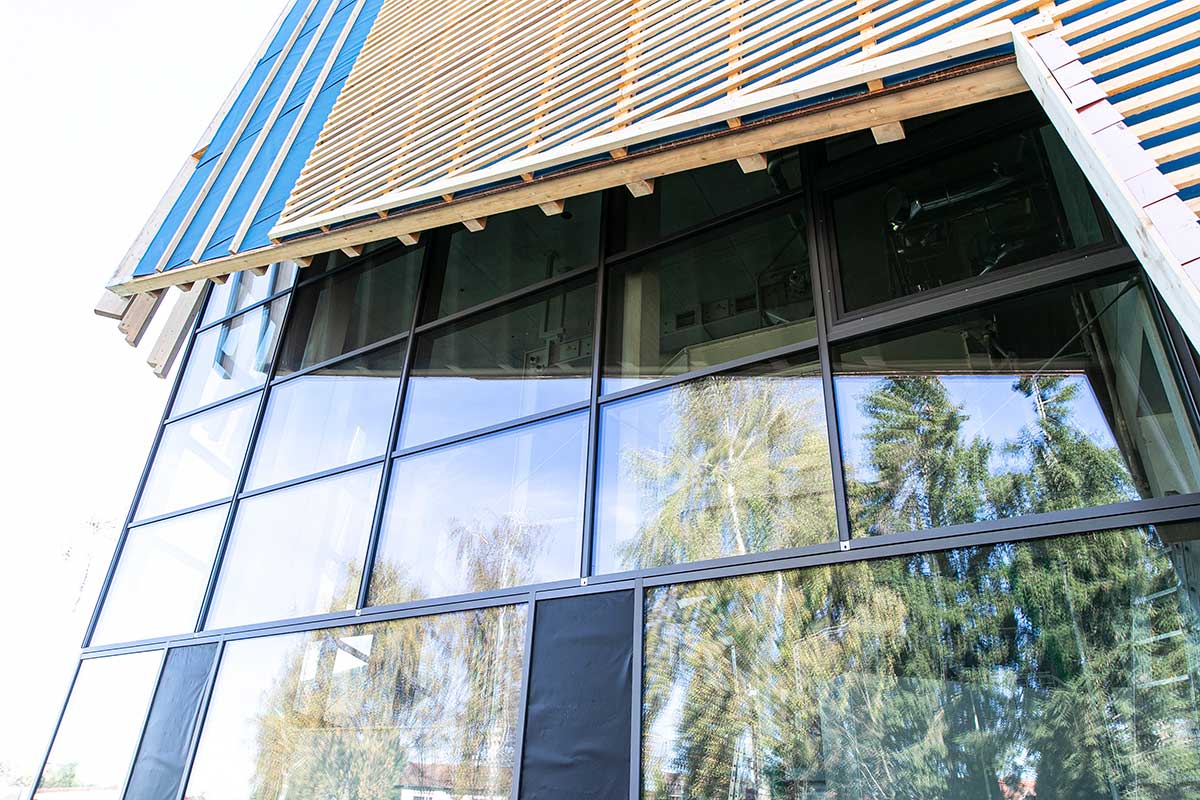 The people behind the visitor center
In winter 2021, a mullion-and-transom facade will close off the visitor center to the outside for the first time. The visitor center will open in mid-2022. Four companies from the region are involved in the construction of the facade bringing light and lightness to the building. In our blog, we introduce you to the people involved and to their professions. The main actors of the facade are wood, steel, glass and the facade system.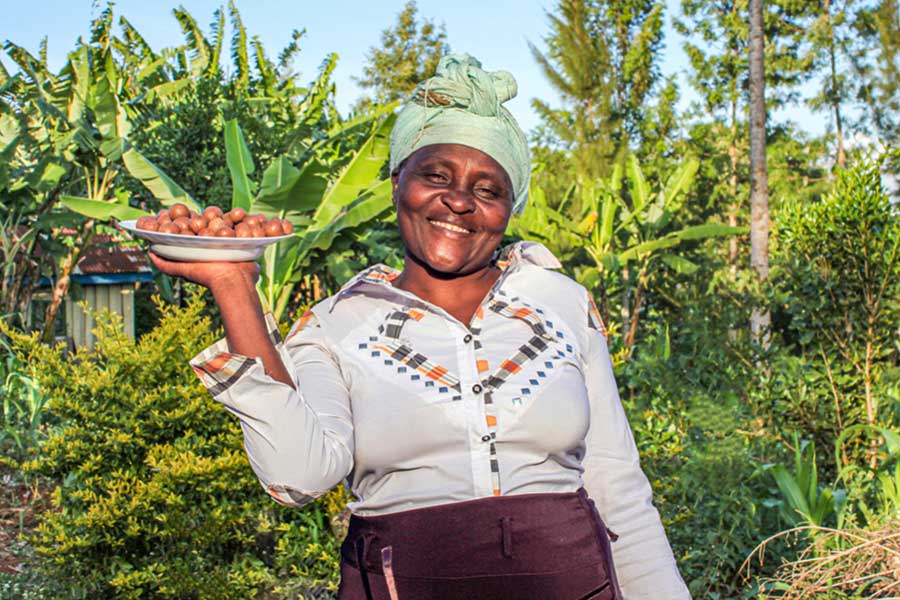 Macadamia – hard shell, soft core
Since 2018, Rapunzel has been sourcing crunchy, organic macademia nuts from LIMBUA in Kenya. Now, the social enterprise has become a new HAND IN HAND partner of Rapunzel.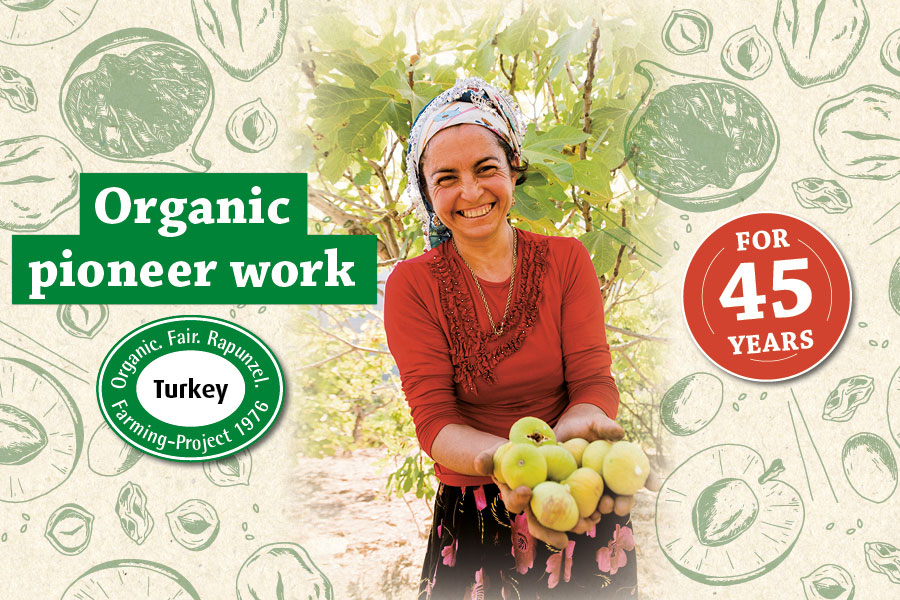 45 years Turkey project
An organic vision became reality. Today, some Turkish peasant families are cooperating with Rapunzel already in second or third generation. Immerse yourself in the Turkey project through interviews, travel reports and photo series.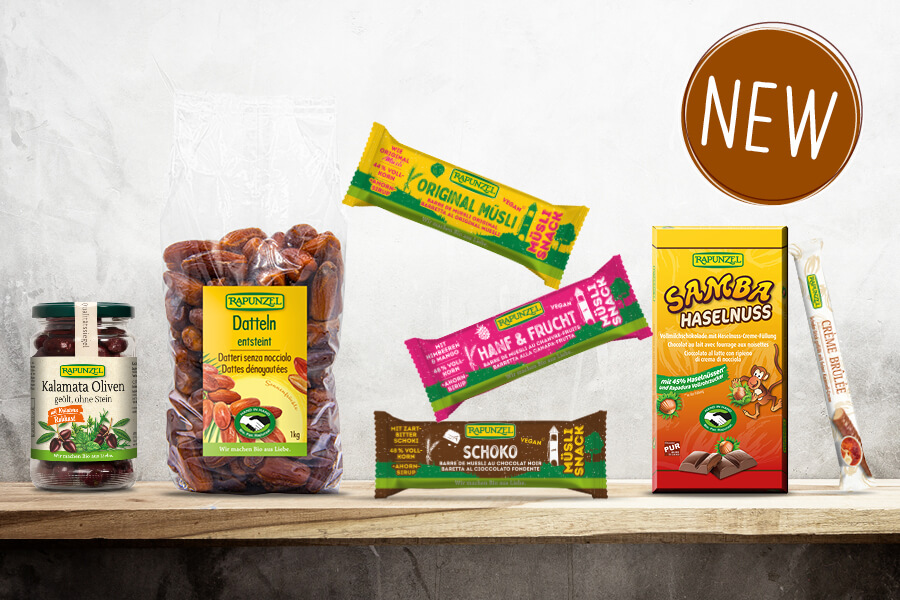 Sweet & savory snacks for the fall
Something for everybody - the new products this fall include melt-in-the-mouth Samba chocolate, Muesli snacks made with an improved recipe or our popular Kalamata olives marinated with herbs. Ask for the new Rapunzel products in your local health food store and enjoy the new treats.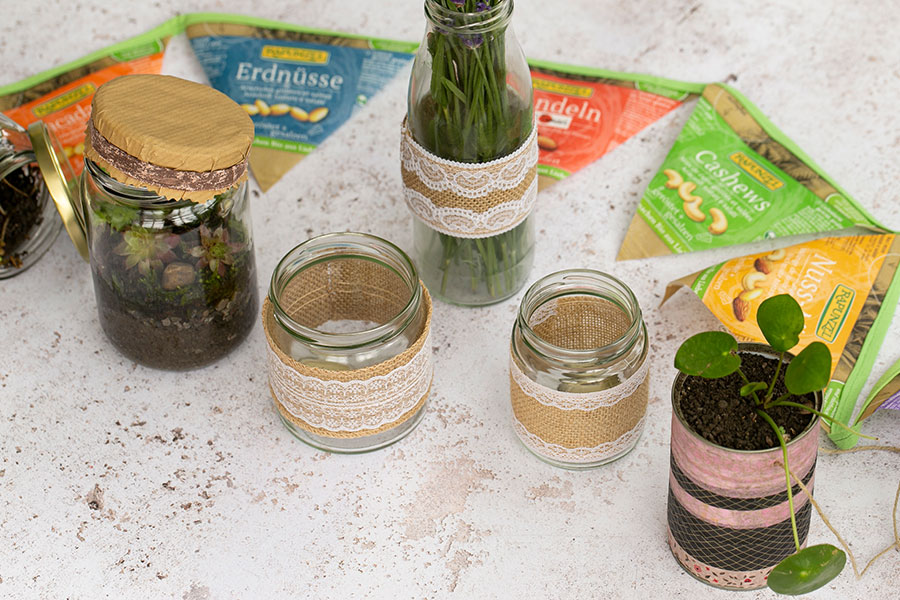 Upcycling ideas for Rapunzel packages
Packages protect our valuable food products. The participants of our upcycling lottery showed that Rapunzel packages can have an interesting second life. Get inspired by the best upcycling ideas.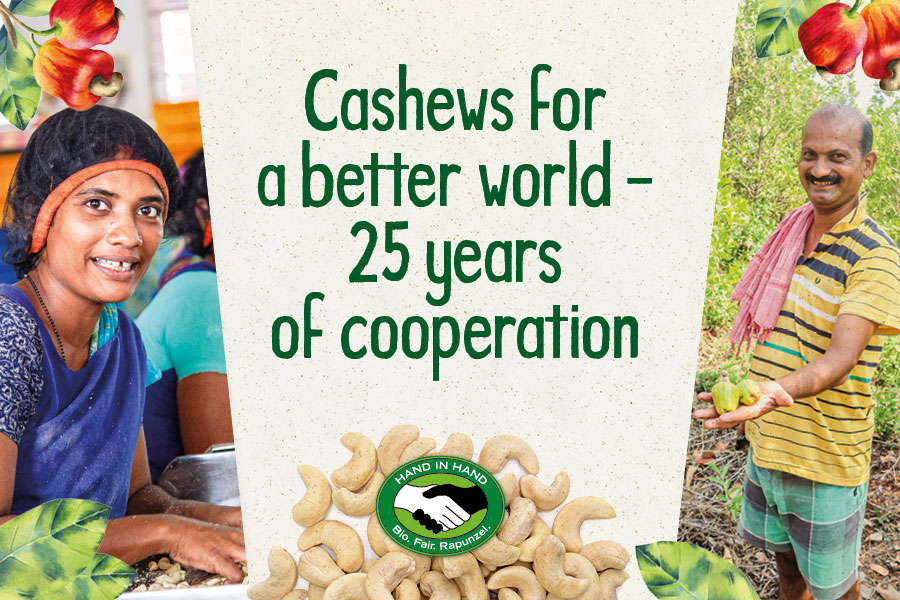 Anniversary: Jumbo cashew kernels for a better world
Rapunzel has been cooperating with HAND IN HAND partner Achal for 25 years. The producer of organic and fair-trade cashew kernels is a genuine model company in India. With our 'Jumbo cashew" anniversary product, we are supporting two local, eco-social projects.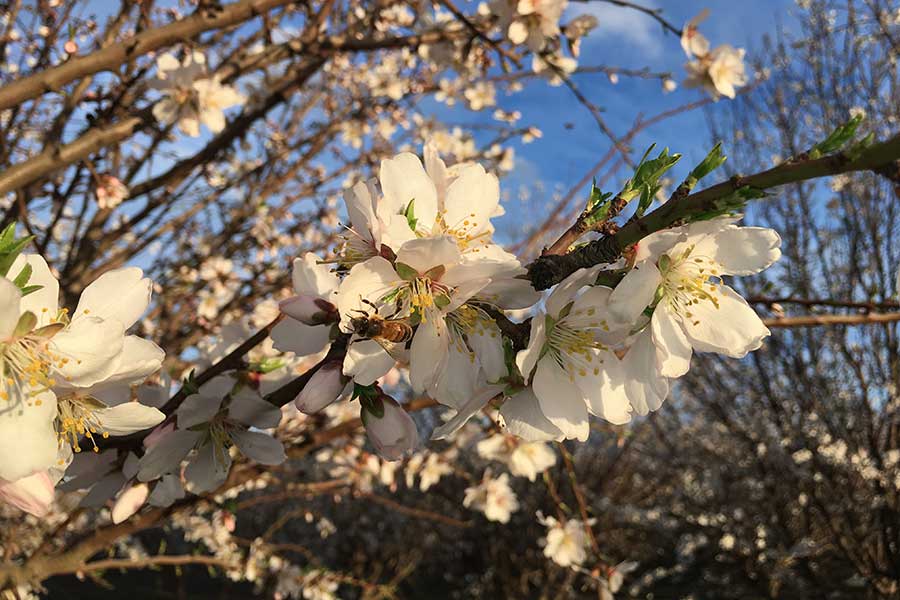 Sweet organic almonds from California
European almonds have a small percentage of bitter almonds. The organic almonds from California are different: Purity Organics supplies Rapunzel with 100 % sweet almonds for almond butter and for snacking.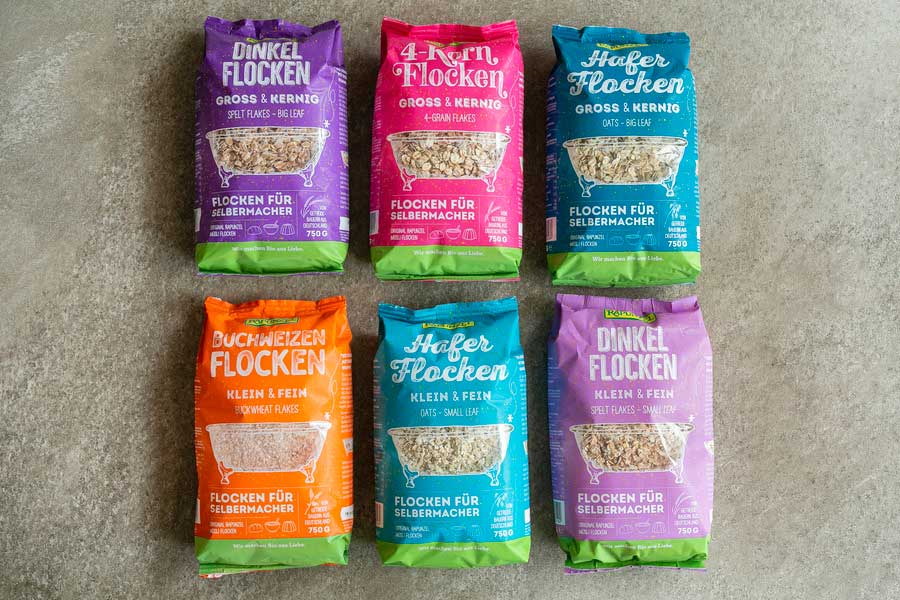 New: cereal flakes in 4 different sorts
Do it yourself oder buying the finished product? We are talking about muesli. Now all new from Rapunzel: pure cereal flakes for do-it-yourself fans. For all those who like to mix their muesli themselves and who like to bake or cook with cereal flakes. The organic flake varieties spelt, oat, buckwheat and 4-cereal are produced by German organic farmers and are very versatile.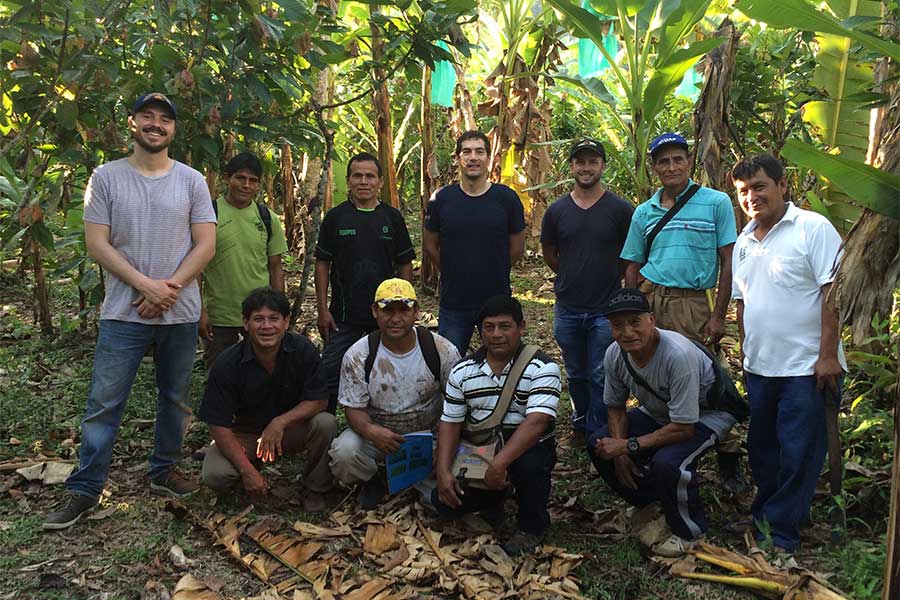 Tropical dried fruit
Rapunzel sources dried pineapple, banana and other tropical fruit from Peru - from our organic supplier Greenbox that is located between the Andes and the Amazon.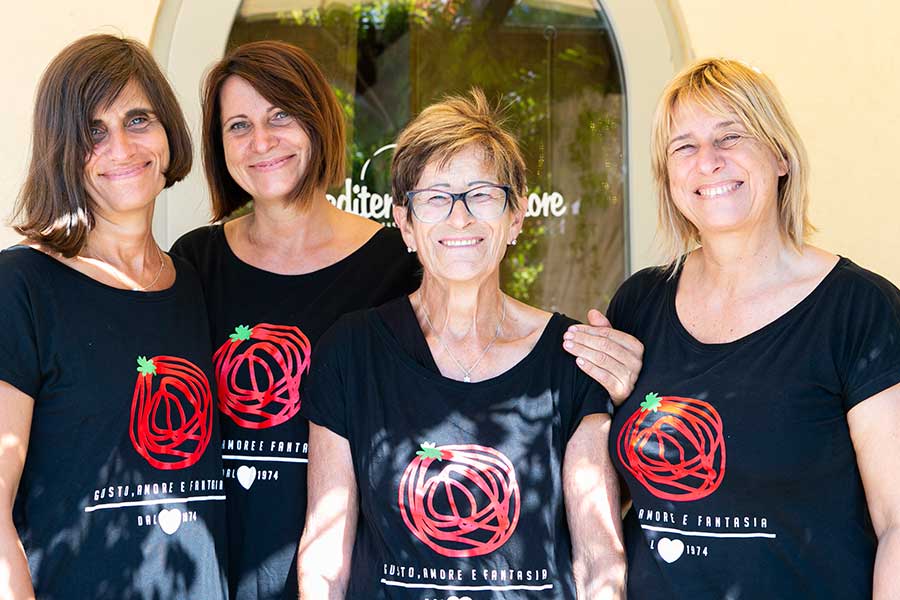 Tomato sauces from Tuscany
The manufactory that produces the Rapunzel tomato sauces was founded in 1974. The family-run company manufactures with a lot of love and care wonderful, traditional tomato products from sun-ripened, fruity tomatoes.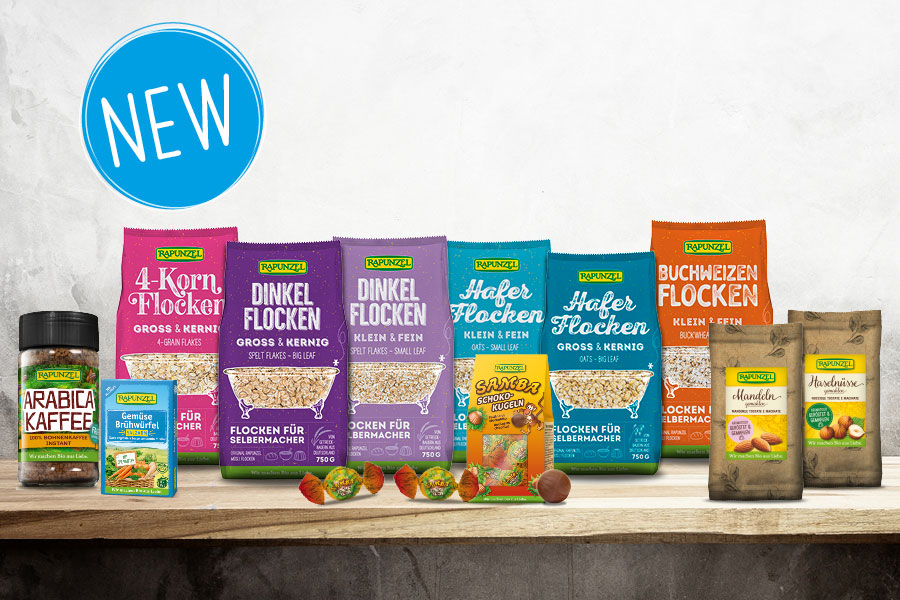 July brings color into your pantry
Its gonna get colorful: in July these Rapunzel delicacies will be new. From pure flakes for do-it-yourself enthusiasts to chocolate balls for Samba lovers - these and the other new products will bring color into your kitchen. Check out your neighborhood organic store or visit the Rapunzel webshop.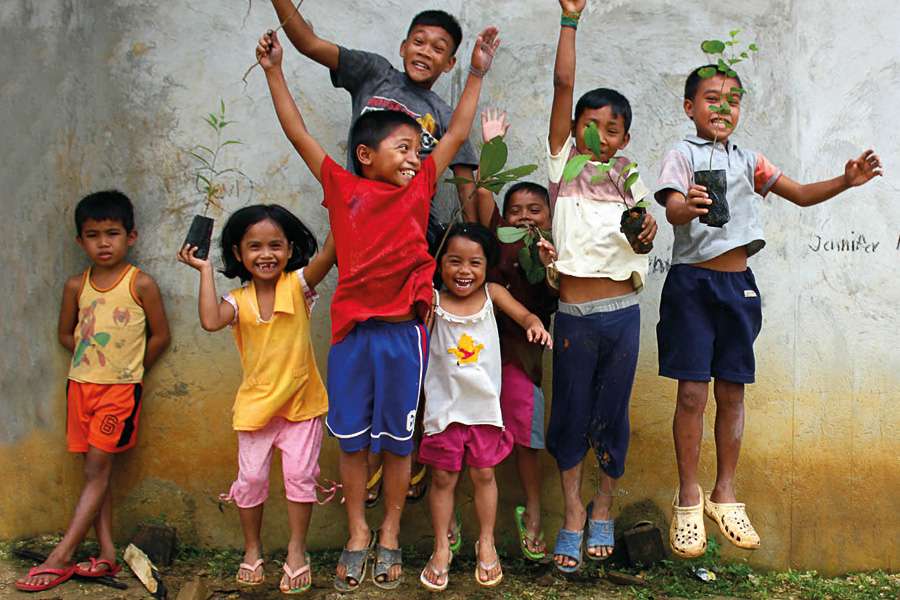 HAND IN HAND fund supports projects of hope
From Haiti to Congo and the Philippines: in the first half of 2021 Rapunzel Naturkost and the German Environmental Aid donate almost 100,000 Euro to the HAND IN HAND fund for eco-social projects.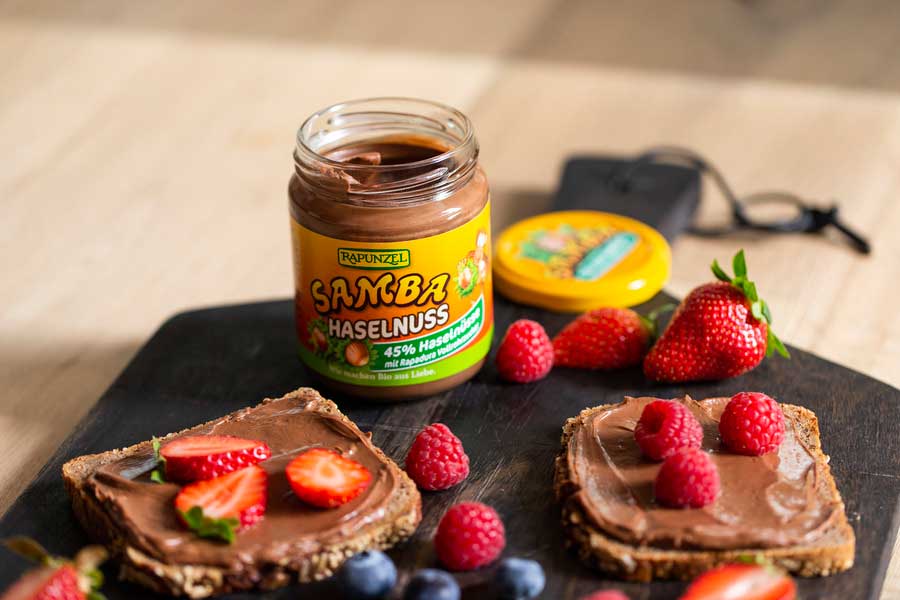 Samba – Nut Nougat butter with 45 % hazelnuts
Since 30 years Samba has been bringing delicious nut flavor on the breakfast table letting the hearts of big and small nut lovers beat faster. In addition to Rapunzel's classic Samba Hazelnut butter the portfolio was expanded over the years with other Samba products. Samba can also be enjoyed on the go with the new Samba balls, sticks or wafers. Samba - simply the best!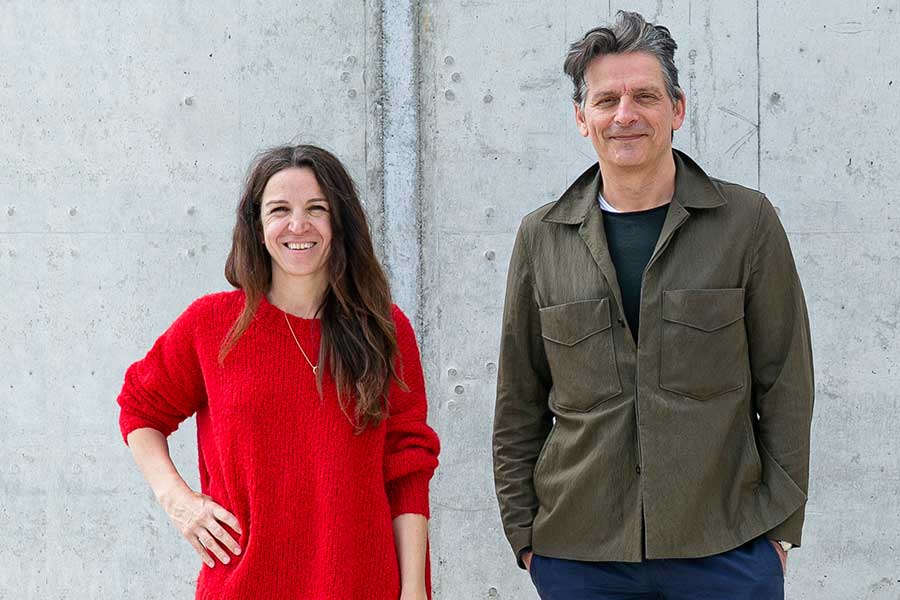 The architect of the visitor center
Star architect Martin Haas from haascookzemmrich STUDIO2050 reveals in an interview how the visitor center illustrates the Rapunzel philosophy and what visitors should pay attention to.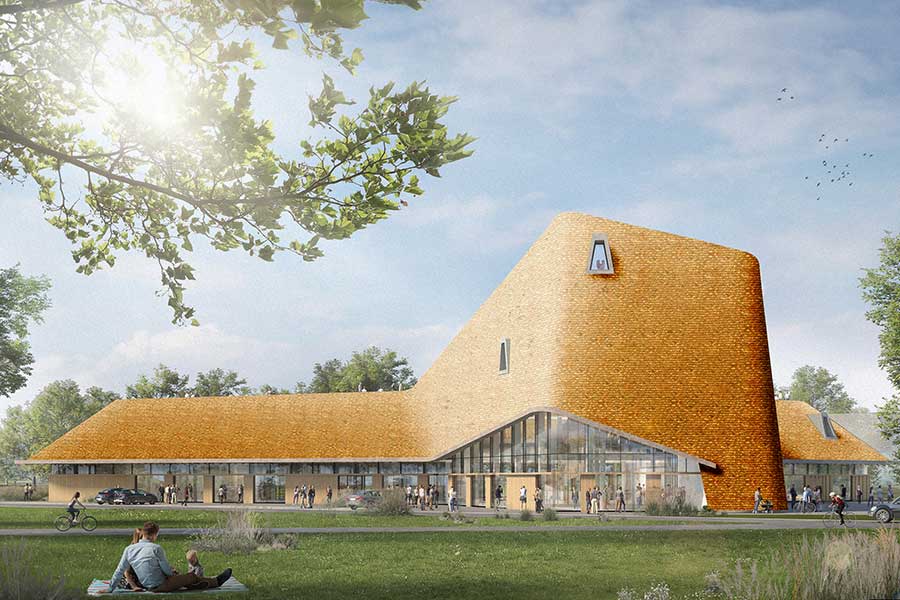 News from the visitor center
Curious where the roof tiles for the new visitor center come from? Come with us to a tile manufacturing plant that is producing tiles in the third generation and where each tile is unique.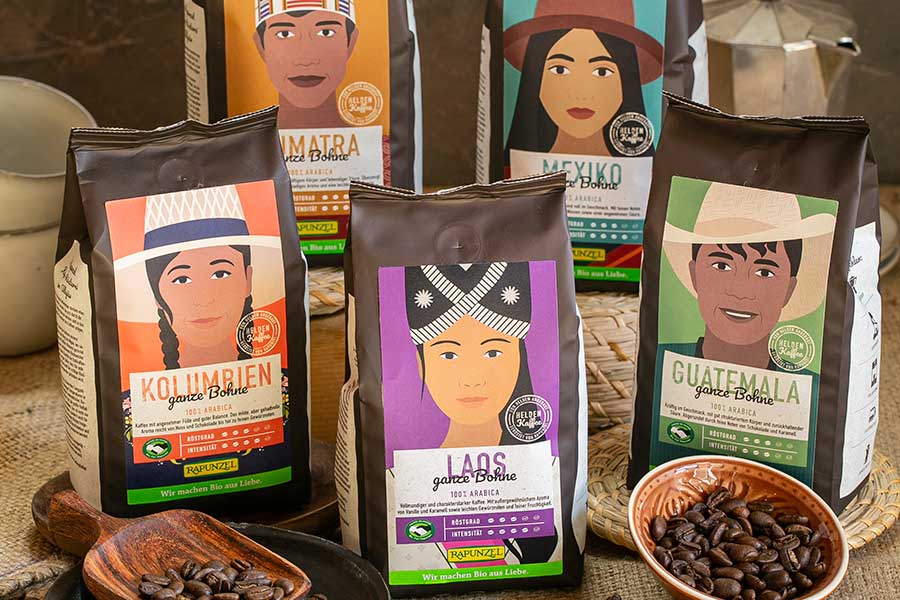 Hero coffee - new products in May
This coffee makes you alert and attentive for a just world. The new hero coffee varieties from five different countries reward you with finest organic quality and 100% fair-trade coffee indulgence - produced by genuine coffee heroes. Naturally, all five suppliers are also Rapunzel HAND IN HAND partners.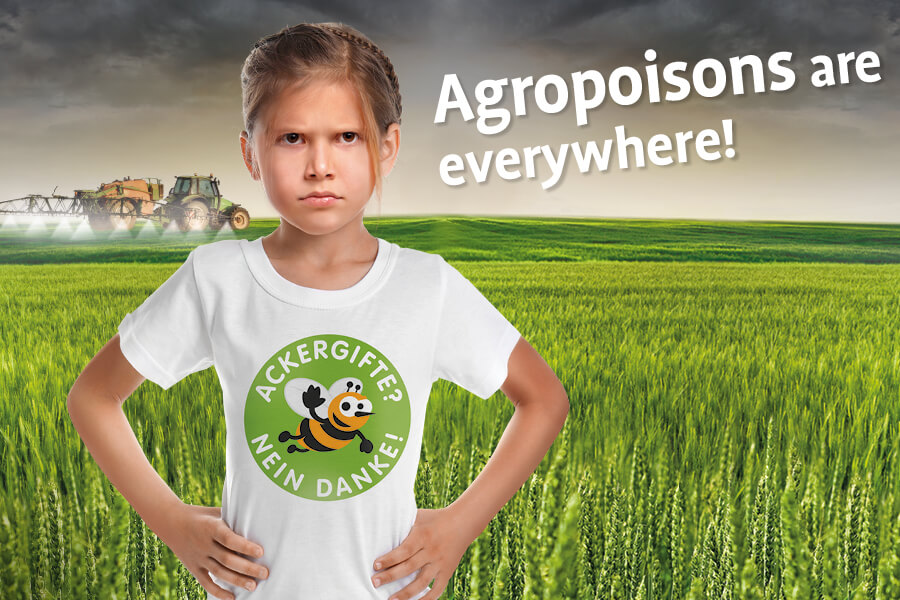 Reactions to "Agropoisons? No thanks!"
Following the study "Pesticide contamination in ambient air", a forsa survey confirms: 77 percent of Germans want a pesticide ban. Thus, our initiative "Agropoisons? No thanks!" and our call for an immediate ban on pesticides that spread mostly via the air actually reflect the majority opinion.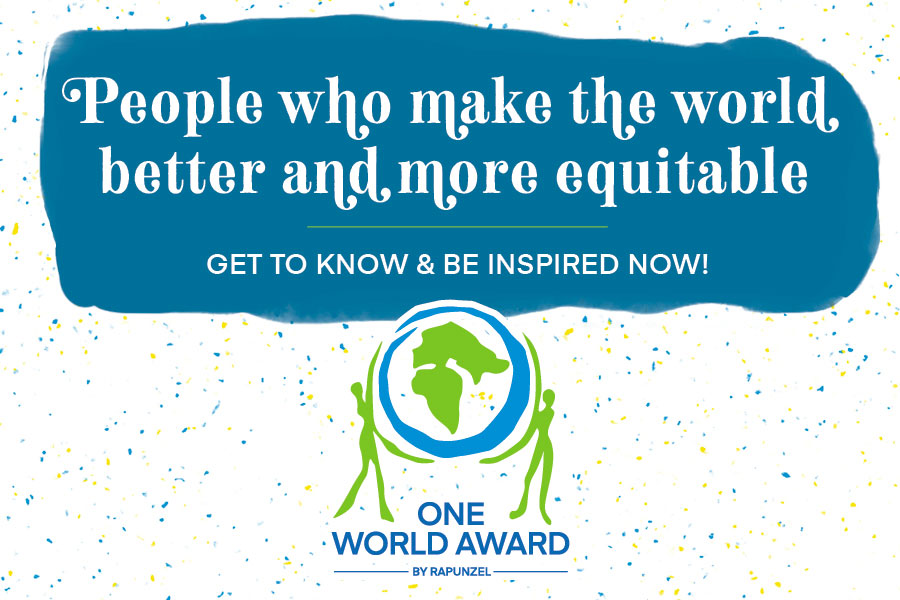 One World Award – the winners
This year for the 6th time, we presented together with IFOAM – Organics International the encourager award to several very special people. The One World Award is endowed with a total prize money of 45,000 € – for the first time, the award ceremony took place as an online event.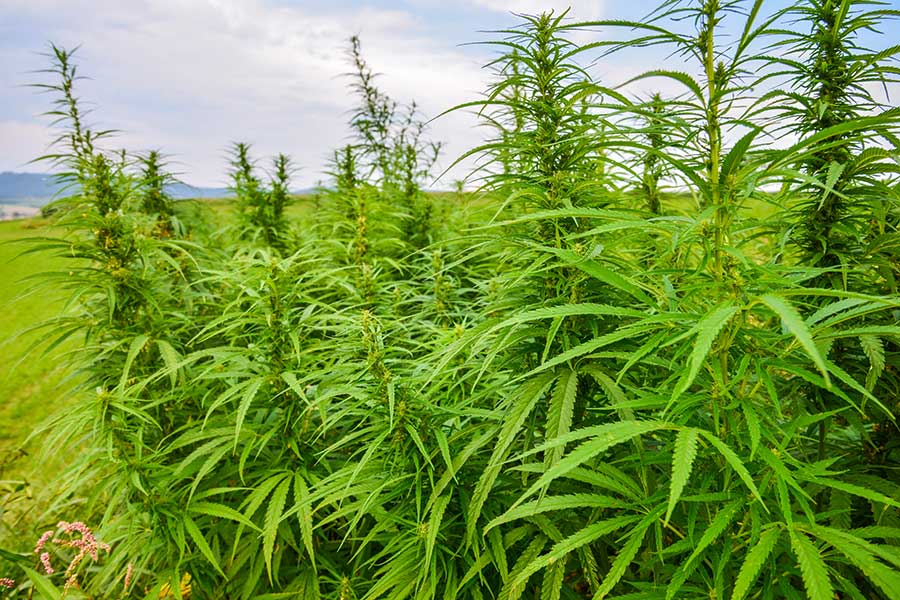 Product information hemp
Learn more about the exciting history and botany of industrial hemp. Get to know valuable background information on the nutritional benefit of hemp. In addition to several other positive aspects, hemp is also an important  source of polyunsaturated fatty acids.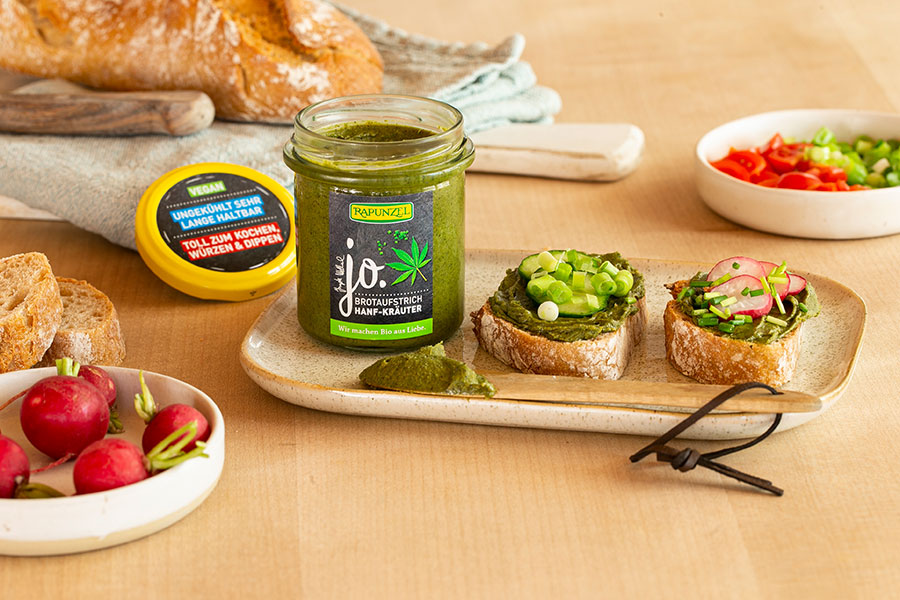 New product: jo.bread spread hemp-herbs
There is a new addition to the savory jo.bread spread product line: the new jo. hemp-herbs butter made with nutty hemp seeds, delicious garden herbs and aromatic spices. Try it for cooking, as spice or as dip for vegetables.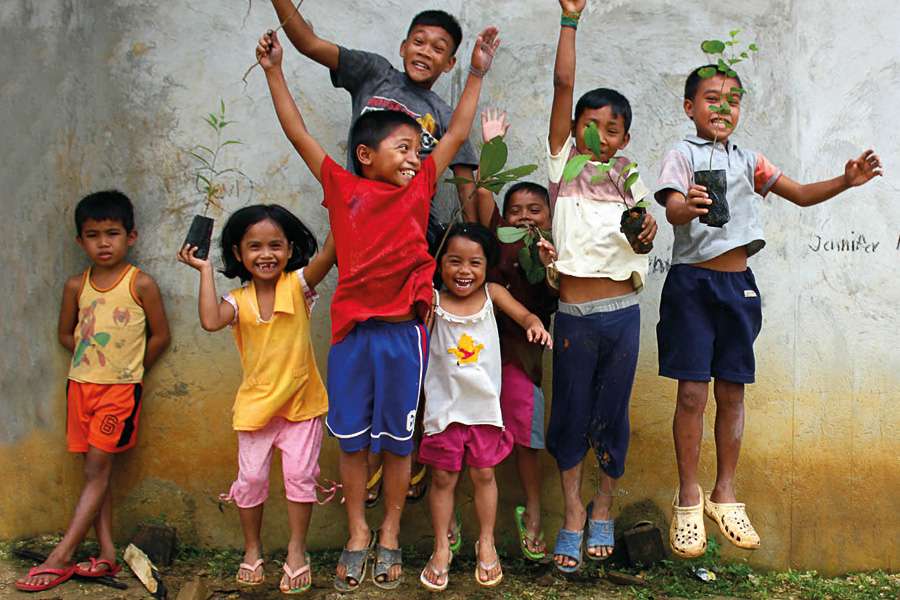 Helping where governmental support is barely available
The partnership between companies and NGOs makes sustainable development in countries of the global South possible. Once again in 2020, the HAND IN HAND fund, a joint initiative of Rapunzel and the German Environmental Aid, supported many ecologial and social projects inn Africa, Latin America and Asia.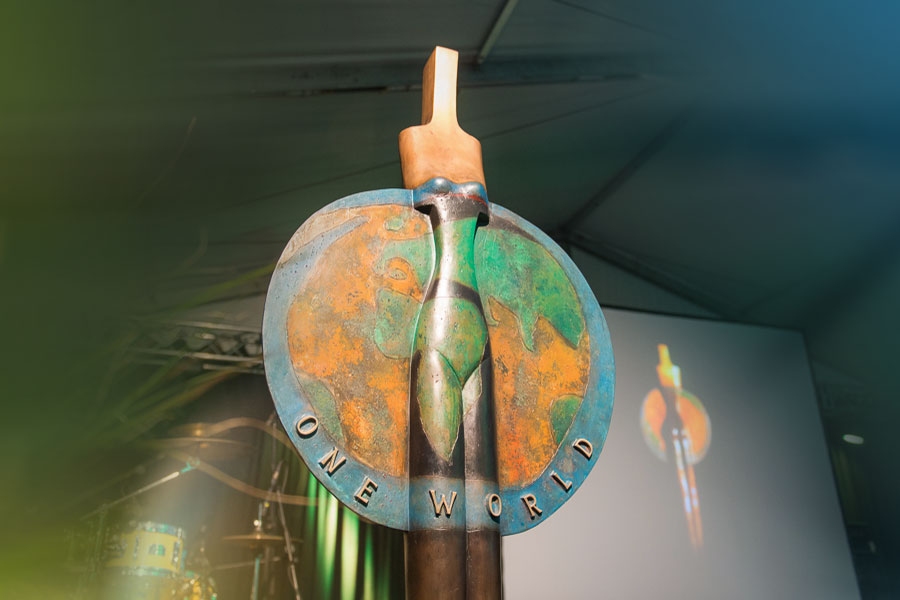 One World Award – Jury presentation
The One World Award (OWA) honors people, projects and innovative ideas who give globalization a positive dimension and make the world better and more equitable. The OWA jury has grown to six experts from all over the world. Get to know the new experts.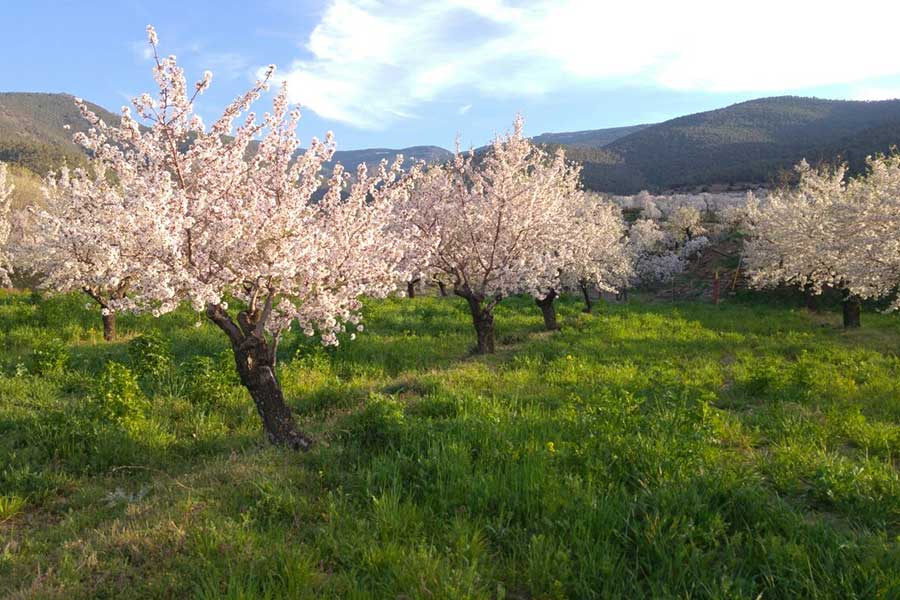 Organic almonds from Andalusia
We source our Spanish Rapunzel almonds from Southeastern Spain. In this region, almond supplier La Almendrehesa helps to strengthen and revitalize a barren region that is characterized by rural exodus.  
Rapunzel says "Thanks"
For Christmas and at the end of an exceptional year, the Rapunzel family and the suppliers from around the world say thank you in a short film: for an outstanding performance and mutual support. We wish you and your beloved ones a merry Christmas and a happy new Year!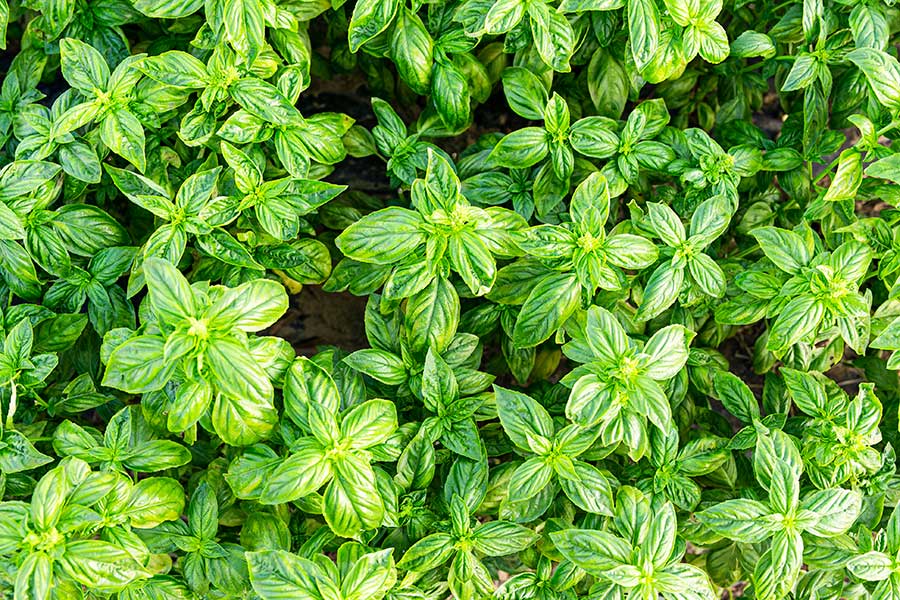 Pesto – versatile spice paste from Italy
Traditional pesto comes from the Liguria region in Italy. Pesto is a raw, uncooked spice paste that Italians traditionally eat mixed with pasta or gnocchi. All major ingredients come from Italy - basil, extra virgin olive oil, cheese and pine nuts, sea salt and all the vegetables that are used for making red pestos.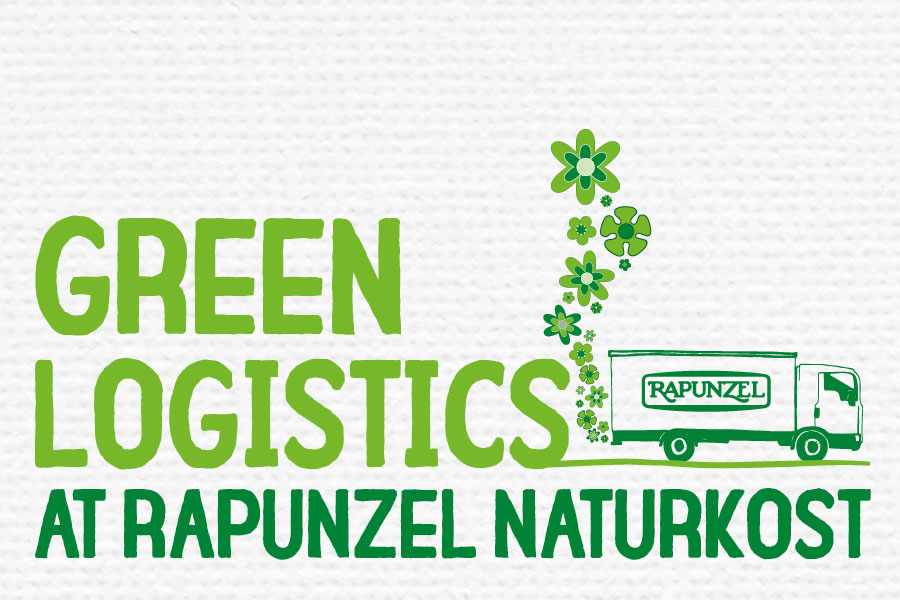 Sustainable also behind the scenes
Rapunzel has been optimizing sustainable and resource-conserving logistics for many years. Like organic cultivation or environmentally-friendly packaging, logistic services are also an important aspect of sustainable company orientation.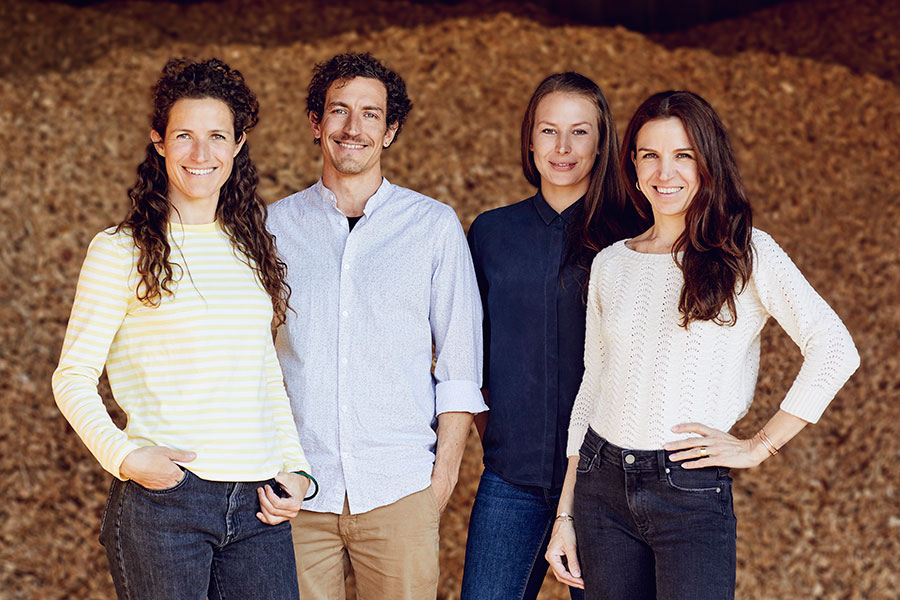 Rapunzel – a family company
Since the foundation of the company by Joseph Wilhelm and Jennifer Vermeulen in the year 1974, Rapunzel has been a family-run company. Today, the company is 100 percent family owned - and the next generation has already assumed responsibility some time ago.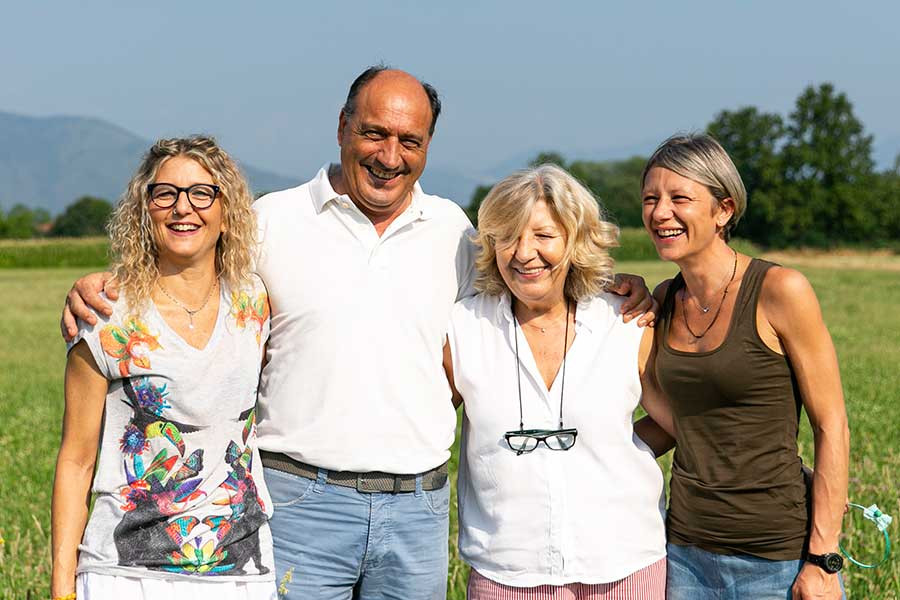 Rapunzel Pesto makers - a supplier portrait   
Rapunzel pesto is made in Piedmont region in Italy - a region that is well-known for its exquisite cuisine. Rapunzel visited the pesto makers Nadia and Matteo. Learn more about the manufacturing of Rapunzel pesto.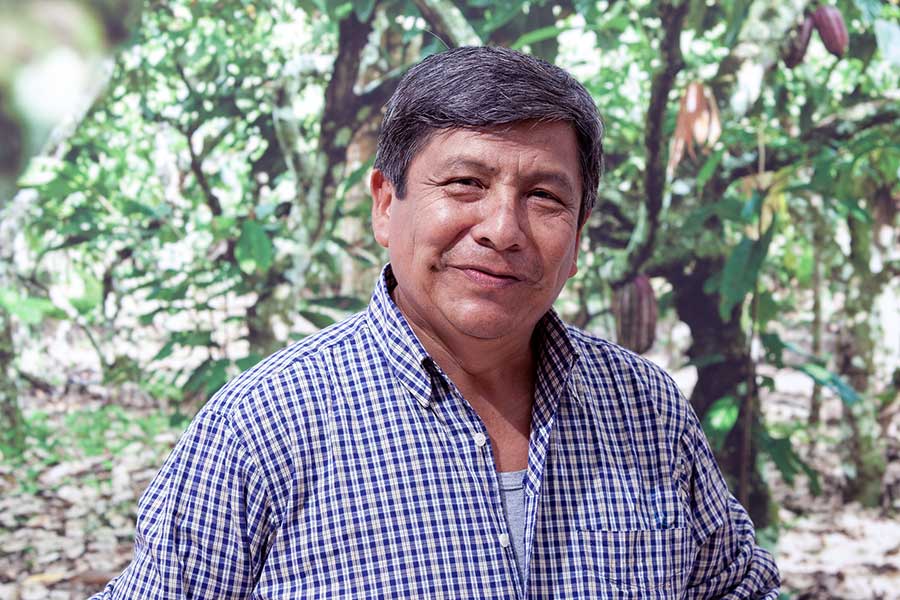 Orbituary for pioneer Bernardo Apaza Lluscu
We mourn the loss of our friend Bernardo Apaza Lluscu. As a member and cocoa farmer of the Bolivian El Ceibo cooperative he promoted fair trade for many years. Bernardo belonged to the group of people who encouraged Rapunzel to establish our own fair trade program.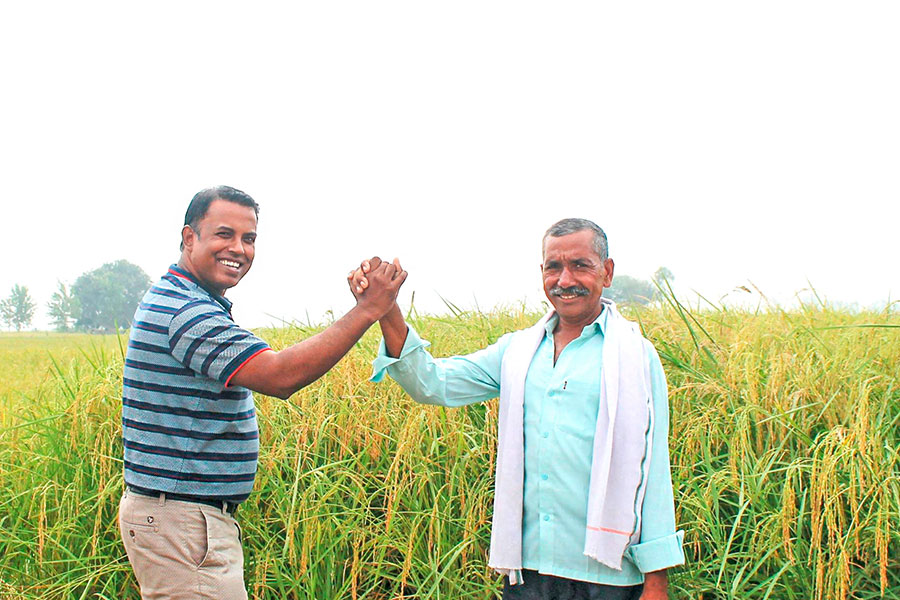 Organic Basmati rice from India!
Rapunzel rice supplier Tapan Ray promotes organic rice cultivation and shows the benefits for nature and humans. This way, he is performing important pioneer work.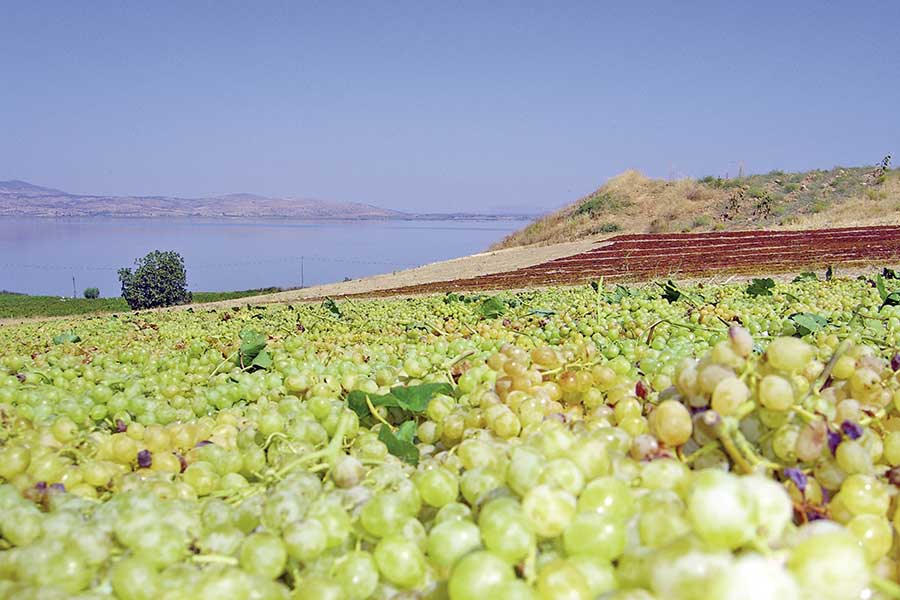 The 2020 nut and dried fruit harvest in Turkey
The new harvest from the Turkey project arrived! Despite several ups and downs during the year, we are happyy about a relatively good harvest with sweet fruits and crunchy nuts.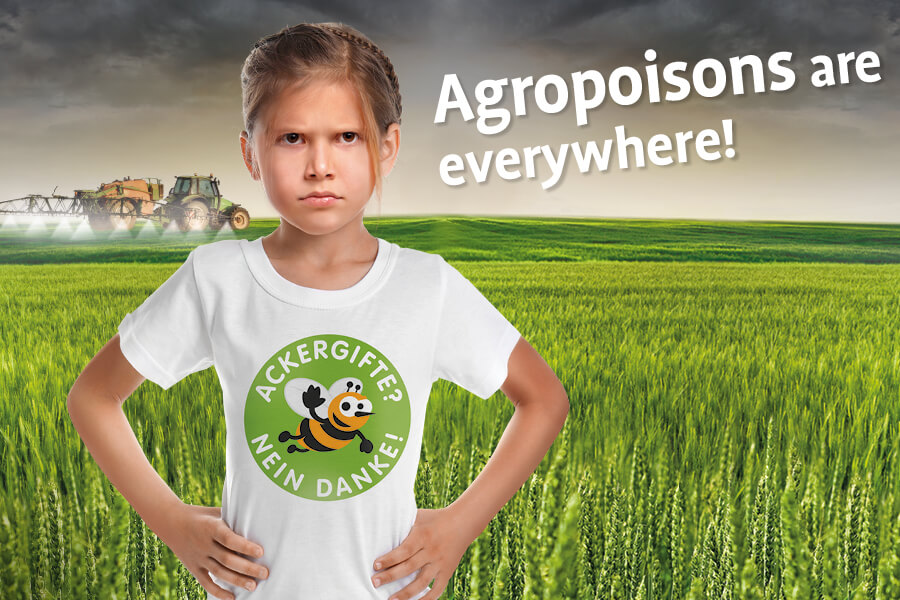 Agropoisons? No thanks!
The German study "Pesticide contamination in the ambient air" that was published in the context of the Agropoisons? No thanks! campaign produced alarming results. Click here for more information about the new study.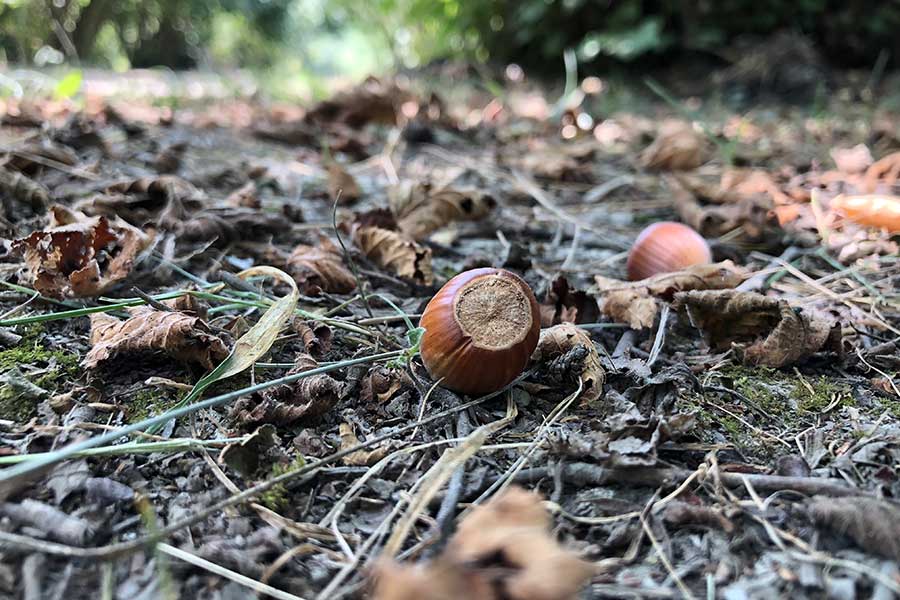 Crunchy hazelnuts from the new Azerbaijan Project 
Since the fall 2018, crunchy hazelnuts from our new cultivation partner in Azerbaijan have been used for Rapunzel projects. Learn more about the valuable organic pioneer work associated with this project.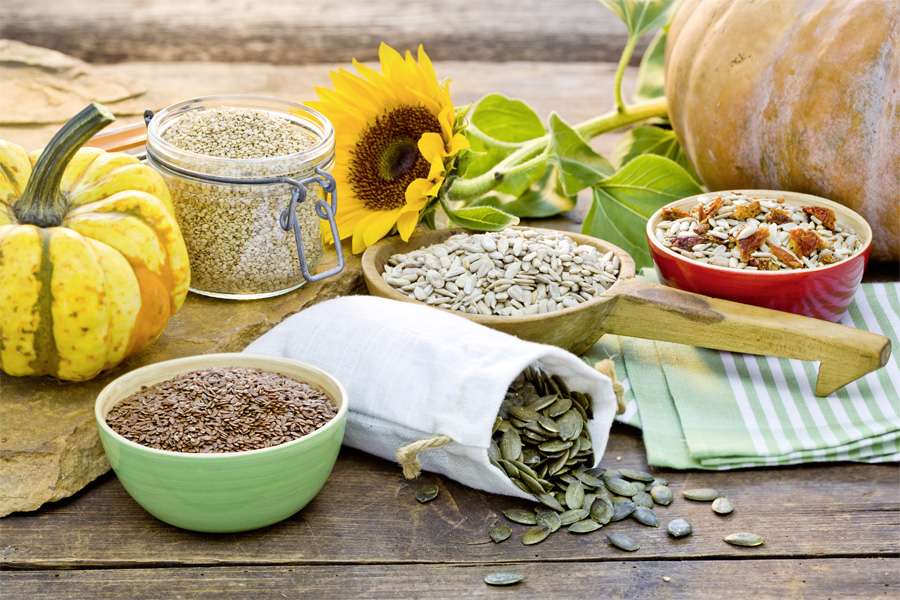 Oilseeds: robust nutrient packages
In the daily diet, these small power packages are particularly valuable for a vegetarian or vegan lifestyle. Learn more about the different types of Oilseeds and for which usage this small grains are perfect for.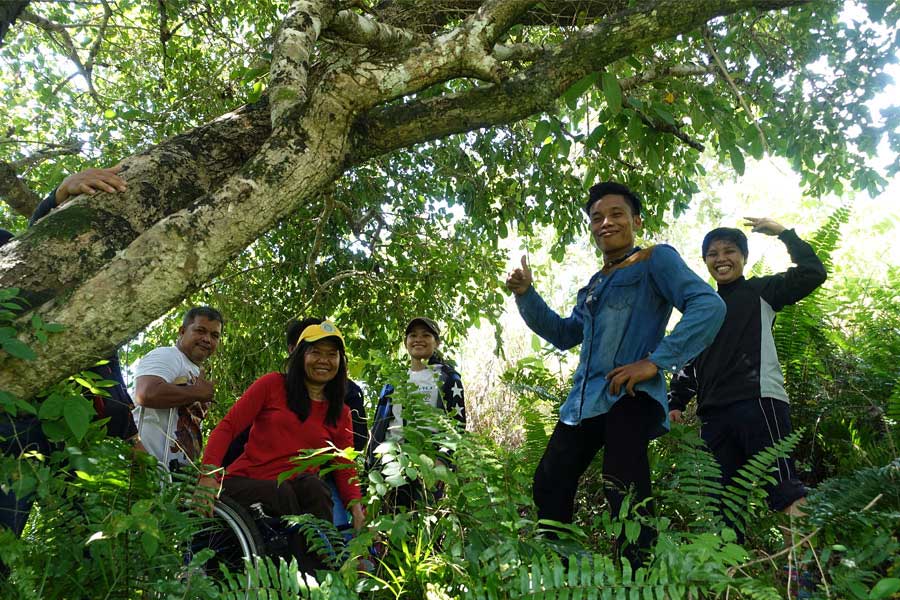 HAND IN HAND-Fund supports ecosocial projects
The HAND IN HAND fund supports 27 ecosocial projects in the global south with a total funding sum of more than 130,000 € during the first half of this year. In addition, an extraordinary donation is given to a special project, the organic farming cooperative HIPEDAC in the Philippines.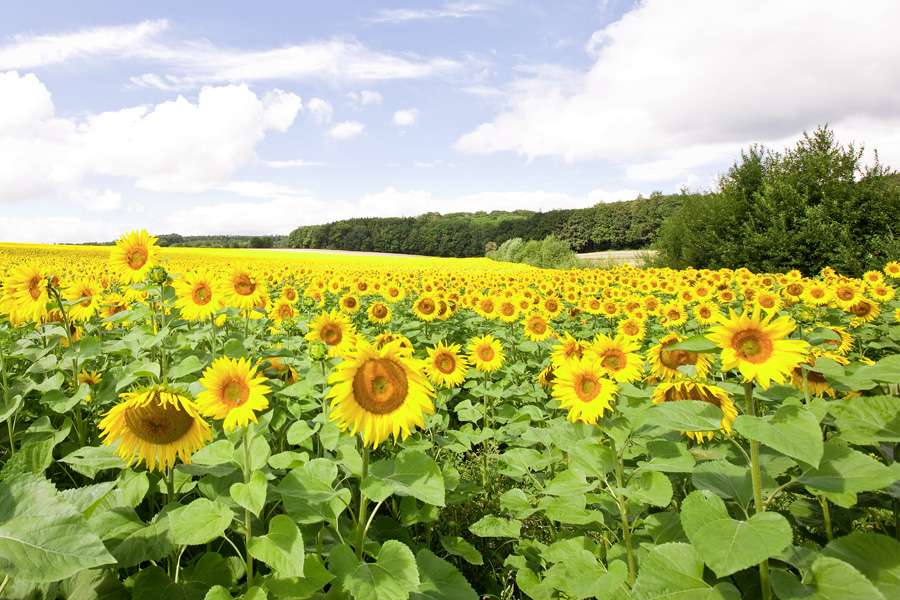 News from organic sunflower breeding
Rapunzel supports the development of seedfast varieties. Read the interview with breeder Fadi Kanso and find out interesting aspects of sunflower breedings.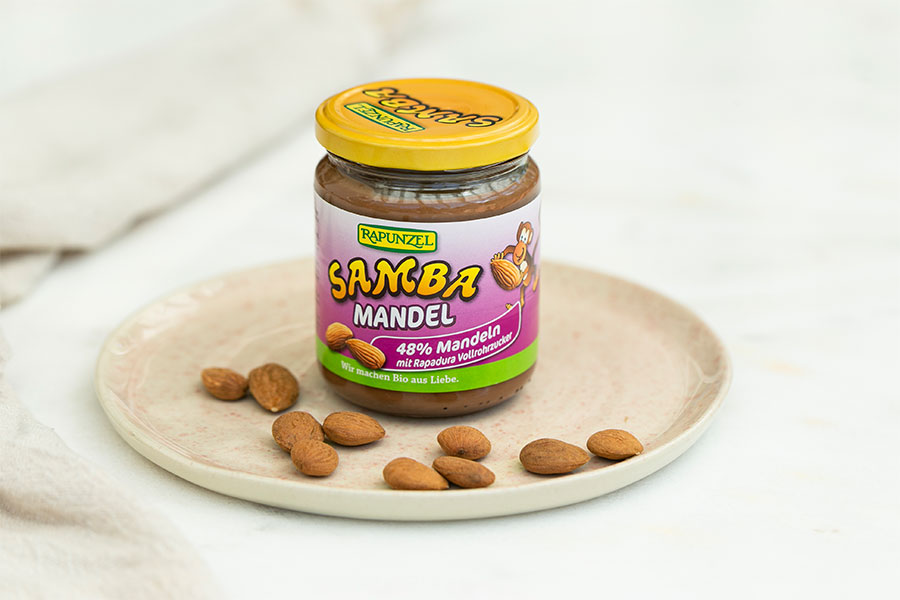 Chocolate butters for every taste
Samba, the Rapunzel classic, turns 30 and gets new additions with Samba Almond & Dark Chocolate-Coconut cream.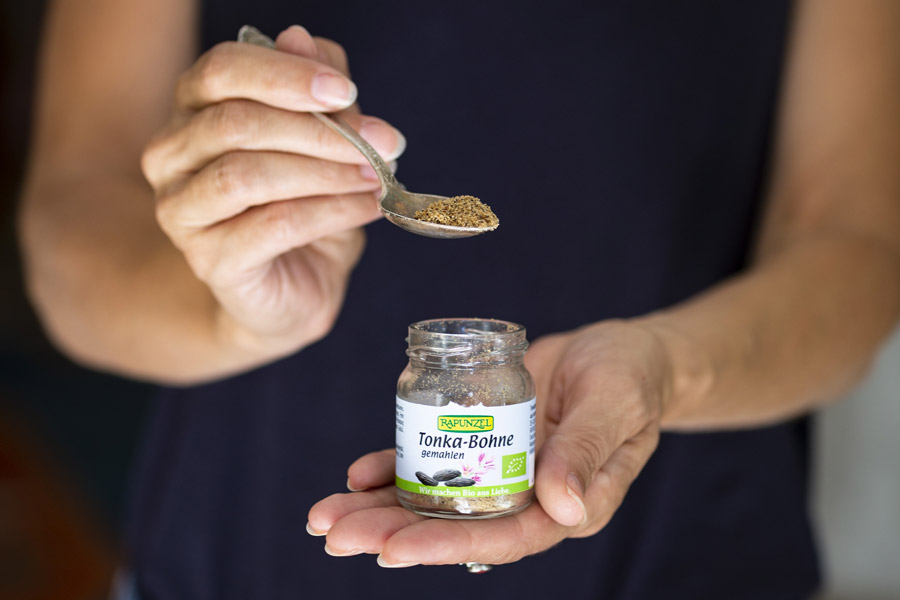 Exotic innovation for all pudding lovers
Everybody is talking about Tonka. This special spice gives our new pudding powder a flowery aroma that remindes of vanilla, rum and bitter almond. Click here to learn everything there is to know about the Rapunzel Tonka bean.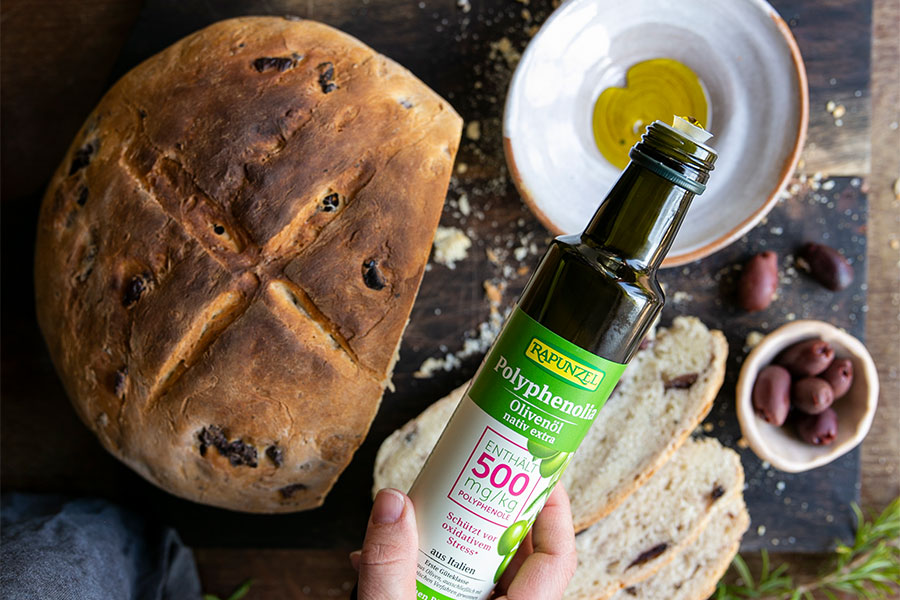 The advantage of polyphenols
Our new Polyphenolia 500 olive oil extra virgin has a particularly high concentration of polyphenols. Polyphenols have positive health effects.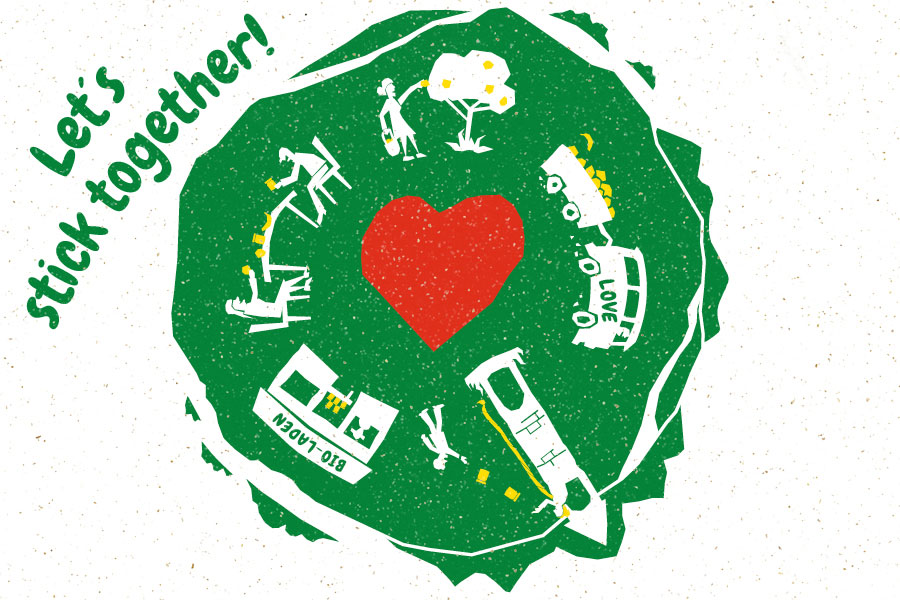 Let's stick together!
Due to the global exceptional state and the high demand on our products the order shipping to the specialist trade is delayed. Please find more information on that linked with our appeal: Let's stick together!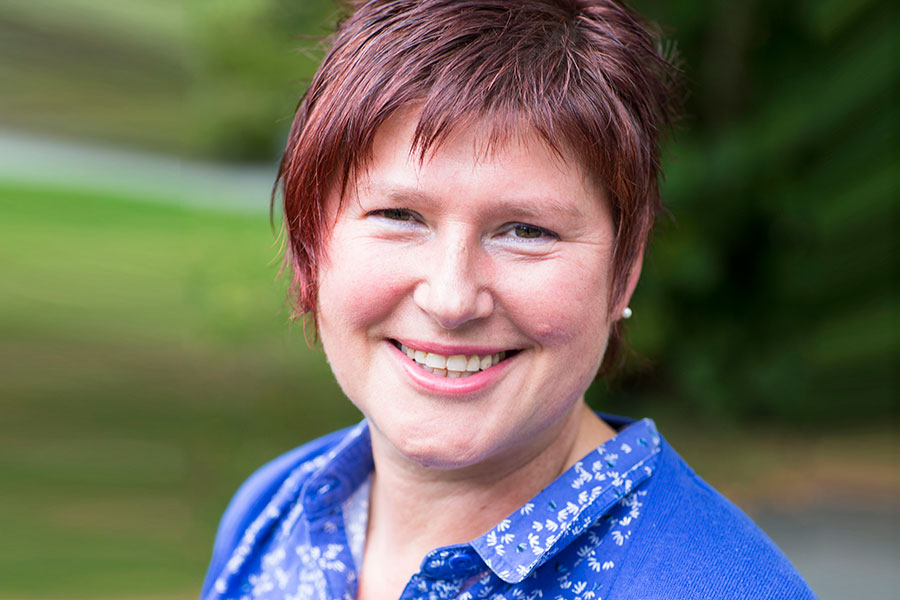 Goodbye to Heike Kirsten
For a quarter of a century, Rapunzel Marketing Director Heike Kirsten was our colleague and friend. At the end of March, she passed away into the spiritual world. Her death marked the end of a six-year battle against her disease.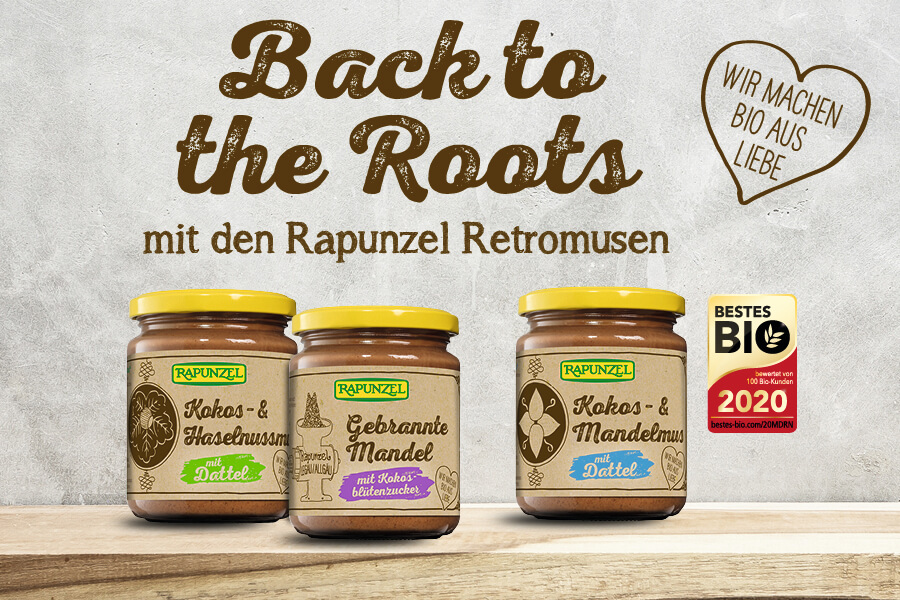 Retro nut butters go into production
The successful product "Coconut & amond butter with date" will be succeeded by two additional nutty-light butters: "Coconut & hazelnut with date" and "Roasted almond with coconut blossom sugar".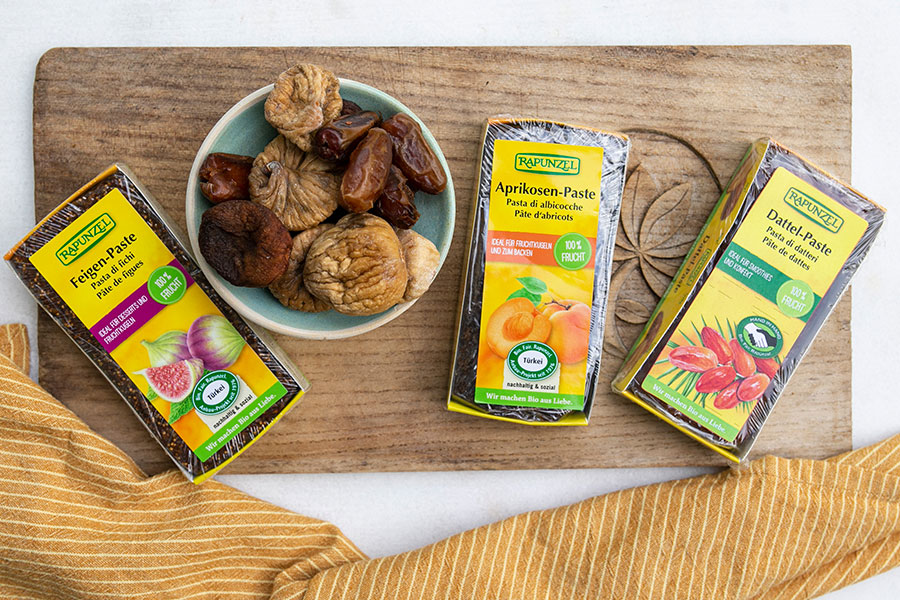 Dried fruit enjoyed differently: Rapunzel fruit pastes
Dried apricots, dates and figs in a practical format: click here to find out more about Rapunzel fruit pastes.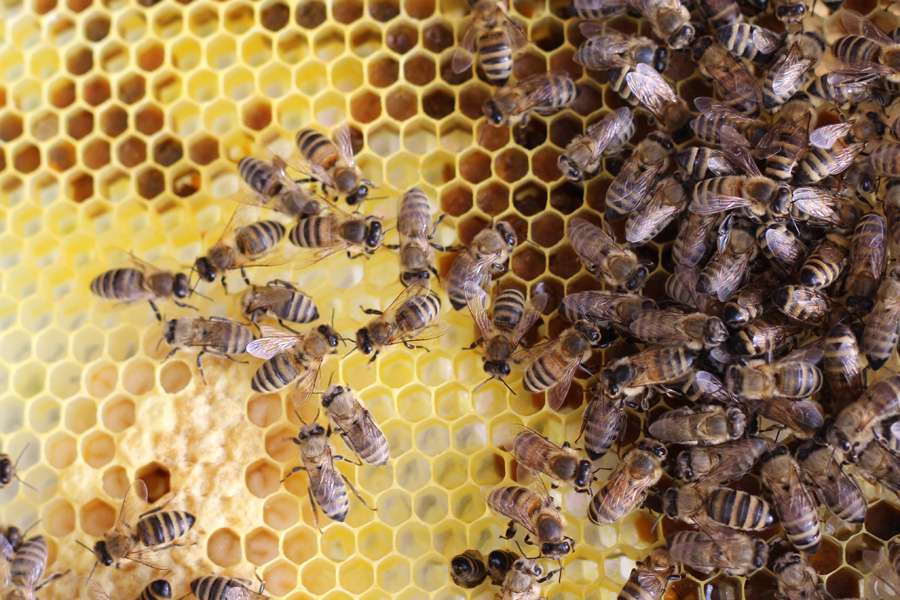 Biodiversity – the endangered wonder of nature
Rapunzel promotes biodiversity - today on the International Day of Species Conservation and since the beginnings of our company. Organic agriculture and GMO-free seeds are essential aspects in the fight against species extinction and for the protection of ecosystems.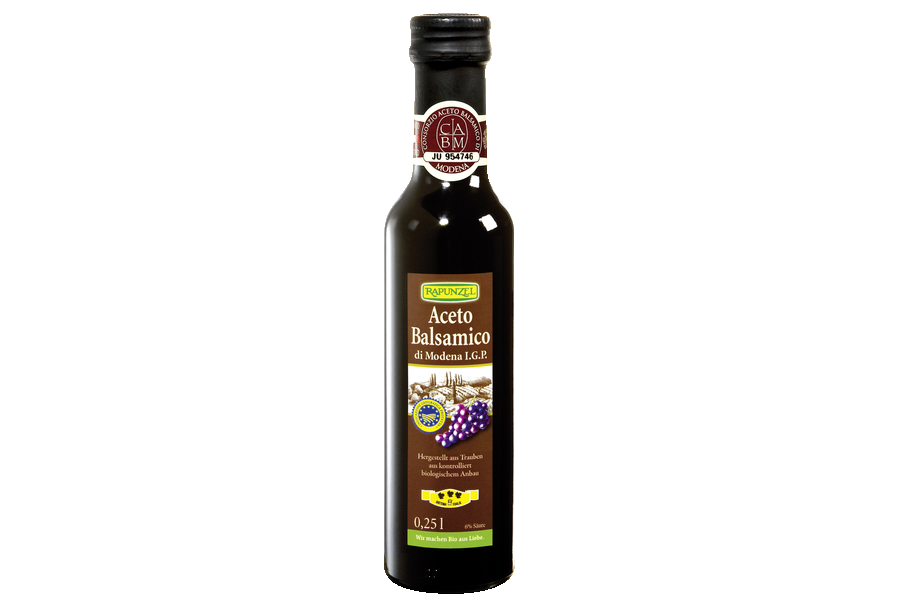 Aceto Balsamico assessed with "good" by "Stiftung Warentest"
The German consumer magazine "Stiftung Warentest" ranked the Rapunzel vinegar among the top 3 products with respect to taste. With an overall 1.9 score, the Rapunzel Aceto Balsamico also came off as the best organic product.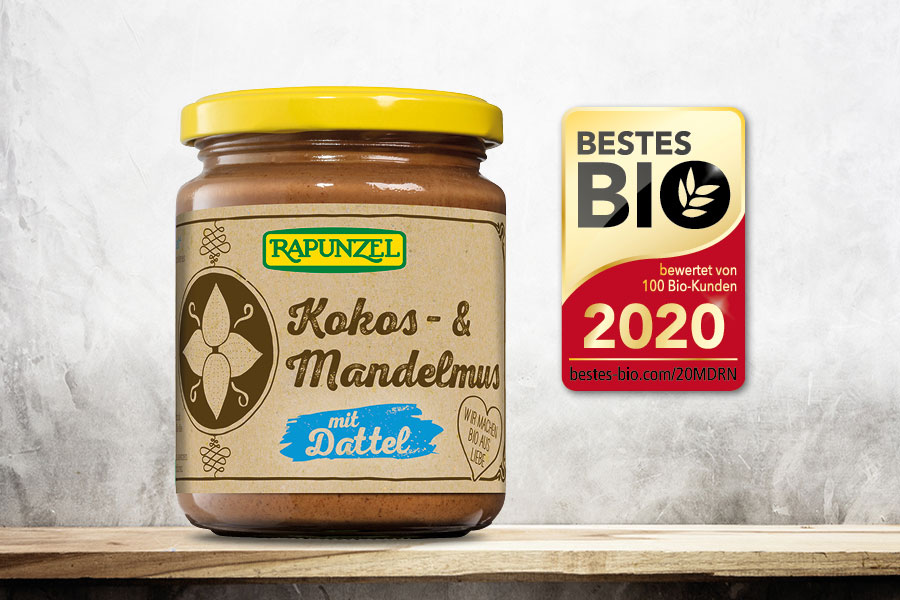 Coconut & almond butter with date was awarded with "Best Organic" award
The butter with three ingredients received the German "Best Organic" award and is one of the three most popular products in the test.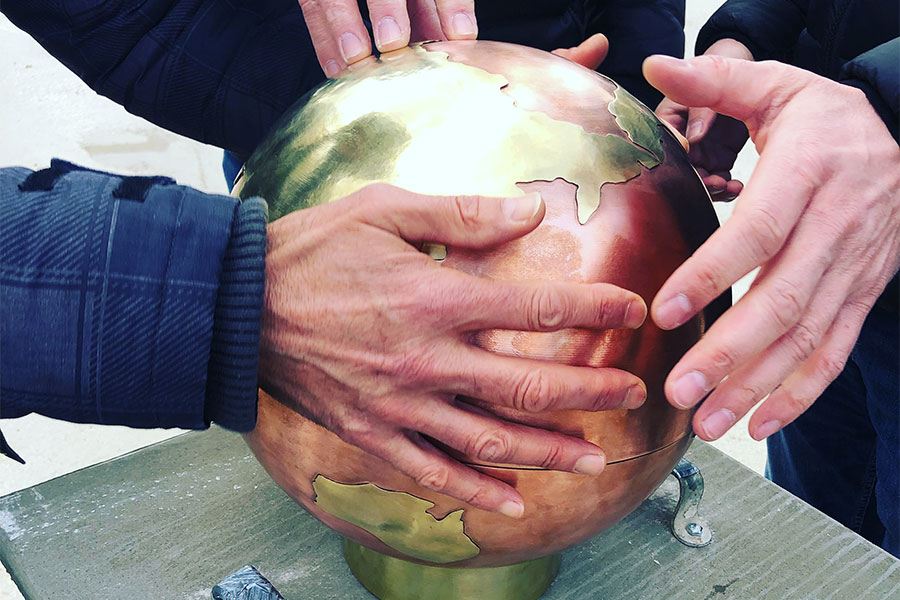 Laying of the foundation stone for the Rapunzel visitor center
A foundation stone ceremony with symbolic character that was held on February 12, 2020 marked the start of construction of the visitor Center in Legau. Follow  the news concerning the construction progress in our blog.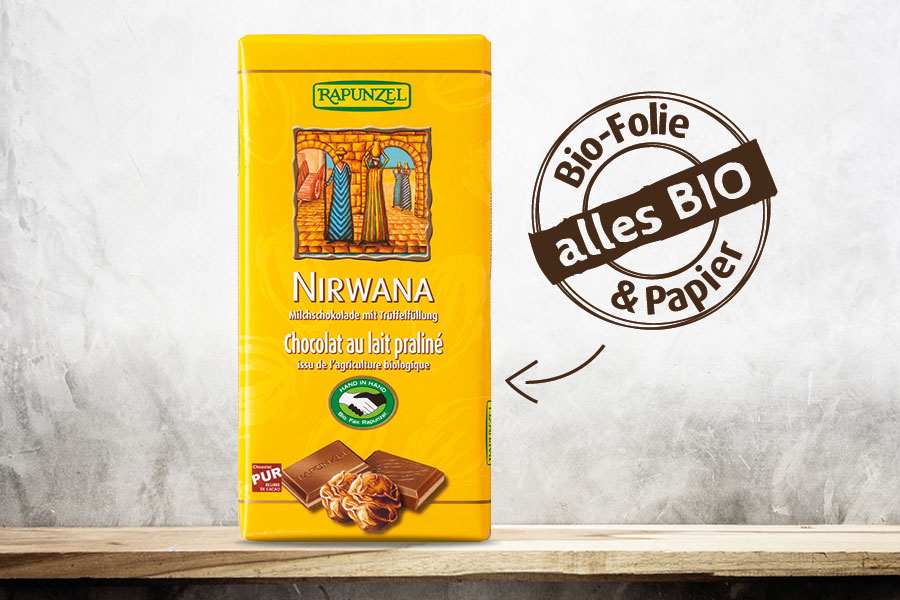 Eco film for Rapunzel chocolate
Since October 2019, Rapunzel chocolate has been pakaged in biodegradable cellulose film. This is another important step towards sustainable packaging solutions.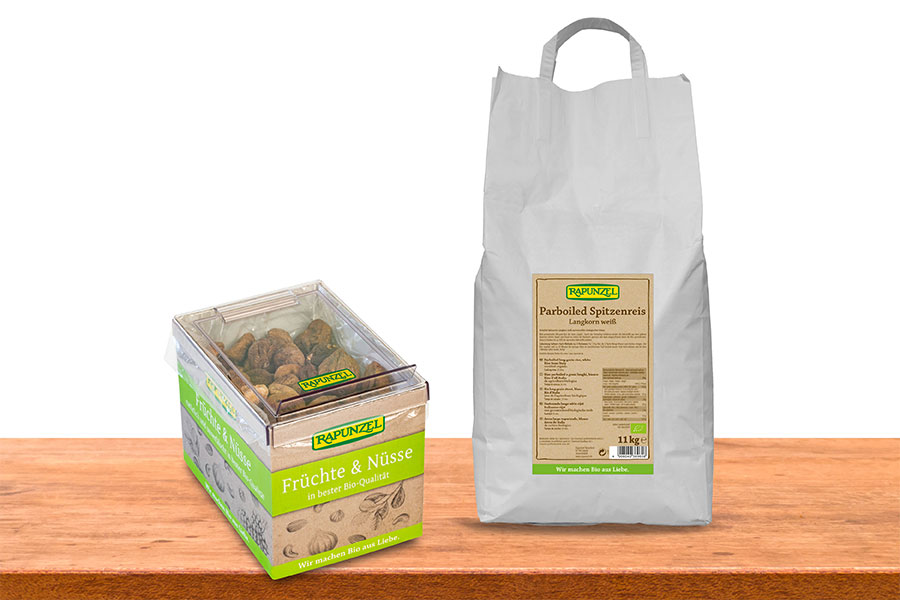 Best without: new unpacked product line
Rapunzel goes back to its roots: since the autumn 2019, you can find numerous unpacked Rapunzel products in your organic specialist store or in unpacked shops.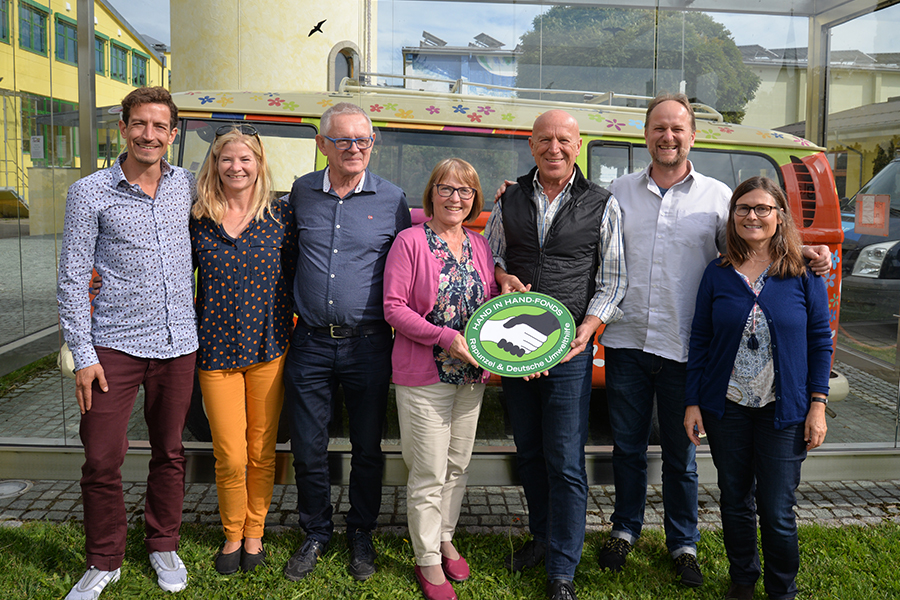 More than 180,000 Euro for eco-social projects
As every year, the HAND IN HAND fund - a joint initiative of Rapunzel and the German Environmental Aid - supported numerous ecological and social projects in Africa, Latin America and Asia. A total sum of 187,000 Euro was donated in 2019 as unbureaucratic help for self-help and for a fairer world.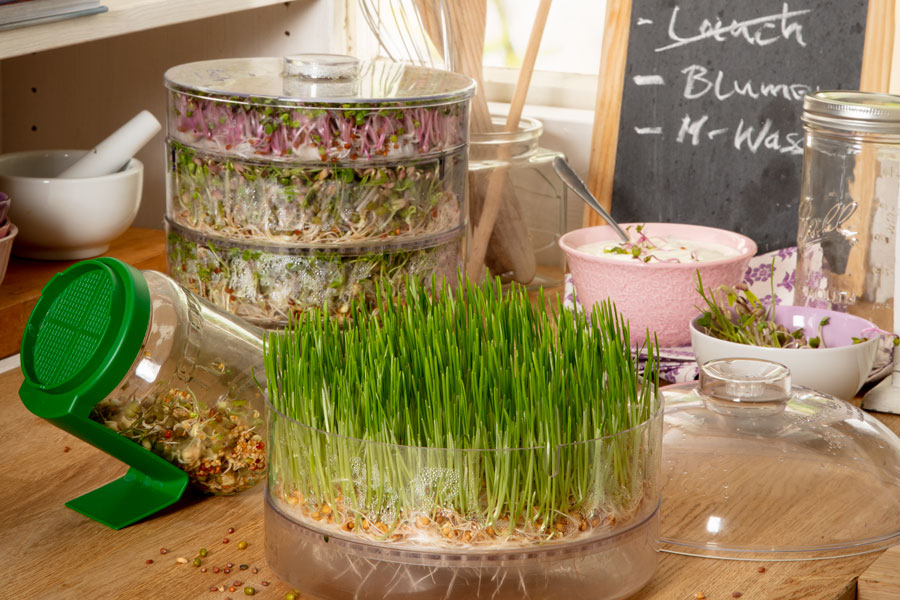 New: bioSnacky sprouting seeds at Rapunzel
Crispy, fresh sprouts can be cultivated on every windowsill - simple gardening for everybody. Discover the new bioSnacky power packages with their incredible nutrient variety.
New in the Rapunzel portfolio from now.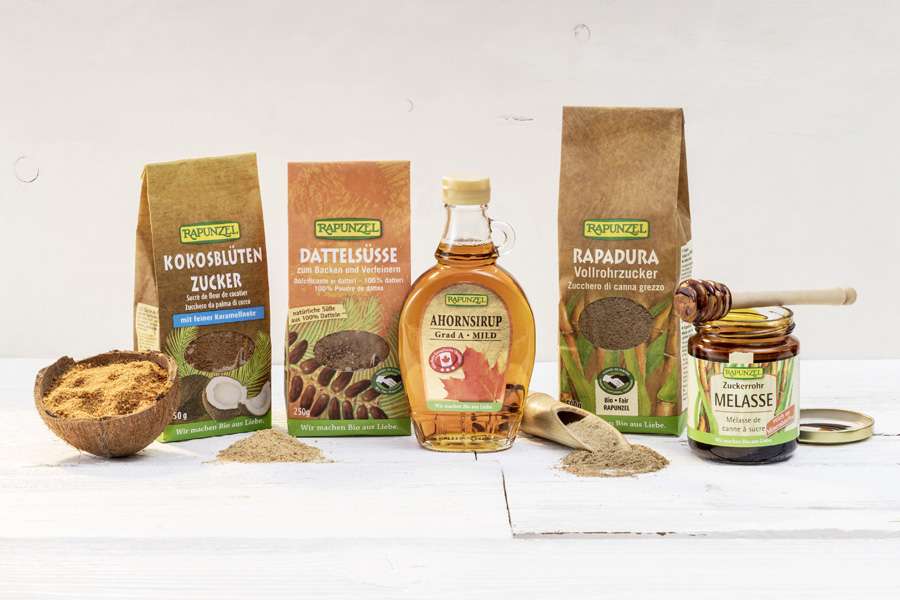 News about Sugar and its effect
Sugar is one of the major topics in nutrition. Is sugar dangerous? Why do we enjoy so much eating sweets? What is its effect on us? Learn more about all this in our latest post on interesting facts, critical opinions & tips about sugar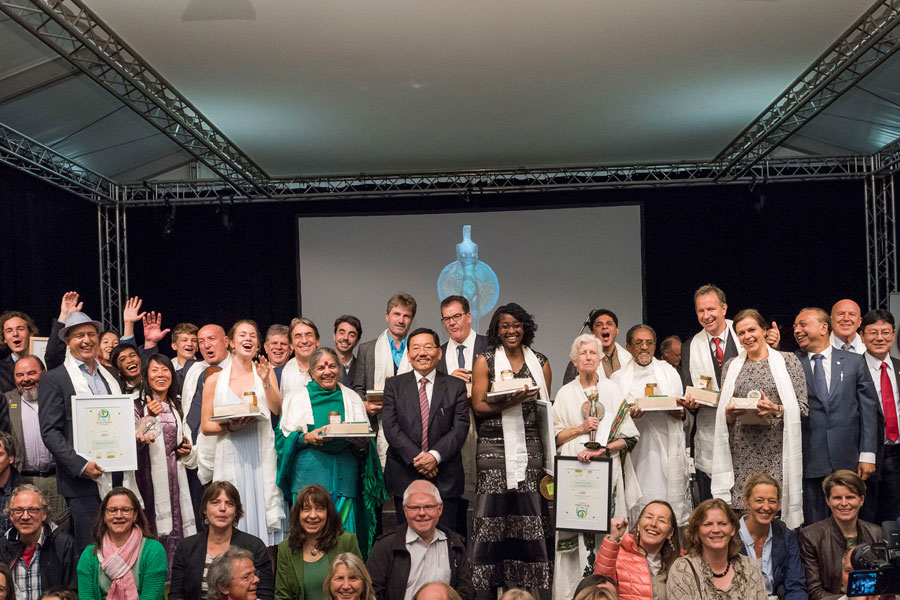 One World Award 2020 – submit application now
Innovative ideas, projects and individuals from around the world who should be honored with the One World Award (OWA) can be nominated once again from now until September 30, 2019. The future maker award that is endowed with 45,000 Euro prize money will be awarded for the sixth time in 2020. The OWA honors projects and people who work for a just and future-proof globalization that includes ecological, economic and social aspects.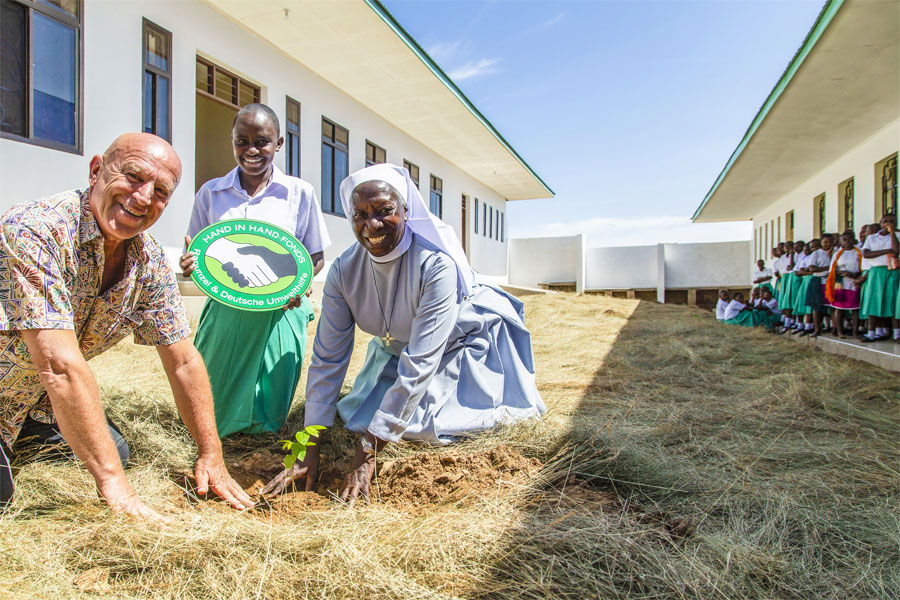 A School for the Future of Africa
The future of Africa is shaped at the Hekima Girls' Secondary School in Tanzania. The project that combines first-class academic education with hands-on organic agriculture is made possible through Rapunzel's proprietary HAND IN HAND program and the associated HAND IN HAND fund. Rapunzel founder and managing director Joseph Wílhelm visited the school for the inauguration of a new dormitory.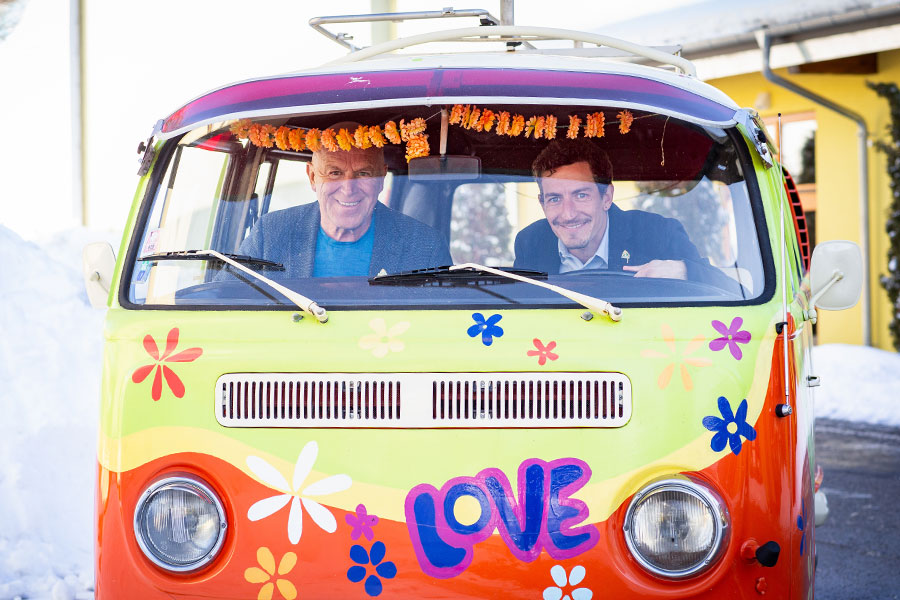 Second generation assumes responsibility at Rapunzel
The generational change has started in the management of Rapunzel Naturkost: Leonhard Wilhelm, the son of company founders Joseph Wilhelm and Jennifer Vermeulen, is now third Managing Director. Leonhard Wilhelm has already been working in the company for many years. Now, he is the first family member of the second generation who assumes managerial responsibility at the organic pioneer with headquarters in the Bavarian Allgäu region.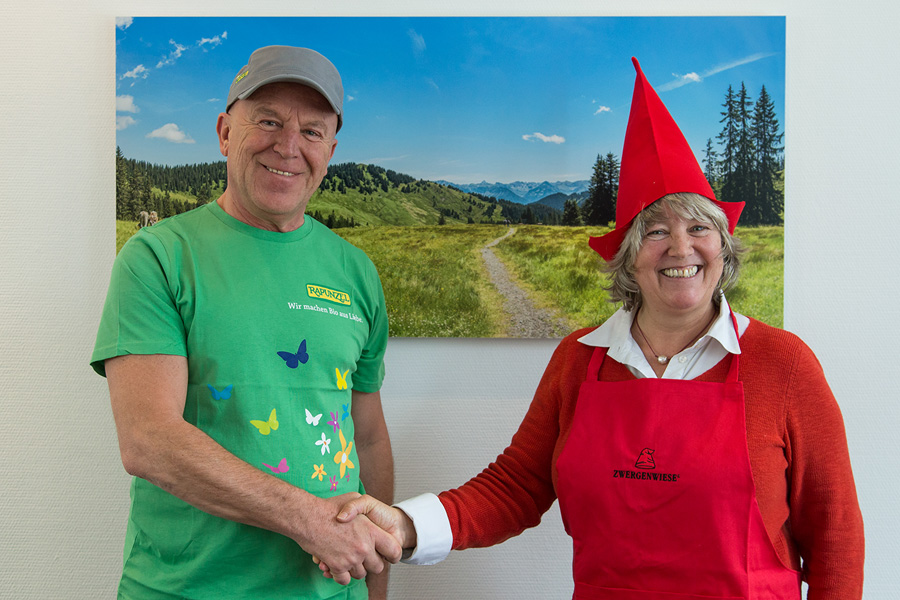 Fairy tale wedding: Zwergenwiese and Rapunzel
With effect from February 28, 2017, Rapunzel Naturkost located in Legau in the Allgäu acquires Zwergenwiese Naturkost GmbH located in Silberstedt in the state of Schleswig Holstein. Zwergenwiese will continue as an independent enterprise at the present location. Moreover, the brand contents, the brand communication and the present customer structure with wholesale supply for the organic food trade will remain unchanged.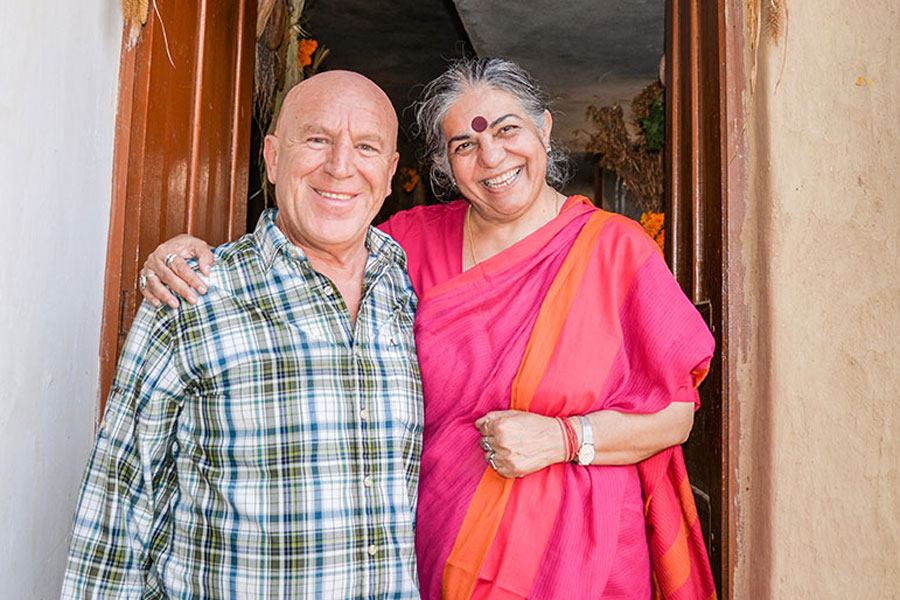 Navdanya: a trip to the seed saviors
During his trip to India, Joseph Wilhelm also visited the Right Livelihood Award laureate Vandana Shiva and her Navdanya organisation.
Navdanya's core mission is the establishment of a seed bank with native, indigenous rice varieties. The seed bank also includes traditional medicinal plants. Rapunzel sources its Basmati rice from Navdanya.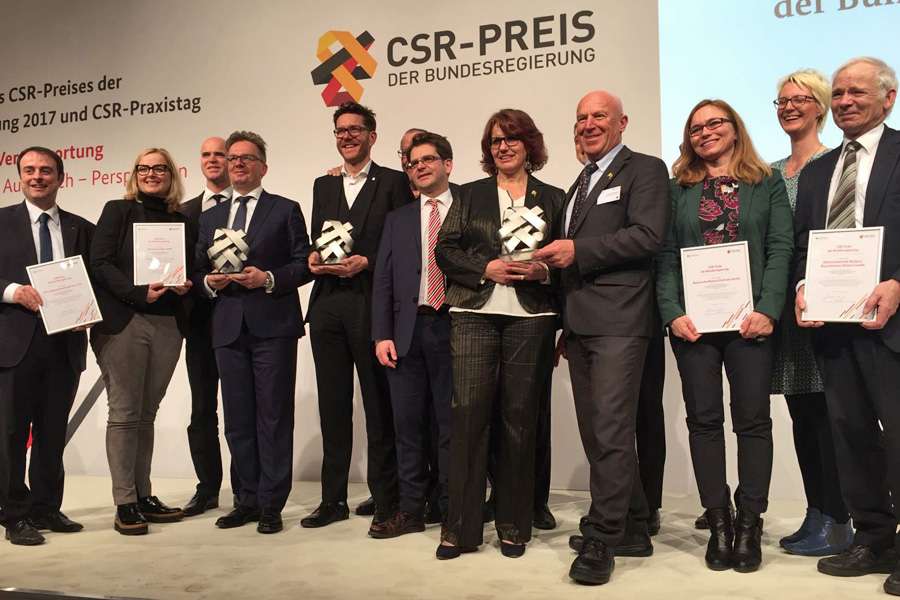 Rapunzel receives the CSR Award of the German Federal Government
The German Federal Government awarded Rapunzel Naturkost GmbH with the CSR Award. Company founder and managing director Joseph Wilhelm received the award in Berlin and rejoiced in this special appreciation for sustainable economic practice and social management.