all recipes

Cakes, Cookies, Delicacies
Tomato bread with rosemary
Details
Preperation time: 10 min.
Rest time: 1 hours and 30 min.
Baking time: 40 min.
vegan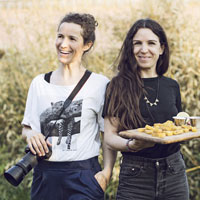 Wilhelm Studio
Method
Mix the flour with the coconut blossom sugar and salt. Then add the yeast. Add the oil and water and knead everything into a smooth dough. Add the rosemary and knead in and let the dough rise for 1 hour in a warm place.
Soak tomatoes in a bowl of water for about 10 minutes. Then drain the water and add the soaked tomatoes to the dough and knead the dough on a floured work surface. Now shape the dough oval and let it rest on the baking sheet (with baking paper) for another 30 minutes.
Cut the surface a few times and brush with water. Bake the bread at 200 degrees for 10 minutes and continue baking at 180 degrees for 30 minutes.
Ingredients
600 g whole wheat flour type 650
1 pack Rapunzel dry yeast
350 ml water, lukewarm
2 tbs chopped rosemary
Tip for dipping: