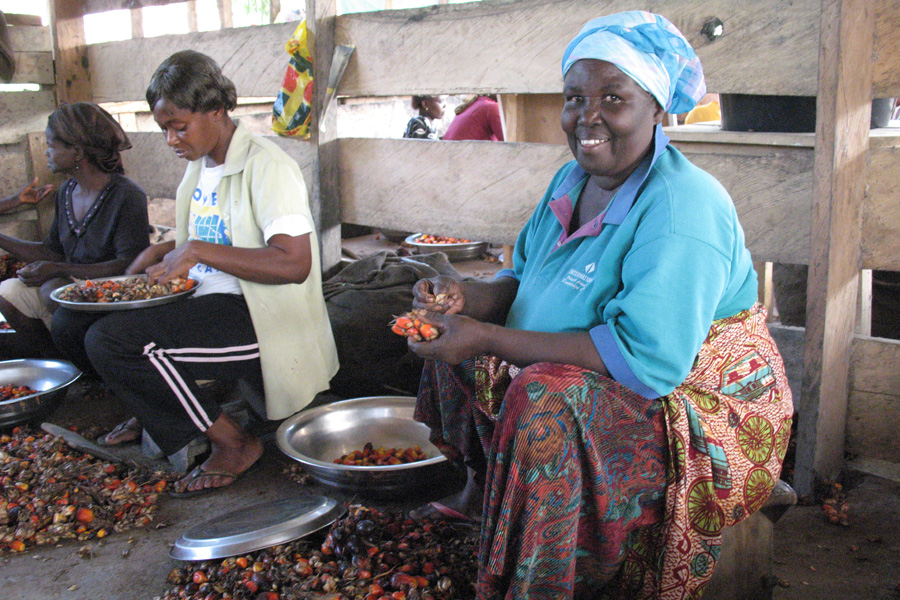 Serendipalm – a women's project

Picking single, small-sized fruit off the bundle is a mere women's job – just as most other tasks at Serendipalm are carried out by local women. Altogether Serendipalm employs about 150 female workers: their jobs range from picking oil palm bundles to managing the oil mill – a task that is done by Lucy Aboagye and her two sisters. Women of all ages work at Serendipalm; young women who only work during the harvest season, women who work as day laborers and older women who want to earn some extra income.

The picking of the fruit bundles and most other processing steps are done by hand. After the fruits have been harvested, they are steamed in water in order to prevent further product deterioration. Afterwards the fruits are pressed and the shiny red crude oil is clarified. Finally, the oil is filled into tanks for storage. Product quality is monitored throughout the entire processing: several employees permanently review and revise cultivation, harvest and the processing steps.

Not only the peasants and the female workers benefit from the higher prices associated with the fair trade quality, but also the entire community: the fair trade bonus was used to finance the drilling of wells, the installation of drinking water cisterns, the purchase of medical equipment and the purchase of school materials for the children.