Mongolia: sea-buckthorn on the shores of the Ongi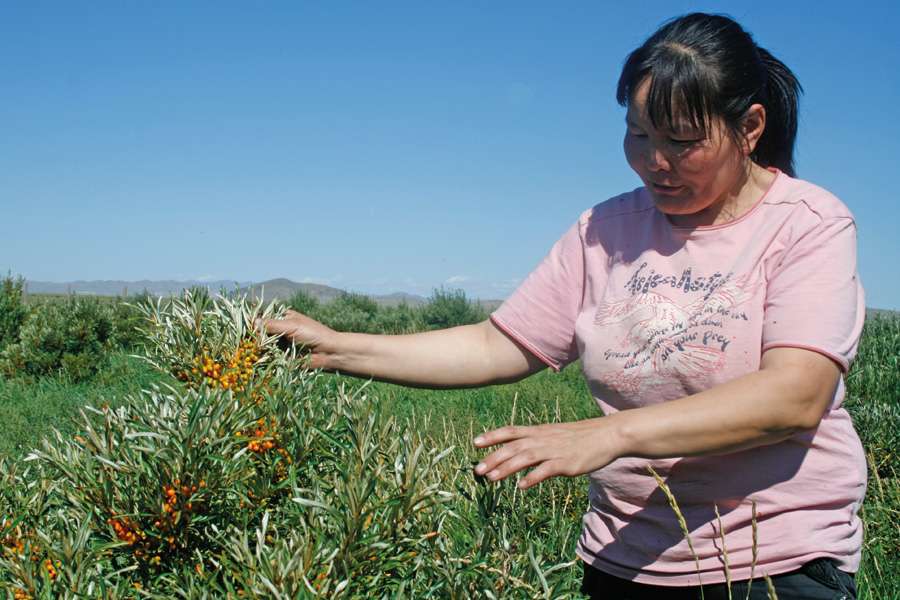 Update: Since 2022, Rapunzel donates the HAND IN HAND donation (previously HAND IN HAND Fund) to the RAPUNZEL One World Organic Foundation.

Desertification is a major global ecological problem. This can be seen clearly in the Övörkhangai province of Mongolia, where deserts are rapidly claiming land traditionally used for farming. Climate change has certainly been an important factor, but mining and poor water management practices have also worsened the situation.
A new project aims to slow the process of desertification by the introduction of Sea- Buckthorn trees.
These trees are known not only for their tasty and vitamin rich juice, but also for their deep and extensive root system that functions as an excellent water reservoir. These trees in the Oleaster family help to reduce erosion and thus the increase of arid land. And they happen to thrive in the tough Mongolian climate.
Based on this knowledge, The United Movement of Mongolian Rivers in partnership with the Global Nature Fund (GNF) is attempting to plant the Sea-Buckthorn to counteract desertification. The Hand in Hand-Fund is sponsoring this project.
Gachinorolbo Oyungerel, originally trained as a tractor driver, is the first gardener to plant the Sea-Buckthorn trees along the Ongi River. The goal is to see 1,200 new trees lining the shores of the Ongi in the next few years.
| Year | Description | Funding amount |
| --- | --- | --- |
| 2010 | Planting of buckthorn trees (prevention of a desertification and reduction of poverty) | 5,000 EUR |
| 2010 | Organic farming in the region of Selange | 5,000 EUR |