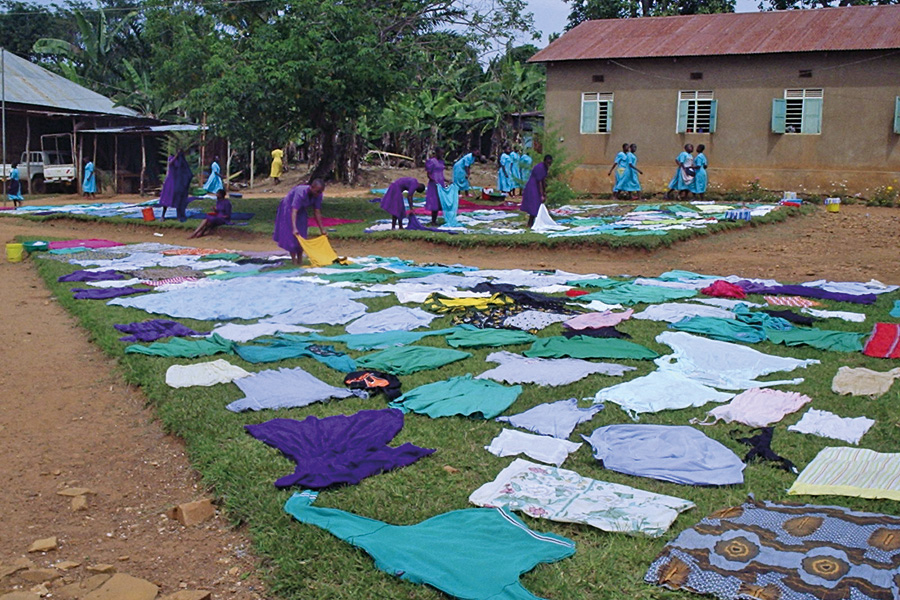 When Rapunzel Naturkost CEO and fund initiator, Joseph Wilhelm, visited the Hekima Girls' School in November, 2011, he was overwhelmed by the reception. The school principal, Sister Esther Buberwa and the pupils, decked out in their pretty school uniforms, serenaded the visitor with a welcome song.
The Hekima Girls' Secondary School is located near Bukoba in the catchment area of Lake Victoria. Education for women in the poor regions of Tanzania is by no means a given. This project, which the HAND IN HAND Fund began sponsoring in 2003, has developed into a showcase project. The number of pupils has grown from 40 to 400 in this time. The quality of the school can be seen in the ranking of the students nationwide: the school received the top rating out of 4,000 schools. A new generation of self-confident women is growing up in Africa, and that's good news for the continent.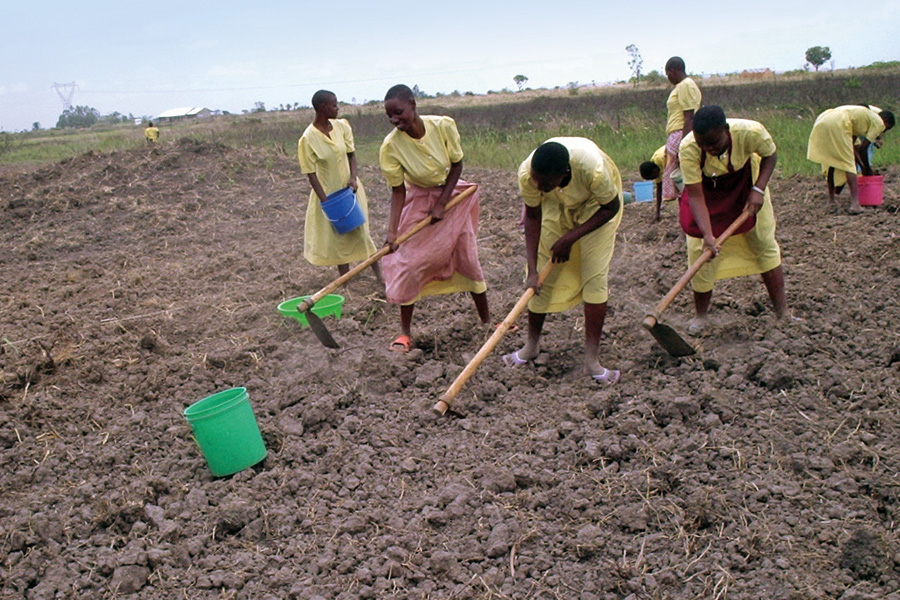 Joseph Wilhelm was able to get a first hand glimpse of the progress being made at the school. While the first allocations were used to build the school itself, later funding was used to realize larger projects that increased the size of the school facilities and improved standards. The girls used to have to collect and carry water over long distances and shower outdoors. Now there are washing rooms and showers with running water. A new sewage system for the washrooms has improved hygienic standards. Two new buildings were added to store vegetables grown in the school's own gardens. The food is used to feed the almost 500 people, including teachers, involved with the school.
Even after Wilhelm's departure, time has not stood still at the Hekima Girls' Secondary School. At the end of 2013, ISC Konstanz e.V. with the support of the HAND IN HAND-Fund and additional funding from the Roman Catholic Church, Diocese Rottenburg, installed solar panels at the school. The sooty kerosene lamps which, up to then, had dimly lit the long African nights are now a thing of the past.
| Year | Project | Funding amount |
| --- | --- | --- |
| 2013 | Follow-up project: total overhaul of the old water supply system for the school and the dormitories. | 5,000 EUR |
| 2012 | Follow-up project: purchase of land, establishement of a vegetable cultivation project, hands-on training on cultivated plots | 15,000 EUR |
| 2011 | Follow-uzp project "Solar power supply" - cooperation with ISC | 5,000 EUR |
| 2009 | Installation of sanitary facilities | 33,944 EUR |
| 2007 | Purchase of a field for the implementation of a school project "organic corn cultivation" and for the cultivation of food for the school  | 3,000 EUR |
| 2006 | Funding for the purchase of a plot where corn is grown for consumption in the school | 6,500 EUR |
| 2005 | Additional funding for the project from the years 2003 & 2004: purchse of furniture and materials for the Girls School. | 3,000 EUR |
| 2004 | Construction of a classroom for the daughters of our coffee farmers | 2,000 EUR |