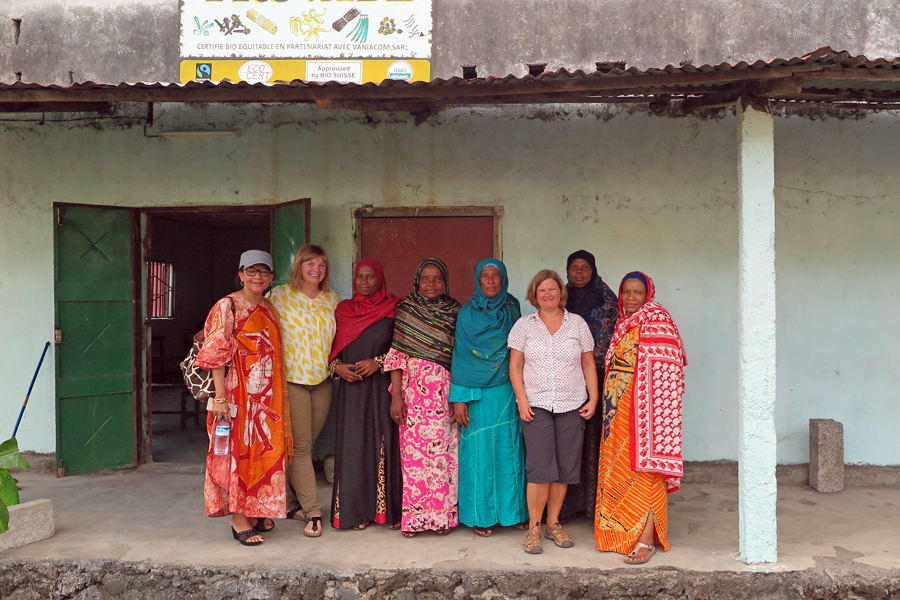 Rapunzel visits Sitti Chihabiddine (left) and her female co-workers in Moroni.
Good perspectives thanks to fair-trade
Company owner Sitti Chihabiddine is a strong woman. It is very impressive to see how she managed to establish a successful company in an African-Muslim country and how she is respected by the local people. She also uses her energy and passion for helping and supporting others. She takes her role as entrepreneur seriously and wants to develop her home country. The social benefits for her employees exceed legal requirements. As an example, Sitti Chihabiddine provides her female workers with paid maternity leave.  
She is also involved in helping her farming partners. Some time ago, she initiated a new project with Ylang-Ylang in order to provide additional income to the farmers. Ylang-Ylang is not only suitable as a supportive plant for vanilla but has also perfect growing conditions on the Comoros and is at the same time one of the few export goods on the islands. 
But with the fair-trade bonus from the HAND IN HAND program, Vaniacom can achieve even more. As a first step, the HAND IN HAND partner and the members of the farmers cooperative decided to invest the bonus from the fair-trade program in the development of health insurance and made a dream come true. 
The effects of organic fair-trade, however, go far beyond health insurance. In a country where many people think that agriculture is no longer an attractive way of life and that emigration is the only way to escape poverty, HAND IN HAND provides local people a real perspective.