HAND IN HAND - SERENDIPALM / GHANA
Serendipalm produces organic HAND IN HAND palm oil in the West African country of Ghana, the region the oil palm originates from. Its unimposing fruit forms the very basis of which palm oil, renowned for its excellent thermal resistance, is made. It is grown and processed in the southern part of Ghana, around and in the village of Asuom. In 2007, US-manufacturer Dr. Bronner's Magic Soaps initiated the project; and since 2009 it is certified Fair-Trade.
Organic and sustainable – from the very beginning
More than 750 peasants, by means of contract farming, are cultivating the palm fruit for Serendipalm in an area of around 750 hectares. Since the very beginning it's the project's essential that no forest area had been or is cleared for new oil palm plantations at all. And so, in accordance with Organic Farming, it rather is natural provisions – like manuring with harvest and production leftovers and compost – that are implemented to preserve and to improve soil fertility and thereby obtaining an increment of yield per same acreage. Assistance for the peasants comes from several on-site agricultural engineers, along with succor and training.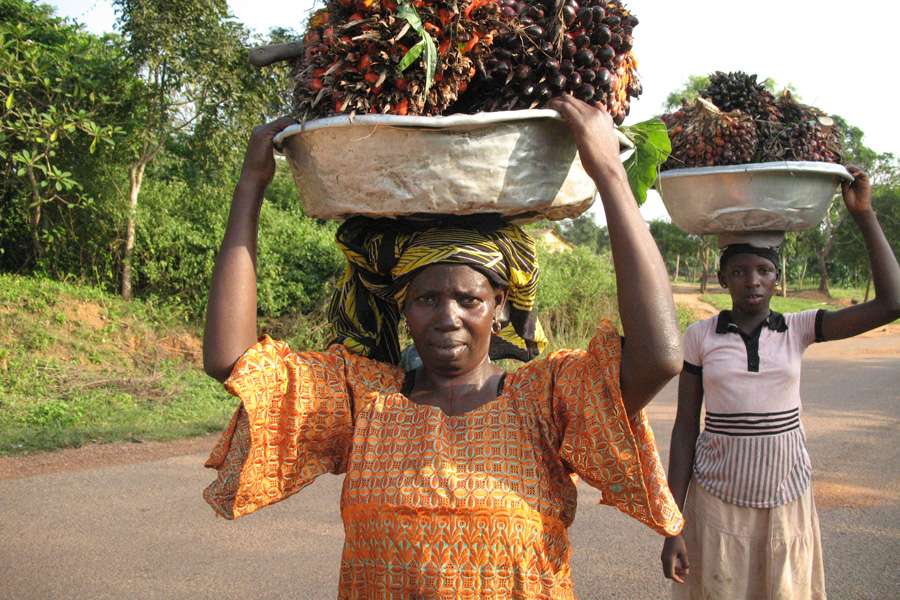 After the harvest the fruit bundles are being transported for further processing
Plain fruit with high content
Basically, the oil palm fruit is a snaggy fruit bundle, that itself carries many individual, about nut-sized, red-to-orange colored fruit. As much as 50 % of its pulp, as of the kernel alike, is composed of oil. Main harvest is from February to June. Serendipalm directly purchases the peasants' crop; there is neither an intermediary nor are there long-distance transport routes. Subsequently, the harvested fruit bundles are processed to crude palm oil at Serendipalm's own oil mill.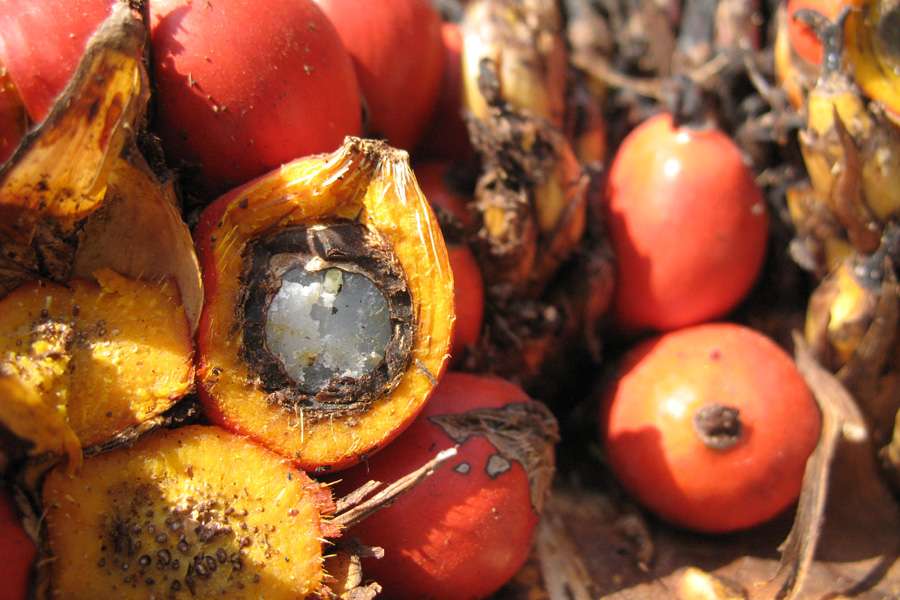 opened palm fruit with the white palm kernel
Serendipalm – a women's project

Picking the individual small-sized fruit off the bundle is a mere women's job – just as most other tasks at Serendipalm are carried out by women of the surrounding areas, in total about 150: their jobs range from picking the bundles to managing the oil mill, which is done by Lucy Aboagye and her two sisters. Women of every age come to join at Serendipalm; young women, of which most solely find work during harvest season, or others trying to gain some incidental earnings as well as those ones advanced in years that would like to make a little extra income.

As picking the fruit bundle most other proximate processing steps are executed manually. Once harvested the fruit perishes quite fast and so, first of all, it needs to be water-steamed in order to prevent that. Afterwards the employees press the whole fruit and clarify the resultant shimmering red crude oil. Later, it is filled in tanks awaiting shipment. This entire process goes along with a special quality-control system: several employees permanently review and revise both cultivation and processing standards as well as their compliance.

And it's not just the peasants and female workers that benefit from the amenities of Fair Trade, it's the entire community and its surroundings: by drilling wells or installing cisterns, by supplying medical equipment or simply by providing teaching materials and class books for the children.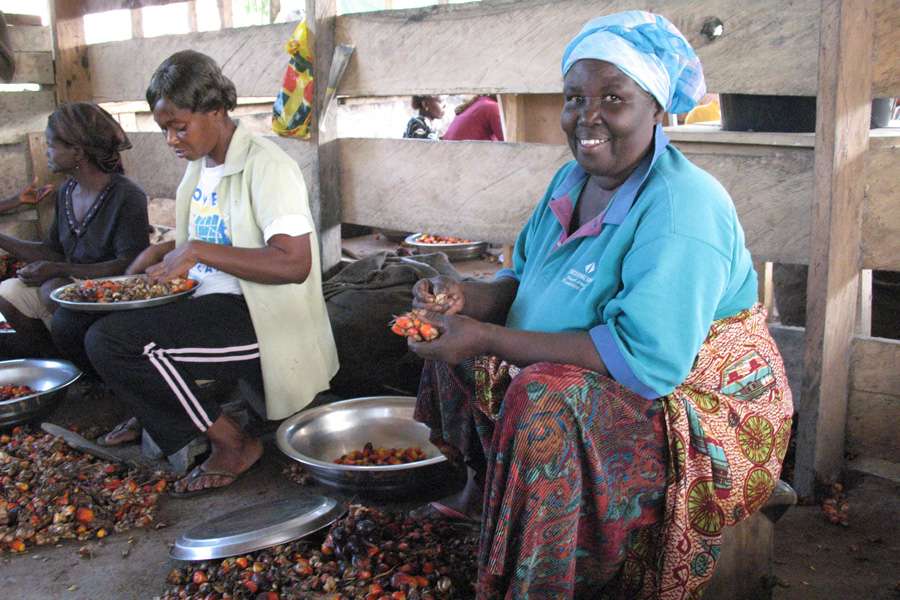 employees of Serendipalm pick the ripe fruit from the fruit bundle