Coconut & almond butter with date was chosen "Best Organic"
German customers nominate most popular organic products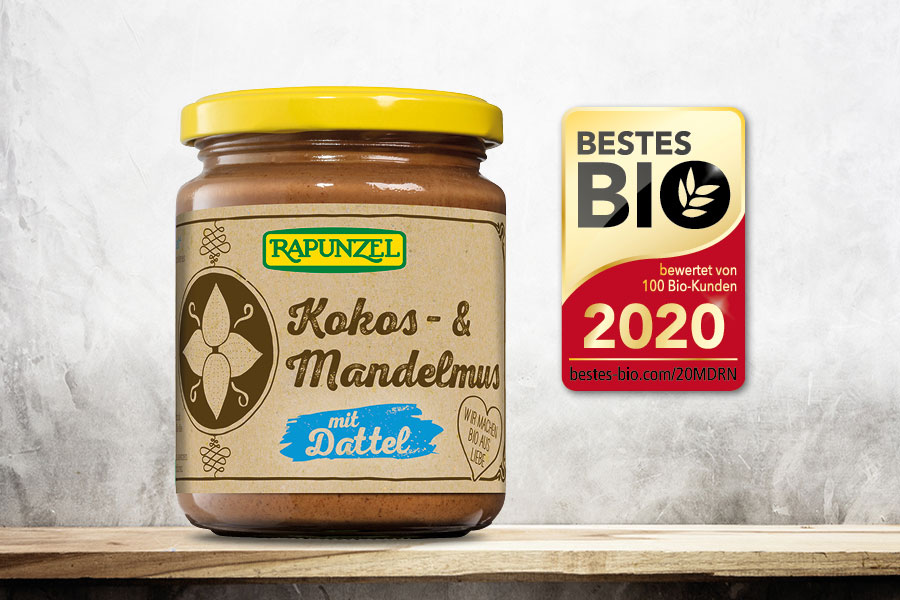 Rapunzel's Coconut & almond butter with date received the "Best Organic award 2020" from the readers of the 'Schrot&Korn' magazine
"Best Organic" – Rapunzel Coconut & almond butter with date received this award in accordance with a large-scale survey of the German bio verlag. In November 2019, the award was presented to Rapunzel.
The sweet Rapunzel butter scored an amazing 93 percent on the popularity scale of the readers of the German 'Schrot&Korn' health food magazine. The product thus belongs to the three best rated products and was attested attributes such as "heavenly", "wonderful", "fantastic" and "unique". Especially positive for the testers was the fact that the butter has no added sugar nor fat.
Rapunzel press officer, Eva Kiene, declares the product idea: "Our Coconut & almond butter with date has only three ingredients and therefore represents the original idea of health food products: the retro optics of the label that include the packaging design of Rapunzel's first nut butters underlines this intention."
Every tested product was evaluated by 100 organic customers. A total of 700 customers participated in the survey. The participants had to fill out a questionnaire were they had to assess the taste, the packaging design and product texture. Of the tested 31 products, the "Best Organic" award was given to products that obtained at least 80 percent of the maximum point score.
Excerpts from the evaluations:

"This type of sweet bread spread totally convinced me. Generally speaking, I don't like sweet bread spreads because of their ingredients. But this butter is a real alternative for any chocolate spread. This butter is sweet and healthy! (...) To manufacture such a product with only a few ingredients and to create a tasty and heatlhy product is revolutionary and deserves my full recognition."

"One of the best if not the best sweet bread spread that I ever had."
"I love, love, love it. It has been pure love from the first taste."
"The taste absolutely knocked me out. A product with only three ingredients, organic and without any additional sugar. Fantastic!"

"I immediately fell in love with this product. What a phenomenal taste! It's a veritable taste explosion. Simply wonderful!"