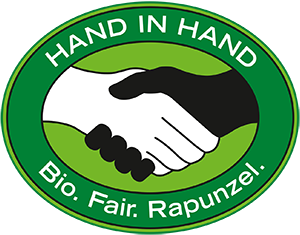 For Rapunzel fair trade means being fair to people and also being fair to nature. This is why we have been focusing on organic cultivation and fair production since the beginning. 
How come, you might ask. In the beginning of the 90ies there were only few organic products in the classic fair trade. So we decided to develop our own, proprietary fair trade label that corresponded with our strict requirements – for our partners in countries of the South, for ourselves and for a sound environment. 
Justice and fairness for more quality
Rapunzel guarantees HAND IN HAND partners:
direct and long-term trade relationships
purchase guarantees, yearly contracts
fair product prices including a HAND IN HAND bonus
Support of eco-social projects through the HAND IN HAND bonus
Support and advice for HAND IN HAND partners
Cost coverage of HAND IN HAND inspection and certification
pre-financing and loans upon request
Labelling of the products
1% of the purchase price of all HAND IN HAND raw materials are going to the HAND IN HAND fund (administered by Rapunzel and the German Environmental Aid)
HAND IN HAND partners guarantee Rapunzel:
products in organic quality
compliance with all national regulations regarding environmental laws, workers and social rights
employee welfare for the workers
humane, healthy and safe working conditions
prohibition of child and forced labor
transparency
The HAND IN HAND label is a label only used by Rapunzel or with explicit approval from Rapunzel.

Monoproducts, meaning products that contain only one ingredient (e.g. coffee), that carry the HAND IN HAND label are 100% from our HAND IN HAND partner.  

Mixed products (e.g. chocolate) are labelled HAND IN HAND only if more than 50% of the ingredients are produced by HAND IN HAND partners. 

Products containing 50% or less ingredients from the HAND IN HAND partners are not labelled HAND IN HAND. At the moment almost 120 products carry the HAND IN HAND label.

Rapunzel is trading with organic products since 1974, therefore the HAND IN HAND label is also an organic label.