Farewell to fair trade pioneer Bernardo Apaza Lluscu
Bernardo Apaza Lluscu, member and cocoa farmer of the Bolivian El Ceibo cooperative, passionately promoted fair trade for many years. He played a decisive role in El Ceibo becoming a successful small peasant cooperative. In addition, he encouraged Rapunzel to establish their own HAND IN HAND fair trade program.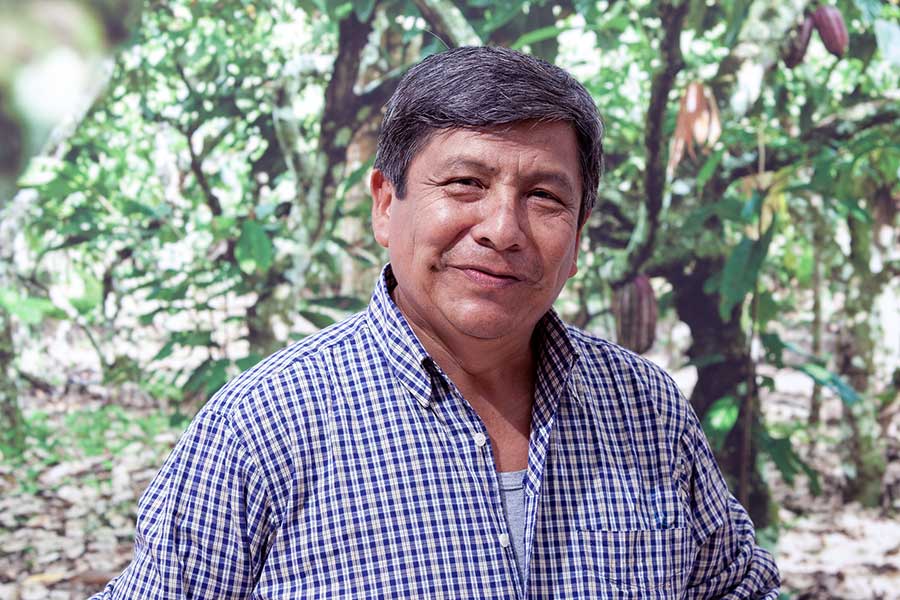 Bernardo Apaza Lluscu played an important role for fair trade.
Bernardo came from a very poor family. He was born in 1956 in a village in the Andes at an altitude of more than 4.000 m. His father, a mine worker, died when Bernardo was three. His family - his mother and seven half orphans - found itself in a precarious situation and Bernardo was only able to visit elementary school. Thus, he experienced very early in his own life the disastrous circle of economic dependency and powerlessness. As a young man, Bernardo therefore joined the cooperative movement and got involved in the small peasant cooperative El Ceibo.
El Ceibo is a cooperative that took the rotation principle very serious right from its beginning. The rotation principle envisions that the employees change their positions in the cooperative every few years. In one position, however, the same person remained in charge for many years: sales and export with Bernardo Apaza Lluscu. In his unagitated and convincing way, he managed to combine the interests of his El Ceibo cooperative with the requirements of international organic cocoa customers.
It was people like Bernardo who encouraged Rapunzel to found our own fair trade program. Thanks to his commitment we were also able to market the first organic chocolate of the world in 1987. Today, the HAND IN HAND partner El Ceibo even produces their own chocolate products. With this processing step, the added value remains in the country of origin - an important development for the El Ceibo cooperative. El Ceibo also was Rapunzel's first non-European supplier.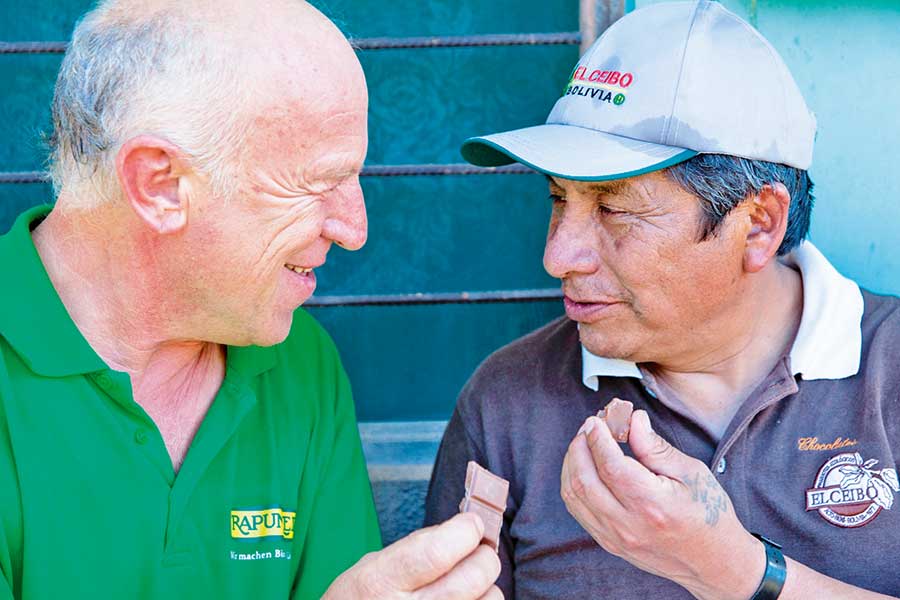 Two pioneers: Bernardo Apaza (r.) and Rapunzel Managing Director Joseph Wilhelm in Bolivia
We met our friend Bernardo many times - in Bolivia at the BioFach trade show in Nuremberg and at Rapunzel premises in the Allgäu. Again and again Bernardo came to Legau: he joined us at supplier days, at HAND IN HAND workshops and he also came to the 2010 Rapunzel One World Festival when he and his colleagues from El Ceibo received the ONE WORLD AWARD. The One World Award honors people and projects who make the world a better place in the sense of a positive globalization.
In the last years, Bernardo devoted himself again to agriculture and he cultivated cocoa and citrous fruit on his own patch of land. Even as farmer, he continued to take on responsibility for his homebase cooperative La Nueva Florida that is part of El Ceibo. Lastly, Bernardo fostered the exchange with the HAND IN HAND officers. He died unexpectedly during the implementation of a funded project that was jointly supported by Rapunzel and the German Environmental Aid.
Bernardo passed away on August 3, 2020 at the age of 63 due to a Covid-19 infection. He is survived by four children, nine gandchildren and his wife with whom he celebrated silver wedding in January. We mourn the loss of a great, exceptionally friendly, attentive and modest man who worked decisively for fair trade and a just world.