Strengthing the immune system in the springtime with polyphenols
New product available in March: olive oil Polyphenolia 500, extra virgin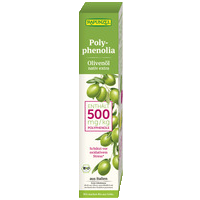 Polyphenolia 500, olive oil extra virgin
Many different compounds affect the flavor of olive oil. Some of these compounds have positive health effects - such as the polyphenols. Many Rapunzel olive oils already have high polyphenol concentrations. But now, the polyphenol frontrunner is available: Polyphenolia with 500 mg polyphenols/kg.
Polyphenols help to protect blood lipids from oxidative stress and they can lower the risk of cardiovascular diseases. In addition, polyphenols also have antioxidative and anti-inflammatory properties.

What tastes so bitter?
Bitter substances, a slight pungency and a fresh green color are characteristics of Polyphenolia and are at the same time markers for top quality. A slight scratchiness and a bitter, pungent taste are signs for a particularly high polyphenol concentration. This olive oil is perfect for salads, raw foods or for the refinement of dishes.

We know where it comes from
The olives for this valuable oil come from one of the oldest Italian olive groves. The olive trees grow scattered amidst an unspoiled, natural protected landscape. The olives are harvested early in the year when the polyphenol concentration is highest. Rapunzel entertains long-term, personal relationships with all the olive growers and oil mills.