Second generation assumes responsibility at Rapunzel
Leonhard Wilhelm, son of the founder, now third Managing Director at Allgäu organic pioneer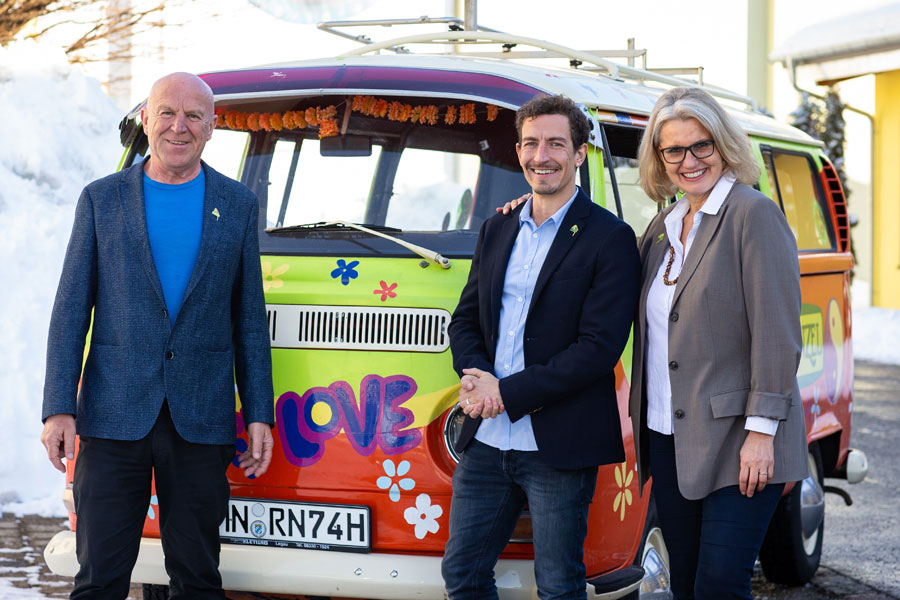 Rapunzel remains a family-run company: Leonhard Wilhelm (center) now supports his father Joseph Wilhelm (left) and the long-time Managing Director Margit Epple (right) in the management.
The generational change has started in the management of Rapunzel Naturkost: Leonhard Wilhelm, the son of company founders Joseph Wilhelm and Jennifer Vermeulen, is now third Managing Director. Leonhard Wilhelm has already been working in the company for many years. Now, he is the first family member of the second generation who assumes managerial responsibility at the organic pioneer with headquarters in the Bavarian Allgäu region.
45 years ago, Joseph Wilhelm and Jennifer Vermeulen founded Rapunzel Naturkost from a subsistence community. Joseph Wilhelm is very pleased that son Leonhard now supports him and fellow Managing Director Margit Epple in the company management:
"What could be better than children who choose to live Rapunzel values deciding to join the company and taking over responsibility? Naturally, our children are not just successors. Leonhard will make his own contributions and will shape Rapunzel's future to the best of his abilities and in accordance with the requirements of the times."
Leonhard Wilhelm confirms: "I will not just follow my parents' footsteps , but I will leave my own tracks." The passionate sportsman and skateboarder sees parallels to his hobby: "As a veteran skateboarder, I love and live the life of a border crosser. This has formed and shaped my life. It is great to be a border crosser, but you should only cross borders if you have the abilities to do so. I see this new work challenge as a challenge of my life."
The managerial support that Leonhard Wilhelm contributes gives the natural health food producer a promising future. Joseph Wilhelm also recognizes this: "We are convinced that his appointment is the best solution for our company's future."
In his new function, Leonhard Wilhelm is responsible for the sales department (Rapunzel brand Germany and export), the raw material trade, the private label as well as for the purchasing department and the raw material procurement.
Leonhard Wilhelm has been active at Rapunzel since 2003, at first as clerk for raw material procurement in the export department before he supported the department head as a team leader in raw material trade. After a time-out, Leonhard re-entered the company in 2017 as management assistant and obtained deep insights in all operating units of the different departments.