The new nougat cream combines freshly roasted hazelnuts and the best cocoa. The cream is made without palm oil and is therefore perfect for all who want to do without this ingredient.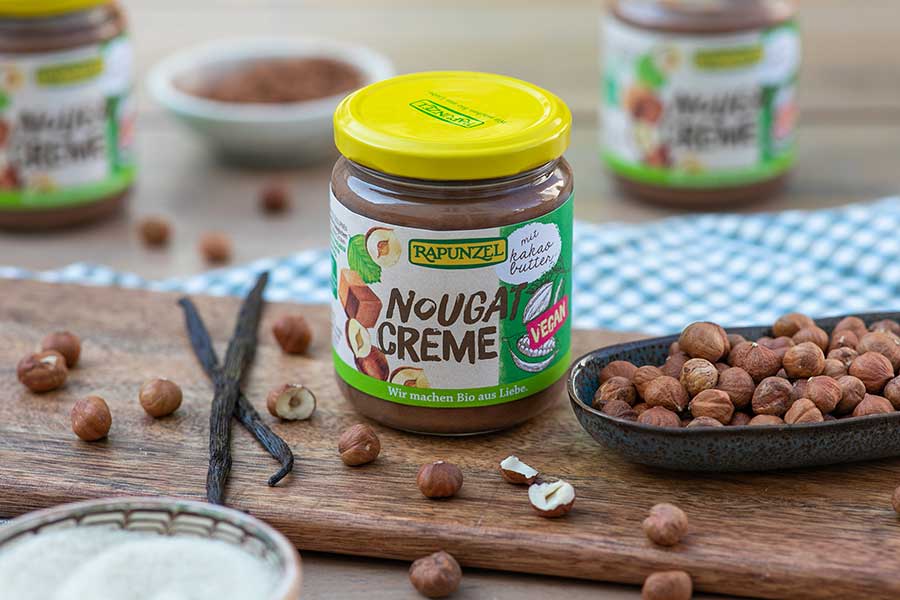 The secret behind the new nougat cream: 33% freshly roasted hazelnuts, the best cocoa and soft melting cocoa butter. This gourmet product has a very special melt-in-the-mouth feel - thanks to fine cocoa butter. In addition to the best organic ingredients, the production also plays an important role for optimal taste. Just like all our nut butters and sweet creams, we also produce the new nougat cream directly here in the Allgäu region - with state-of-the-art technology and a good portion of love.
This cream is made without palm oil. And next to our other retro nut butters, the nougat cream is a nice alternative for all those who would like to do without this ingredient.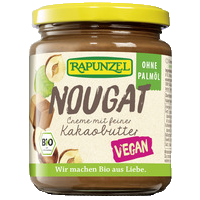 Nougat cream with cocoa butter
The special feature:
Unlike the other Rapunzel nut creams, this nougat cream is already liquid at 23 °C. The reason for this is that the cocoa butter used in the nougat cream has a lower melting point than palm oil. The nougat cream is solid at 10 °C and liquid above 23 °C. Therefore, please store the cream at room temperature and avoid strong temperature fluctuations. Then the cream will remain wonderfully soft and spreadable.