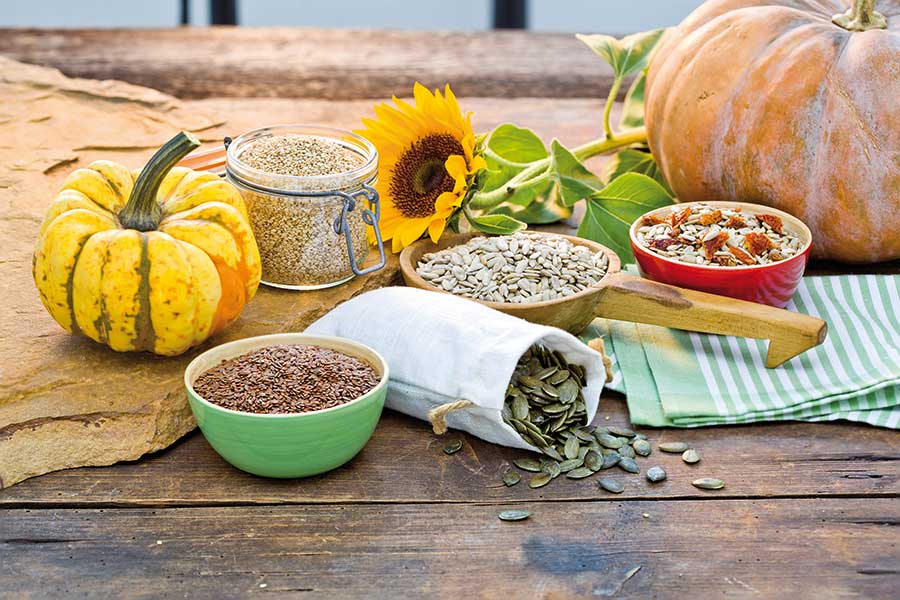 The term 'oilseeds' refers to seeds that are primarily used for the production of high-quality edible oils. The small grains themselves, however, are particularly tasty and nutrient-rich. They contain: 
high concentrations of protein and dietary fivers
vitamins such as B6, B1 and E
high concentrations of polyunsaturated fatty acids
minerals such as iron, magnesium, calcium and zinc
In the daily diet, these small power packages are particularly valuable for a vegetarian or vegan lifestyle. Oilseeds give many meals a special pep and a nutrient boost: their crunchy bite enriches muesli and porridge. Used as toppings they add a certain something to salads and warm meals. They are delicious ingredients for pastries, smoothies and desserts and can be used as the aromatic basis for bread spreads and pesto. Oilseeds are also perfect as a healthy in-between snack.  
Tips: oilseeds roasted in a frying pan without grease are especially aromatic. Enjoy also as delicious, crispy coating. 
Power grains rich in vital elements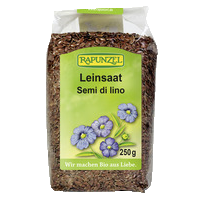 Linseed
Omega 3 power package
Linseed has a mild, nutty flavor and is rich in Omega 3 fatty acids (alpha linolenic acid 22g /100 g) and valuable dietary fibers. Swelling agents and mucilaginous substances support your digestion. Great for the baking of sweet and savory goods. For the baking of sweet and savory goods.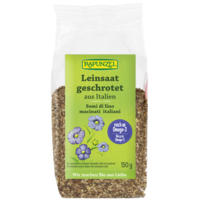 Linseed brown, crushed
Readily available, valuable ingredients
Kibbled linseed ingredients are especially well absorbed by our body. Therefore, Rapunzel also offers freshly ground Italian linseed. Similarly to the unbroken grain, kibbled linseed features high concentrations of Omega 3 fatty acids (alpha linolenic acid 22 g/100 g). Dietary fibers support the digestive process and have a fine, nutty taste. For the baking of sweet and savory goods.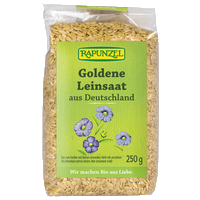 Linseed gold
Particularly good swelling capacity
Golden linseed has a mild and subtle nut flavor. It is rich in dietary fiber and is another variety of the "Linum usitatissimum" species. Compared to brown linseed, golden linseed has a greater swelling capacity and a milder flavor.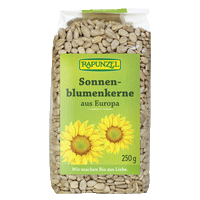 Sunflower kernels
Aromatic, nutty flavor, true all-rounders
Delicately-tasting oil seeds cultivated in Europe. Can be used in many different ways. For sweet and savory baking, in your muesli, as decoration for vegetable dishes, casseroles or bread. Try also roasted sunflower seeds in salads or as basis for bread spreads.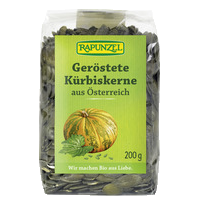 Pumpkin kernels roasted
Aromatic, savory delicacy, cultivated in Europe  
Pumpkin seeds have a mild, nutty flavor. Due to their crunchy consistency they can be used in the kitchen in numerous ways: as topping for soups, salads and vegetable dishes, for baking, in muesli, for the preparation of paddies and pesto or enjoy them simply as a snack. Try delicious pumpkin seed bread - the baking process enhances the seed aroma!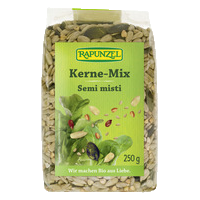 Seed mix
Versatile power grains
Earthy mixture with sunflower seeds, roasted buckwheat, roasted pumpkin kernels, linseed and sesame seeds. This aromatic oil seed mixture brings a nutrient-rich variety into your kitchen!
Tastes great as soup topping, try in salads and vegetable dishes, in paddies and muesli or enjoy kernels by themselves without anything.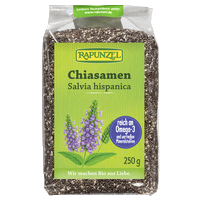 Chia seeds
The healing seeds of the Mayas
These small seeds are exravagant: with their high concentrations of Omega 3 fatty acids and valuable minerals such as calcium, iron and zinc and with their abundant content of dietary fibers they outperform many other foods. Their extraordinary high swelling capacity makes Chia seeds a low-calorie stomach filler. Chia seeds are great in muesli, for baking or as pudding. They are also suited as egg replacer: to replace one egg, combine about 1 tablespoon Chia seeds with 3-4 spoons of water. Allow to stand for 15 minutes. The seeds will swell, the mixture becomes gelatinous and can be used for binding doughs.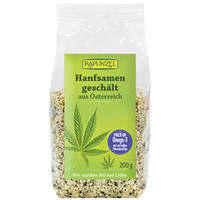 Hemp seeds peeled
Healthy topping
Hemp seed have a subtle, nutty taste and they are rich in Omega 3 fatty acids (alpha linolenic acid 7.8 g / 100 g), in thiamine, vitamin B6, magnesium and iron. They contain all 8 essential amino acids (that the body cannot produce itself) what makes them a perfect protein source. 
Hemp seeds have a high nutritional value but won't get you "high": hemp seeds are made from industrial hemp that has no intoxicating effects. Our hemp seeds are grown in Austria and have raw food quality.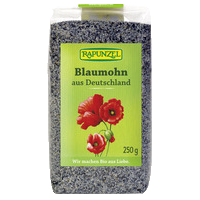 Blue poppy seeds
Nutty and sweet
Blue poppy seeds taste nutty and sweetish. Slightly roasted or ground, they unfold their full, intense flavor. Use blue poppy seeds for sweet dishes, in baked goods or in savory dishes - in the kitchen poppy seeds are a popular baking ingredient for delicious poppy-seed cake and poppy-seed rolls or discover an unforgettabe taste experience by adding poppy seeds to fruity curd cheese or cream desserts.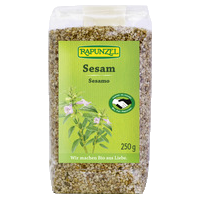 Demeter sesame seeds peeled
Mineral-rich seeds produced fair trade 
Demeter sesame seeds are produced by the Rapunzel HAND IN HAND partner Sekem in Egypt. The calcium-rich seeds are delicious in sweet or in savory baked goods; they are ideal for salads, sauces and in muesli. They are great in the Asian cuisine, in vegetable dishes and they are used for the production of Halva, an oriental sweet dish. 
Seed power also available as flour, puree & seasoning
Linseed, hemp and pumpkin seeds can also be used for the preparation of high-quality, special flour. Seed-based flour is especially rich in protein and can be used in versatile ways. In conventional recipes, seed flour can replace some of the cereal flour and boost the nutritional value. Here you can find information and recipes: 
Tahini sesame butter
is made from roasted, ground sesame seeds. Tahini is a popular basic ingredient for houmous - a paste made with chickpeas - or for salad dressings. Roasted and refined with sea salt, sesame seeds are also available as
gomasio
. Gomasio is ideal for the seasoning of salads, bread spreads and vegetable dishes.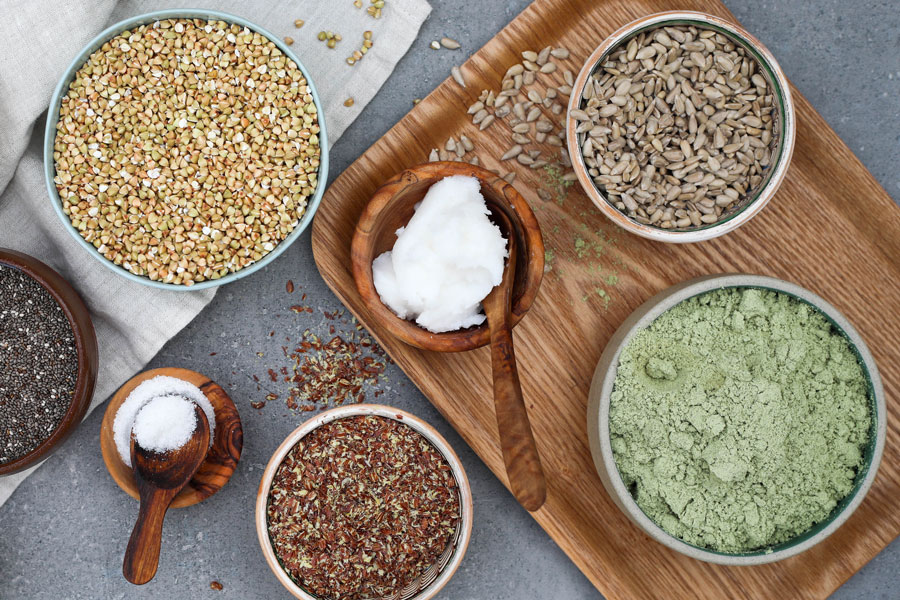 Frequently asked questions about oilseeds
What are the black dots that are often seen on cereals, legumes or oilseeds?
The presence of foreign seeds cannot be totally avoided in the cultivation of organic cereal products despite intense work and thorough cleaning processes. Neither is it possible to fully preclude products with optical defects.  

The color of grains and seeds, the color of legumes and oilseeds may vary due to various factors such as soil quality, climate and weather conditions before harvest. Since Rapunzel cooperates with many small peasants from different growing regions, the products are subjected to different influences that cause the color variations. 

Extreme weather conditions can result in significant optical variations that makes it impossible to sort out individual grains and seeds with a reasonable effort. However, as we prefer long-term relations with the peasants, we also buy their yield in difficult years and we try to process their products as best as we can. Organic agriculture uses no herbicides. Therefore, in some situations, it is very difficult to remove weed seeds with identical weight and size from the product. 

Obviously, we check and examine these products very thoroughly and we will market them only if they have a purely optical problem and no other restrictions with respect to their sensorial or nutritional quality.  

We will still further improve the mechanical cleaning processes, although this is very difficult due to physical limitations (e.g. 0.5mm size of an amaranth seeds).