all recipes

Main Dishes
Lentil mushroom pies with red beet towers
Details
Preparation time: 30 minutes
Baking time: 2 hrs + 20 minutes
vegan
lactose-free
warmes Gericht
needs time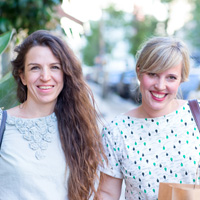 BerlinKitchen
Method
Pies:
Mix the flour and salt in a food processor, add the cold cubed palm fat and mix further. The dough now will be very crumbly. Slowly add the ice water until the dough holds together. Now form a ball. To further process the dough, it must be soft enough to being rolled out. Roll out the dough to about 1 cm on a flour dusted surface and then cut out circles for the pie forms with a glass or round form.
Preheat oven to 180. Cook the lentils according to the direction of the packaging. Once they are done, drain them and set aside. In the meantime, chop the onion, garlic, celery stalks, carrots, mushrooms and potatoes. Add the coconut fat to the saucepan and heat over medium heat.
Add the onions and garlic, season with salt and pepper and fry for 5-10 minutes till translucent. Add the carrots, celery, mushrooms, potatoes and thyme in the saucepan and mix. Season with salt and pepper and lightly fry for about 10 minutes until the vegetables are almost cooked. Now add the lentils and the bouillon to the vegetables and continue to simmer for 5-10 minutes until the water has evaporated but the filling is still juicy. Carefully fill the vegetable lentil mixture into the forms and cover with the dough circles. Poke holes in the dough lids so that the air can escape. Coat the dough with some olive oil and bake the pies for about 15-20 minutes in the oven until golden brown. Garnish with fresh thyme.
Towers:
Preheat oven to 180 ° C. Put the beetroots in an ovenproof dish and cover about ¼ of the beet with water. Cover the baking dish with aluminum foil and bake in the oven for about 2 hours until you can easily prick a fork into the beetroots.
Allow the beets to cool and then peel them. Cut the beetroot into 1 cm thick round slices and then cut out the desired shapes with a cookie cutter. Make sure they are all the same so you can stack them. The leftovers can be cut into small pieces and used later for garnish.
In a pan, heat the vinegar and sugar and stir until the sugar has dissolved. Simmer over low heat and glaze the beetroot on each side for 1 minute in the pan. Then remove the beetroots and put aside on baking paper. Reserve the beetroot syrup for garnishing. Layer the beetroot forms with the chive cream until they have approx. 3 layers each. Serve on a plate, drizzle with some olive oil, beetroot syrup and sprinkle with the fresh herbs.
Serve both the pies and the towers immediately.
Ingredients
Pie Crust:
300 g spelt flour
or 250 g spelt flour and 50 g white bean flour
200g Rapunzel
Filling:
250 g Rapunzel Troja lentils
1 small white onion
2 garlic cloves, minced
2 celery, diced
2 large carrots, peeled and diced
2 potatoes, peeled and diced
250g mushrooms, quartered
5-6 thyme sprigs, stems removed
100 - 150 ml water for the bouillon
Towers: