As described in the Rapunzel company goals, we define ourselves as "brand manufacturer with our own distribution. The mixture of our distribution channels gives us freedom to act."

Therefore, the sale of Rapunzel brand products to the specialized retail trade in Germany and abroad is the heart of our sales activities. This is complemented by activities in the private label sector and in the trade with raw materials.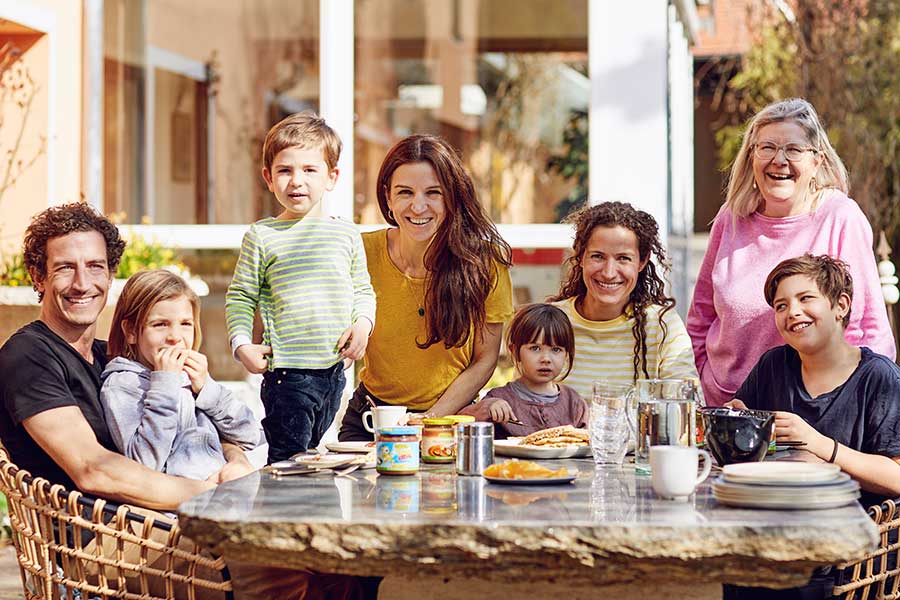 Rapunzel Brand Inland (Specialized Trade)
The Rapunzel brand is marketed as premium brand exclusively in independent stores, organic supermarkets and natural health food chains. The stores are supplied directly without intermediate wholesale. Rapunzel sales representatives all over Germany act as contact persons for the specialized trade, helping with questions concerning the products and the product line or the implementation of marketing campaigns. They are supported by staff from the sales department who assist the specialized trade with order placement, the solution of logistical problems as well as complaint processing. Rapunzel perceives itself as a strong, innovative partner of the natural health food trade.

However, Rapunzel is also affected by structural changes in this market segment such as the growing numbers of chain stores and the increase of store brands in the specialized trade as well as the wholesale industry. Our basic strategy for coping with these trends is a strong and lively Rapunzel brand, best product quality and the best service at all levels.

Our product range with about 550 high-quality Rapunzel brand products includes various product groups such as sweet and aromatic bread spreads, nuts and dried fruit, muesli, cereals, grains and cereal products, rice, oilseeds, legumes, pasta products and tomato sauces, antipasti, cooking oils and cooking fats, spices and soups, sweeteners and baking ingredients, sweet and spicy snacks, chocolate and beverage powder as well as wine. Additionally, we also act as main distributor of A. Vogel health food products in Germany.  

Reach your contact partner for Rapunzel brands via e-mail at handel(at)rapunzel.de or by phone: +49 (0)8330/529-0.
Rapunzel Brand International Sales
Our international sales department delivers branded goods to almost 40 countries. The most important export markets are France, Italy, Switzerland, Austria and Luxemburg. Complementary to the German branded goods range with international labels, we also offer products with labels in the respective language of the export country. Most of our sales partners abroad are long-standing, capable wholesalers who provide the specialized trade in the export country with an extensive natural health food product range.

Important international customers are serviced by on-site Rapunzel sales representatives.

Reach a contact person for international sales requests via e-mail at info(at)rapunzel.de or by phone: +49 (0)8330/529-0.
Ever since the organic food industry has developed into a business segment with measurable market shares, food retailers have started to expand their own organic private labels that are positioned for the most part in the premium segment.

A separate distribution channel "non-proprietary brand/ private label" indicates the growing significance of conventional food retailers for the sale of organic products in Germany and an improved understanding for the needs of organic agriculture.

In this segment, Rapunzel produces for selected, longstanding customers with high organic standards. However, Rapunzel partakes in the private label trend only cautiously. The high quality of our processed organic raw materials prohibits an engagement out of pure price competition.

Your advantages:
Service and advice from one partner
In-house production
Gentle processing and the most modern production technology
Own import of raw materials from the countries of origin
Import of trade goods
Complete traceability of the raw materials to the original producer
Social responsibility through own cultivation projects, fair purchasing prices and long-term trade relations
Stringent internal quality management
Counseling with respect label and package design
Logistical solutions and stockkeeping
Reach your contact person for private label questions via e-mail at private-label(at)rapunzel.de or by phone: +49 (0)8330/529-0.
The distribution channel "raw material trade" mainly provides suppliers of Rapunzel private label with raw materials. This way we can also guarantee best raw material quality for products that are not manufactured at Rapunzel.

Moreover, Rapunzel also offers raw materials to other manufacturing customers. That way we can also influence the flow of purchase quantities that we arranged with the producers on the sales end. Thus, the raw material trade is an important link within the entire process chain that stands for a high commitment along the entire value added chain, from the suppliers all the way to the Rapunzel customers.

The fact that we might have a positive influence on organic quality with the sale of Rapunzel raw materials to other manufacturers, is an additional concern for us.

Your advantages:
Service and advice from competent partners
Prompt delivery
From our producers we require strict organic standards
Own cultivation projects
Strong quality management
100 percent traceability of all raw materials
Ecology and fair trade
Reach your contact person for raw material trade via e-mail at  bulk(at)rapunzel.de or by phone: +49 (0)8330/529-0.