all products

Rapunzel Muesli: We legalized Muesli
In 1974, the Original Muesli was the first Rapunzel product. The premise was that the muesli should be healthy and should taste good: whole grain flakes, nuts, buckwheat and the sweetness of sultanas, no sugar nor any other additives.

The most important foundation for good muesli are high-quality ingredients. The flakes used in Rapunzel mueslis come categorically from domestic cultivation. Most of the dried fruit and nuts are produced in the Rapunzel Turkey project and all the other delicious ingredients are supplied from long-time, reliable partners with whom we maintain a loyal cooperation.

Rapunzel Muesli: discover the variety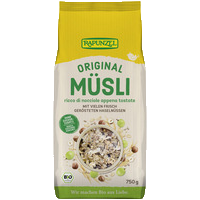 Original muesli
Enjoy the crunchy-fruity muesli classic with valuable cereal flakes, freshly roasted hazelnuts, sun-kissed sultanas and several seeds such as sesame seeds, linseed and sunflower seeds!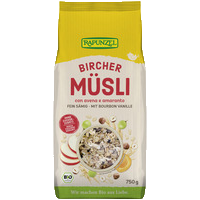 Bircher muesli
This muesli has a traditionally creamy texture and contains tender oats, dried apple and fine Bourbon vanilla. It is very popular with children due to its tender flakes.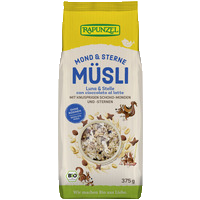 Muesli moon & stars
Crispy chocolate moons, chocolate stars and fine whole milk chocolate rasps sweeten your morning - not only for kids! You will love the taste of the combination with wholesome cereal flakes and you will enjoy the energy it gives you! Simply delicious!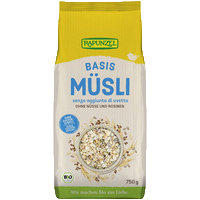 Basic muesli
Perfect combination for those who delight in pure, down-toearth muesli and for all creative breakfast aficionados who want to refine their muesli with fresh ingredients.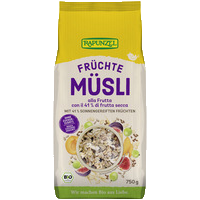 Fruit muesli
Fruity muesli indulgence! More than 40% of sun-ripened fruits sweeten your day - completely without the addition of sugar. With sweet apricots, aromatic figs and yummy sultanas!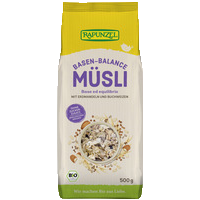 Acid-Base balance
Aromatic, nut-flavored buckwheat and tiger nut flakes with crunchy buckwheat, linseed, sunflower seeds and crisp almonds for a wholesome and delicious breakfast pleasure! For all those who love the taste of muesli.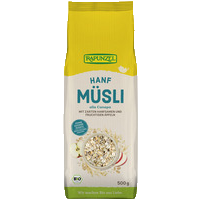 Hemp muesli
With 16% hemp seeds, frutty pear pieces and light puffed quinoa - for a good start into the day! Wholesome, domestically produced cereal flakes with their complex carbohydrates provide long-lasting energy.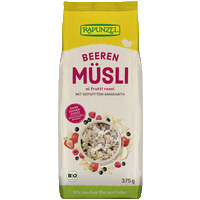 Alps amaranth muesli berry
Berry muesli delight with finely roasted amaranth from Austria. Breakfast lovers will enjoy this delicious muesli!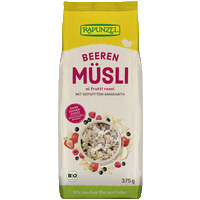 Alps amaranth muesli chocolate
For all chocolate fans. With fine, roasted amaranth and melt-in-the-mouth bittersweet chocolate rasps and crisp chocolate-nut-crunchy.