Heavenly, mystical, wonderful - what smells so good? A little bit like vanilla, but also a subtle, slightly tart note. Do I smell bitter almond? Or even a hint of sandalwood? There are also traces of marzipan and caramel.

The scent is enchanting with calming and balancing effects. This must be a very special spice: Rapunzel Tonka bean.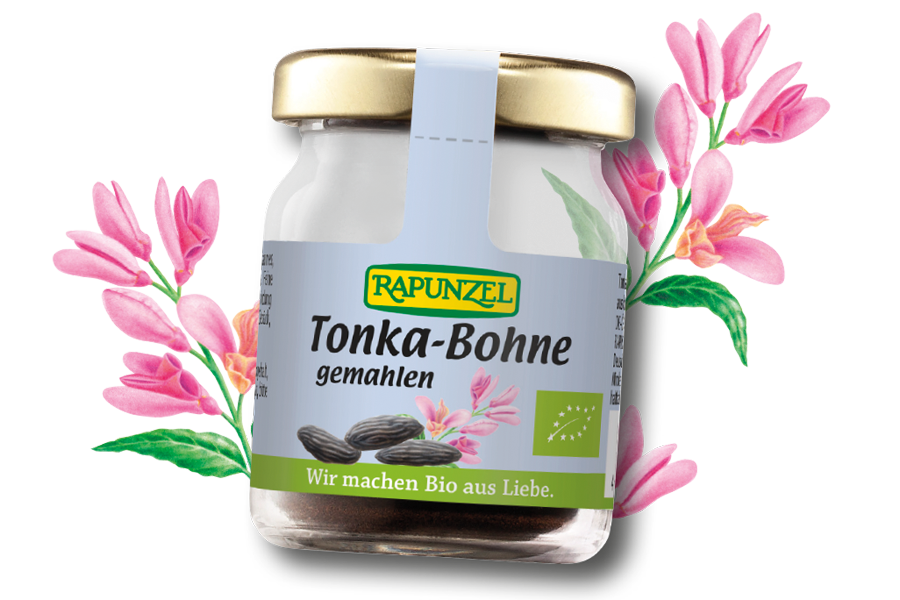 A closer look into the botanics of the Tonka bean
The seeds of the Tonka tree (Dipteryx odotora) are referred to as the Tonka beans. This tropical tree belongs to the Papilionaceous plants subfamily within the legume family. The tree is native to the Northern regions of South America - its natural distribution spreads over Venezuela, Guyana, Suriname and the Eastern Amazon region in Brazil, Colombia and Peru.
Today, the Tonka tree is also cultivated in Trinidad and in tropical parts of Africa. The tree can reach heights of up to 30 meters while having comparatively small trunk diameters of up to one meter. Its reddish-brown wood that is also called Brazilian teak is relatively heavy, stable and resistant to moisture. In tropical regions, the tree is cultivated as building material for exterior construction, for ships or for floating pontoons.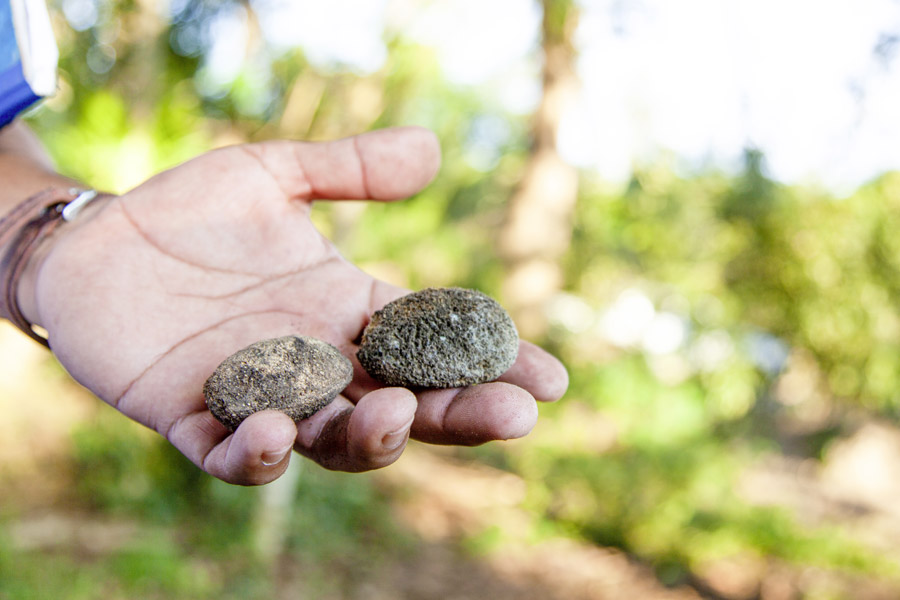 The seeds of the Tonka tree (Dipteryx odotora) are referred to as Tonka beans.
Origin and Processing

The multi-flowered inflorescences develop into egg-shaped drupes. These drupes contain almond-shaped, hard pits - the Tonka beans.

Rapunzel sources Tonka beans from Brazil and Venezuela where indigenous people harvest the fruit in the forests of the Amazon region.

After the harvest, the fruit are dried in small drying houses until the pit can be easily separated from the fruit. Once separated, the pit is dried for more time until its surface has wrinkled. Next, the pit is fermented. During the fermentation, the Tonka bean develops its typical rich aroma. This process may take several months.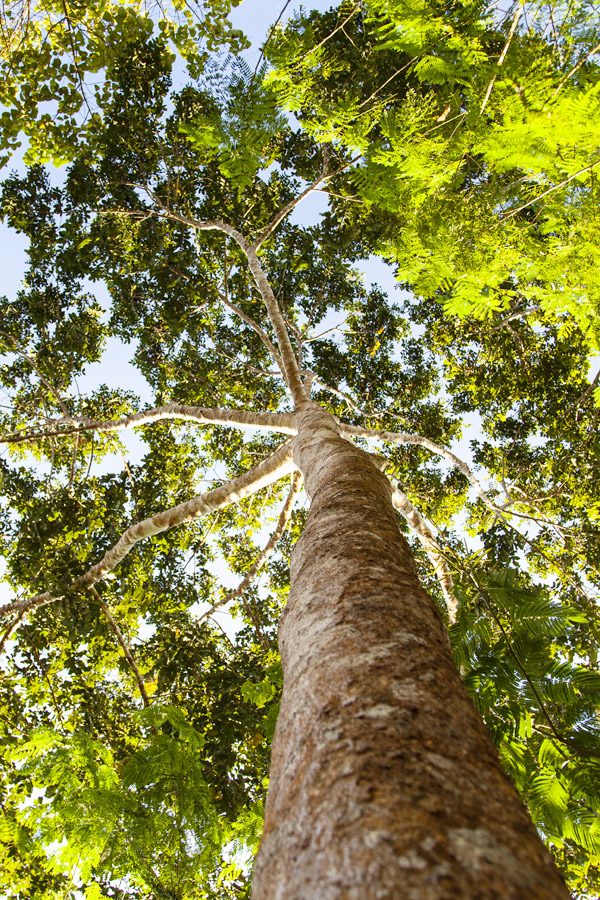 History
In the year 1775, the French botanist and pharmacist Jean Baptiste Christophe Fusée Aublet first described the Tonka bean in his book about the flora of French Guiana and made the exotic plant known in Europe.
But the seeds of the Tonka tree have already been used for a long time before Aublet' publication. The natives in French Guiana have used the Tonka bean as a traditional remedy against cough, cramps and nausea.
Incomparable aroma

Although the Tonka bean is no beauty with its wrinkly surface, it nevertheless convinces with its inner values and its complex, refined aroma.

The Tonka bean has a sweet and aromatic smell. Its aroma reminds of vanilla and woodruff, some experts also describe slight nuances of bitter almond and hay flower.

Whatever aroma one will taste: the Tonka bean has an intense flavor and can be used sparingly. Whole beans should best be ground with a nutmeg grinder. More practical, however, is the use of already ground Tonka powder. Just a knife tip of Tonka powder gives meals a special aroma.
More than a spice

In the traditional South American medicine, the Tonka bean has great magical and healing powers. Therefore, people often wear a protective Tonka bean amulet against illness. Indigenous shamans use the Tonka bean for driving away evil spirits and for summoning guardian spirits.

A Tonka bean in the wallet symbolizes wealth and success. In Venezuela, the Tonka bean was used as currency up until 1940. The naturalist Alexander von Humboldt also became aware of the pleasantly-smelling Tonka bean during his research expeditions. He noticed that laundry in Venezuela had such a wonderful smell. The solution of the riddle: Venezuelan women used the seeds of the Tonka tree to perfume their washing water.

Today, Tonka is still used as fragrance: in perfumes and cosmetic products or for the aromatization of tobacco products. Ground Tonka bean and Tonka oil are also used in aromatherapy.
The dosage is important

Tonka contains coumarin that is also found in cinnamon or woodruff. Coumarin emphasizes sweet flavors and therefore rounds off sweet dishes very harmoniously.

Too much coumarin, however, is considered to be a health concern. Statutory regulations therefore define the maximum permitted amount of coumarin-containing substances in food products.

Using Tonka bean as a spice, however, causes no problems with coumarin, because the concentration of coumarin in Tonka lies far below the recommended values. The intense flavor of Tonka is also a good indicator - a knife tip is sufficient to give your meals an extravagant flavor. Thus, finding the right measure is also important with Tonka.

Similar recommendations are also kwown for the use of cinnamon or woodruff: these spices should also be enjoyed in moderate amounts.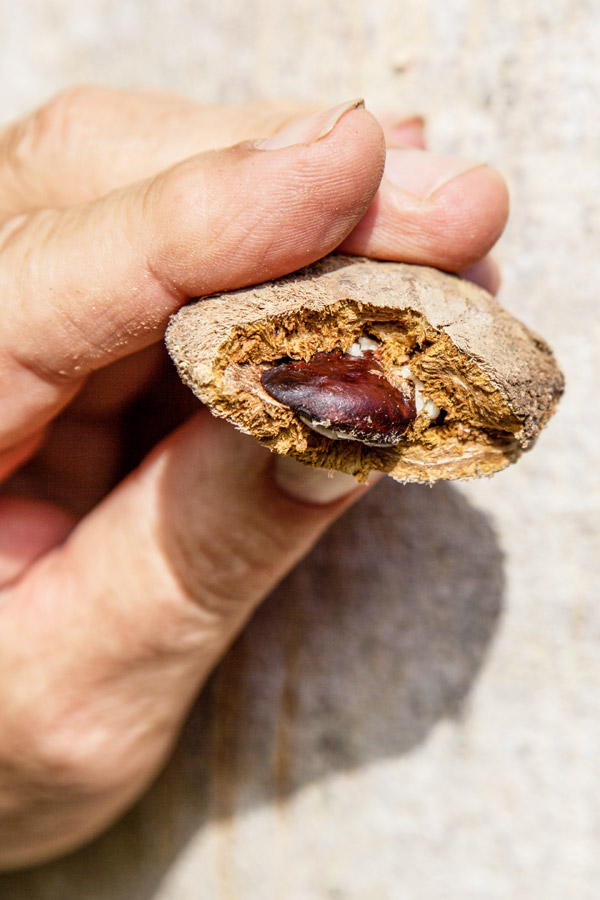 Tonka in the kitchen
In the kitchen, the wrinkly bean has made a big appearance. Since the turn of the millenium, celebrity chefs discovered this spice and have experimented with Tonka in very creative ways.
Tonka is highly assessed as a spice for baking, especially for Christmas baking - often instead of vanilla. Tonka also has its place in many recipes for desserts.
In the spicy cuisine, chefs often experiment with Tonka. It is used to give a special touch to tomato sauces, soups and potato dishes.
The love for Tonka started several years ago in a restaurant at Lake Constance. There, company founder and managing director Joseph Wilhelm tasted the wonderful Tonka aroma for the first time. And this experience hooked him.

During a visit to Rapunzel's HAND IN HAND partner and cocoa supplier El Ceibo in Bolivia, Joseph Wilhelm discovered the seed of the Tonka tree - because the tropical trees also grow there. He put a bean in his pocket and was enthralled by its wonderful fragrance. How would this aroma taste in Rapunzel's sweet nut butters? The first product ideas were born.
The implementation of this idea, however, still took some time. Because Rapunzel wanted to use only Tonka beans from controlled organic cultivation - even if only small amounts were available. With its Almond Tonka Cream Rapunzel brought a totally new flavor to the organic food stores.

Today, Rapunzel markets several products with the exotic spice: pure Tonka powder, chocolate with Tonka or Almond Tonka Cream. And the family of Tonka products is growing: since October, Tonka sugar is available in organic stores - as an interesting alternative to vanilla sugar. And we have more ideas - let us surprise you.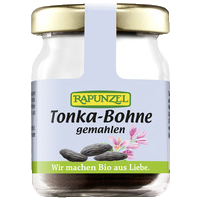 Tonka bean, ground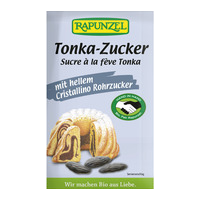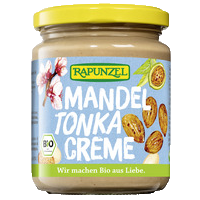 Almond Tonka cream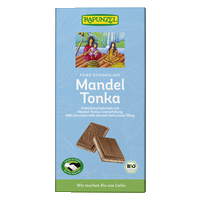 Milk chocolate almond-tonka HAND IN HAND