all products

Breakfast: The most important meal of the day
When Rapunzel started to market the first Good Morning Breakfast Porridges in 2011, they were the first of their kind in natural health food stores. Today this product range is indispensable for specialist traders –eating a warm breakfast has become a persistent trend.

During the development of different cereal porridges, Rapunzel has always put the focus on creating the best recipes for different eating habits. Be it a harmonious alkaline diet, a diet based on the recommendations of Hildegard von Bingen, a balanced sports diet or for an Ayurvedic nutrition: Rapunzel offers the perfect porridge for every diet.

Another important aspect is the preparation: every porridge is easily and quickly prepared, without cooking. This makes the porridges perfect for traveling or for sports.

And: all porridges are manufactured without the addition of sugar. The included fruits provide sweetness to the porridges.

A good breakfast is the foundation for a successful day. The meal that we start the day with definitely influences what the day will bring us.

Dietary experts assert that we should take up about one fourth of the daily energy in the morning. It is especially important that breakfast gives us the needed nutrients in sufficient amounts.

Is breakfast the most important meal of the day?

Yes, because our body needs breakfast after sleeping as an energy source for a good start into the day. It is proven that people who eat breakfast in the morning feel mentally and physically more productive compared to people who eat no breakfast. A good breakfast gives us what we need for a successful day. Breakfast boosts the concentration, provides us with long-lasting energy, gives us a good mood and makes us stress-resistant.

A perfect breakfast has four components::
liquid: for example, tea or fruit juice spritzers
energy: valuable cereal carbohydrates
vitamins: from fruits or vegetables
proteins: milk, yoghurt, soy milk etc.
Breakfast porridges - simply enjoy warm
Traditional Chinese Medicine (TCM) teaches us that our digestive system is very active between five and eleven o'clock in the morning. The so-called inner organ clock sets this rhythm. The organs perform their tasks best during this time: nutrients are efficiently converted into energy without stress for our body. Warm breakfast is highly advisable because it is well digestible.
Muesli, the popular breakfast classic
Muesli supplies complex carbohydrates, vegetable proteins, valuable fiber, vitamins and mineral substances. Cereals contain a lot of good stuff: nutrients such as vitamin B1, B2, B6 or vitamin E as well as minerals like magnesium and phosphorus. Dried fruit also provide valuable minerals, oilseeds enhance the muesli with unsaturated fatty acids. With yoghurt or curd cheese additional proteins, iron and zinc are added.
Good Morning Breakfast Porridges and Mueslis provide you with:
high-grade, complex carbohydrates
healthy dietary fiber
valuable vegetable proteins
insaturated fatty acids
important minerals, trace elements and vitamins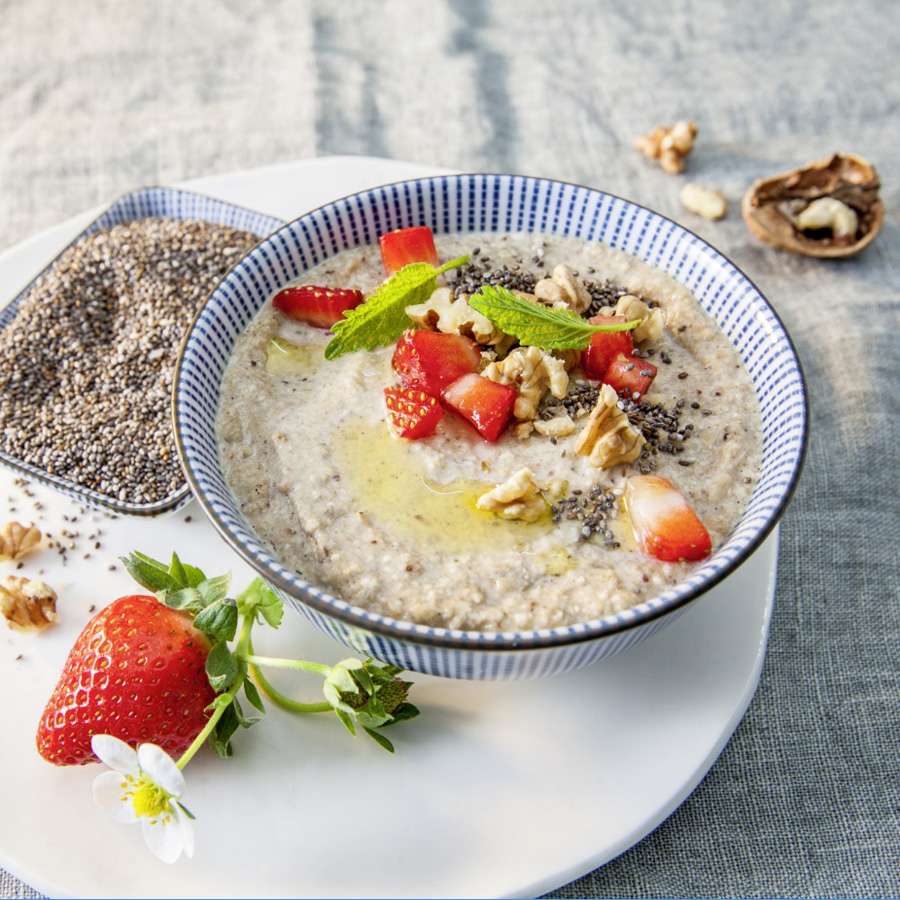 Rapunzel Porridges: Breakfast starts the day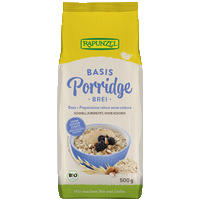 Porridge basic
Tender oats, aromatic almond pieces, sunflower seeds and roasted sesame, nicely rounded off with genuine Bourbon vanilla make this breakfast porridge a real wellness breakfast.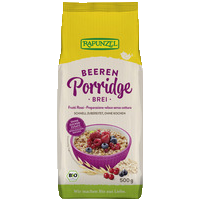 Porridge with fruits
The aromatic sweetness of apples and bananas is rounded off with genuine Bourbon vanilla. The blend of oats and sweet lupine flour supplies you with best vegetable proteins.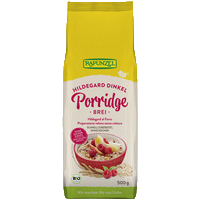 Porridge Hildegard
According to Hildegard von Bingen, a healthy and moderate diet is the key to a long and healthy life. Hildegard recommends warm spelt for breakfast. The added spice galangal makes this porridge an invigorating and warming breakfast.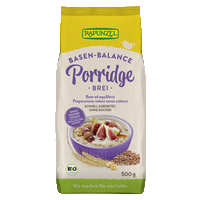 Porridge base balance
The correct ratio of acids and bases keeps our body in balance. With 80% alkaline and 20% acidic ingredients this breakfast porridge corresponds to this balance. With fine buckwheat, valuable amaranth and aromatic tiger nuts.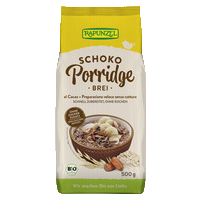 Porridge cocoa- banana
The perfect composition with aromatic cocoa and the fruity sweetness of ripe bananas transforms your breakfast table into a banana-chocolate lover's dream - totally without any sugar.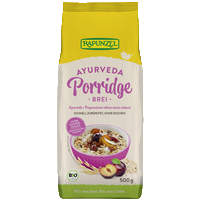 Porridge Ayurveda
The ingredients of this porridge have been selected according to the Ayurvedic tradition: millet flakes, rye flakes and oats combined with aromatic coconut, fruity plums and wellmatched Ayurvedic spices.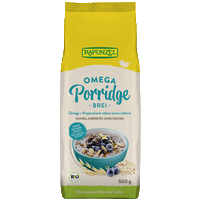 Porridge Omega
Valuable cereals, nut-flavored hemp seeds and chia seeds make this porridge a real power breakfast. It provides your body with valuable omega-3-fatty acids, exquisite vegetable protein and valuable dietary fiber. With blueberries and black currants.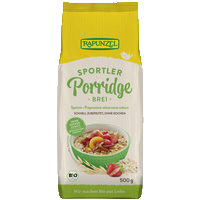 Sports porridge
High performance with the sport porridge: the combination of valuable cereals and fruits ensures the availability of short-term and longterm energy. It supplies the body with valuable proteins and is rich in minerals (potassium, magnesium), vitamins (B1, B3, B6, folic acid) and trace elements (iron, zinc).